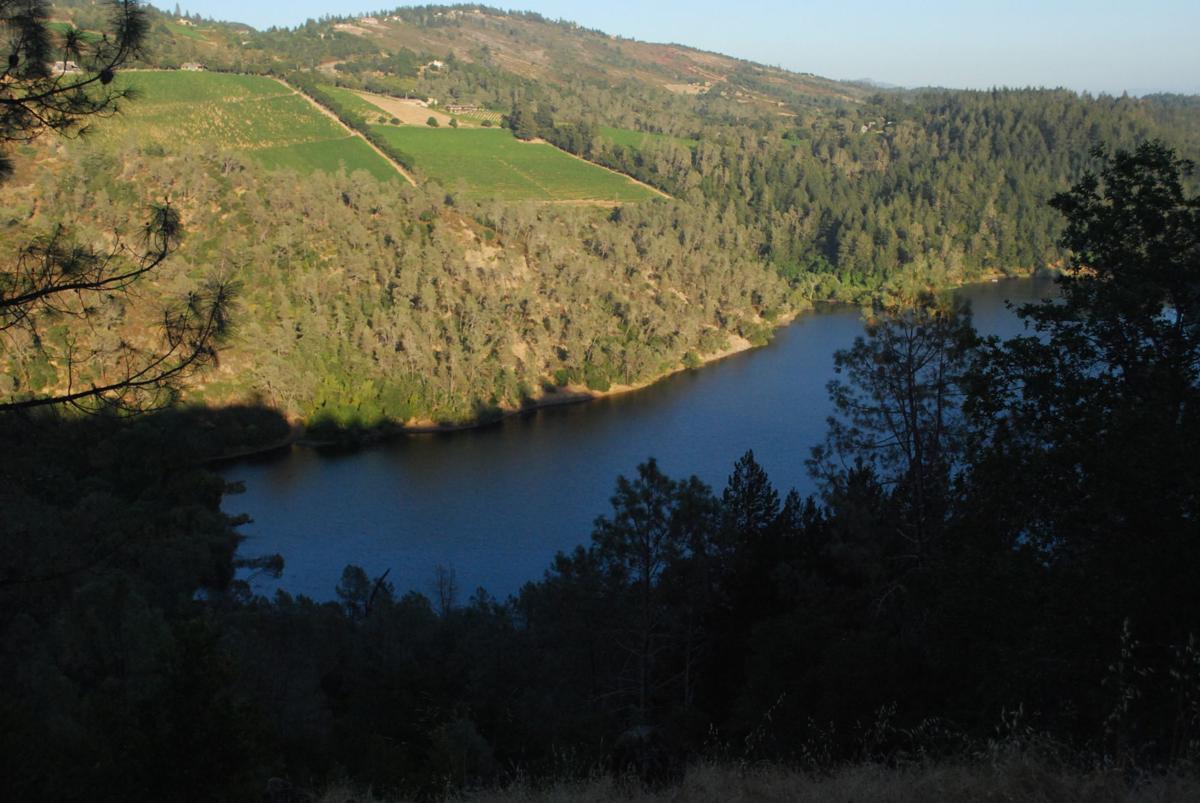 People have conflicting opinions about proposed, stronger Napa County watershed and tree protections — the ideas are on target, too weak, a solution looking for a problem, a natural resources savior, an unnecessary burden on farmers.
Caught in the middle Wednesday was the Napa County Planning Commission. After hearing from a few dozen people, the commission delayed making a decision until March 6 because of public notice problems with the meeting.
This is among the hottest of Napa County's hot potatoes. That's because it strikes such nerves as possible, further constraints on new vineyard development in local hills and a perceived need in some quarters to do more to protect water quality in local reservoirs.
Some people arrived almost an hour early to get a seat in the meeting chamber and avoid having to watch by television from another room. As the four-hour meeting wrapped up, Commissioner Anne Cottrell thanked staff and all of the speakers.
"Everyone is taking a lot of time to look through this," Cottrell said.
The Board of Supervisors on Jan. 29 set parameters for the Water Quality and Tree Protection Ordinance. The Planning Commission is doing further work before the matter returns to the Board.
One proposal is to increase tree canopy retention for development on properties from 60 percent in municipal reservoir watersheds only to 70 percent in all unincorporated areas. The baseline would be June 16, 2016.
Another idea is to create a 35-foot setback for small, Class III streams. Another is to increase the replacement ratio for cut-down trees from 2-1 to 3-1. Another is to ban most development on slopes greater than 30 percent. There are more possible, new restrictions.
The debate before the Planning Commission began with an outpouring of verbal and written comments.
That 70 percent tree canopy retention proposal is too little for some observers. The local Sierra Club requested 85 percent. Local resident Jim Wilson, who co-authored the Measure C watershed protection initiative that narrowly failed to pass in June 2018, suggested 90 percent for starters.
"A 70 percent retention of tree canopy cover minimum is untenable in a climate change world," Wilson said.
Napa County Farm Bureau CEO Ryan Klobas, on the other hand, said the 70 percent retention proposal is reasonable, provided a few items were changed, such as allowing tree preservation on slopes over 30 percent, and eliminating the 50 percent cap.
"This is sweeping, landmark legislation, which if it becomes more restrictive, will kill agriculture in Napa County for future generations, period," he told commissioners. "There's no way around it."
Laurie Claudon of Clark-Claudon Vineyards said bad water quality hurts agriculture. She asked the county to enact strong watershed preservation laws as a proactive measure.
"I don't really understand why people think this is anti-agriculture, because it's not. It's pro-agriculture," Claudon said.
Tom Clark of Clark-Claudon Vineyards agreed.
"I think the biggest threat to the valley isn't more regulations, it's climate change," Clark said.
PPI Engineering looked at how the layers of proposed rules would affect development on two hypothetical 10-acres parcels located outside the municipal watersheds. Such factors as a stream, a forest and 30 percent slope came into play.
In one scenario, the amount of developable land fell from seven acres under existing county conservation rules to 2.1 acres. In another, it fell from seven acres to 3.3 acres.
Local farmer Harvest Duhig is concerned how the proposed regulations would affect small farming operations.
"Why are we considering the increased regulations?" Duhig said. "Where are our conservation regulations failing us now? We're not suffering from deforestation. We're not suffering from water degradation. We're suffering from political pressure."
Paul Bartelt of Napa-based Bartelt Engineering asked that the county hold stakeholder group workshops instead of moving at breakneck speed on such an important issue. By comparison, the county takes one to two years to review a single erosion control plan, he said.
"To move this quickly on an ordinance that has this type of economic impact I find is not wise," he said.
St. Helena Mayor Geoff Ellsworth asked the county to meet with the cities in a roundtable approach to discuss watershed protections.
"The waters we collect in our hills fill the reservoirs that support the economies of our cities," Ellsworth said.
Planning Commissioners didn't debate the proposed ordinance. Rather, they discussed with staff how to prepare for the March 6 meeting.
Commissioner Dave Whitmer wants to hear from the cities about the proposed no-development buffers around their reservoirs.
"I'm quite interested in ensuring that as we move forward we're taking care of our water supply," he said.
The county has reached out to cities about proposed 200-foot setbacks around municipal reservoirs, Planning, Building and Environmental Services Director David Morrison said. Calistoga has requested at least a 500-foot buffer.
Commissioner Jeri Hansen wanted to know what is happening with a study being done by the county and city of Napa to see how county watershed development such as new vineyards affects city reservoir quality.
A draft is being examined by the two parties, Morrison said. The initial phase will identify such things as monitoring location and frequency, not provide data. Then it will take five to 10 years to have any meaningful data, he said.
The Planning Commission will again be taking public comment on March 6.
Editor's Note: This item has been modified to clarify the position taken by the Farm Bureau's Ryan Klobas.
Get local news delivered to your inbox!
Subscribe to our Daily Headlines newsletter.