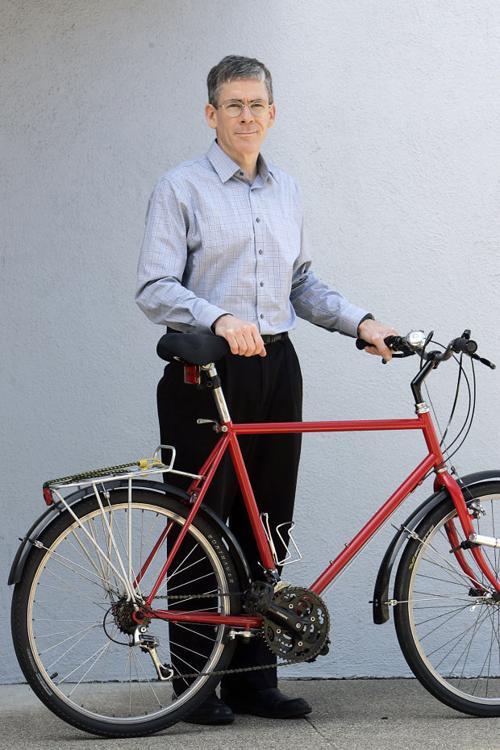 Catherine Friesen enrolled in Covered California after moving to Napa from Seattle. Then she started looking for a physician.
"It seemed like I had a good assortment until I dug in. Over half of the available doctors were at Clinic Ole," but "that is not where I wanted to get my healthcare."
That reduced her list to four doctors, only one of whom was accepting Covered California patients.
Friesen said she did not care for that physician.
Six months later, she again tried to find a doctor. Of five choices, one was a concierge doctor whom she said charged $2,000 a year in fees, three were specialists (not family practice as listed) and only one accepted her insurance.
"The truth is, I got lucky," said Friesen, who is now a patient of Dr. David Pratt in Napa. "His office was clean, and organized and he seemed to actually care about his profession."
"He has since stopped accepting new Covered California patients, but I was grandfathered in. Had I not been retained, my choices are emergency or Clinic Ole. If I need urgent care, the closest site covered by my insurance is in San Pablo."
"I have come to the conclusion that unless you have a lot of money, don't get sick in Napa," Friesen wrote in an email to the Register. "I am fortunate to have nothing wrong with my health. If I did, I think I would move."
The medical industry validates that consumers can have problems getting a primary care doctor.
"There aren't enough doctors, that's the bottom line," said James C. Cotter, MD MPH, president of the Napa County Medical Society. "We have had a hard time hiring doctors to come to Napa."
"You have a lot of specialists," but "what you need is a lot of primary care doctors," Cotter said.
The roots of the local shortage are many, officials say. Retiring doctors, fewer physicians going into primary care, decreasing reimbursements from the government, recruiting issues and an increase in the number of Affordable Care Act patients seeking primary care are cited as contributing factors.
Patty and Tom Downing are recent transplants to Napa from Pennsylvania. "We are struggling so much to find a good medical doctor here," she told The Register. "It is very frustrating."
Lately, the couple has been using an urgent care center in American Canyon. "So far, they are the best thing we have found here."
Erin Sullivan of Napa said she had Blue Shield insurance coverage through her employer but was unable to find a fee-for-service provider to her liking.
"There was one doctor in town taking new patients, and when I had an appointment with her, I was very dissatisfied with her level of knowledge and bedside manner," Sullivan said.
"Luckily, I was able to change my insurance carrier to Kaiser and have been very satisfied with the doctors, access, and level of care that I have received," she said.
There are about 50 primary care physicians and 100 specialists listed as Napa County members, according to the Napa County Medical Society.
Ideally, about 50 percent of doctors in an area should be primary care physicians. In Napa that ratio is 33.3 percent. This matches the overall U.S. trend, according to Cotter.
Many older primary care physicians in private practice — those accustomed to working long hours and taking few vacations — are retiring, Cotter said. The California Medical Association states that close to half of all primary care doctors will be retiring in the coming years.
Newer doctors aren't choosing primary care. They're going into higher- paying medical specialties, said Cotter.
Merritt Fink of Napa used to recruit physicians. He's also worked as a hospital administrator and consultant.
Fink said that the old standard of primary care doctors working 90 hours a week and making hospital and emergency room visits is changing. Today, "new physicians want to have more control over their lives," he said.
That includes choosing where they will live. Many newer physicians are already $200,000 in debt from medical school, said Fink. It's expensive to buy a house in Napa, and even if they can, "spousal employment is an issue," he said.
If those doctors live outside the area, "the commute looks daunting. Those are issues," he said.
The recent mandate that doctors switch to electronic medical records decreases the number of patients a physician can see in a day, said Cotter. "You're going to spend 10 to 20 minutes charting" for every patient visit, he said.
Cotter also noted that overall there are fewer primary care physicians in training and fewer residency slots in California than the number of medical students. This means physicians have to leave the state to complete their training and doctors tend to stay in practice close to where they do their residency.
Another problem is that doctors who see Medicare and Medi-Cal patients receive declining reimbursement for providing that care, said Fink.
Among those who do accept Medi-Cal and Medicare patients, many providers will limit the number "to make a living wage," Fink said.
Other doctors are joining hospital-based practices where they work only for a particular medical center. Some are adopting so-called concierge, boutique or retainer practices, where patients pay a set annual fee, said Fink.
Additionally, the thousands of people who are newly insured under the Affordable Care Act are now searching for doctors to accept them as patients. That only makes the shortage even more acute, officials said.
Bob Just, chief operating officer at St. Joseph Heritage Healthcare, Northern California, said the primary care doctor shortage isn't unique to Napa county or even California.
"There is a primary care shortage nationwide," he said. "It's a difficult to recruit for many areas."
"Unless someone has family (in the area) or an affinity for wine country, we are often competing with a lot of other parts of the Western states," he said. He often hears of candidates choosing to move and work in Arizona, Oregon and Nevada instead of California.
St. Joseph's Queen of the Valley Medical Center is actively seeking to hire primary care doctors, said Just. "We have patients who'd like to get their care in Napa and we want to serve the needs of patients. But when there is a shortage nationwide, it does make it difficult."
The Queen wants to add two to three primary care doctors per year for the next two to three years, said Just. "Lately, we've been able to hire one to two a year."
When patients can't find primary care doctors in their communities, they tend to go to emergency rooms, he said. Others put off treatment to the point where they become more ill than if they had received preventive care.
Given the doctor shortage, patients may have to become more accustomed to seeing a physician assistant or nurse practitioner as part of primary care team, Just said. "They must be open to seeing a non-MD for some basic primary care needs. There are some perceptions and challenges associated with that for sure."
Napa primary care physician Paul Sweigert, MD, named at least 10 Napa County primary care physicians who have either retired, gone to work at Kaiser or left the city recently.
"I've never seen physicians coming and going like they have in the past two years," he said.
Sweigert has just opened a new solo practice as a primary care provider. Until 2009, his practice was an insurance-based model, but that year he and his then-doctor partners made the transition to an annual fee practice.
Today, patients pay his practice $1,200 to $1,700 a year plus whatever insurance copays and deductibles apply. Sweigert said that if he hadn't switched to such a business model, "I probably wouldn't be in medicine today."
Before the switch, he had about 1,800 patients. Today, he has 245. Such a decrease is financially sustainable with the annual fee.
"I call it personalized healthcare. It's the way I was trained to practice medicine," Sweigert said. "It allows me to spend time seeing patients and continue to follow my patients in the hospital."
Instead of implementing electronic health records, he said some doctors who are close enough to retirement have just chosen to retire early.
Colleen Townsend, MD, is the chief medical officer at Clinic Ole. The clinic has a team of 25 primary care providers and serves about 30,000 patients, said Townsend.
"We are actively recruiting" for more doctors, she said. "We know there is a higher demand for visits than we have capacity to provide for."
"About 50 percent of those covered by the ACA (Affordable Care Act) became eligible for Medi-Cal and there aren't that many providers that take Medi-Cal and the bulk of those patients come to Clinic Ole," she said. "That was a significant number of new patients for us. In order to provide for them, we need more providers."
Townsend said she's currently recruiting one to two providers for Upvalley and "I'd love to add another two to three" once the Clinic's proposed new center near the Cinemark Theater opens.
A spokesperson for Kaiser Permanente could not be reached to comment.
Get local news delivered to your inbox!
Subscribe to our Daily Headlines newsletter.