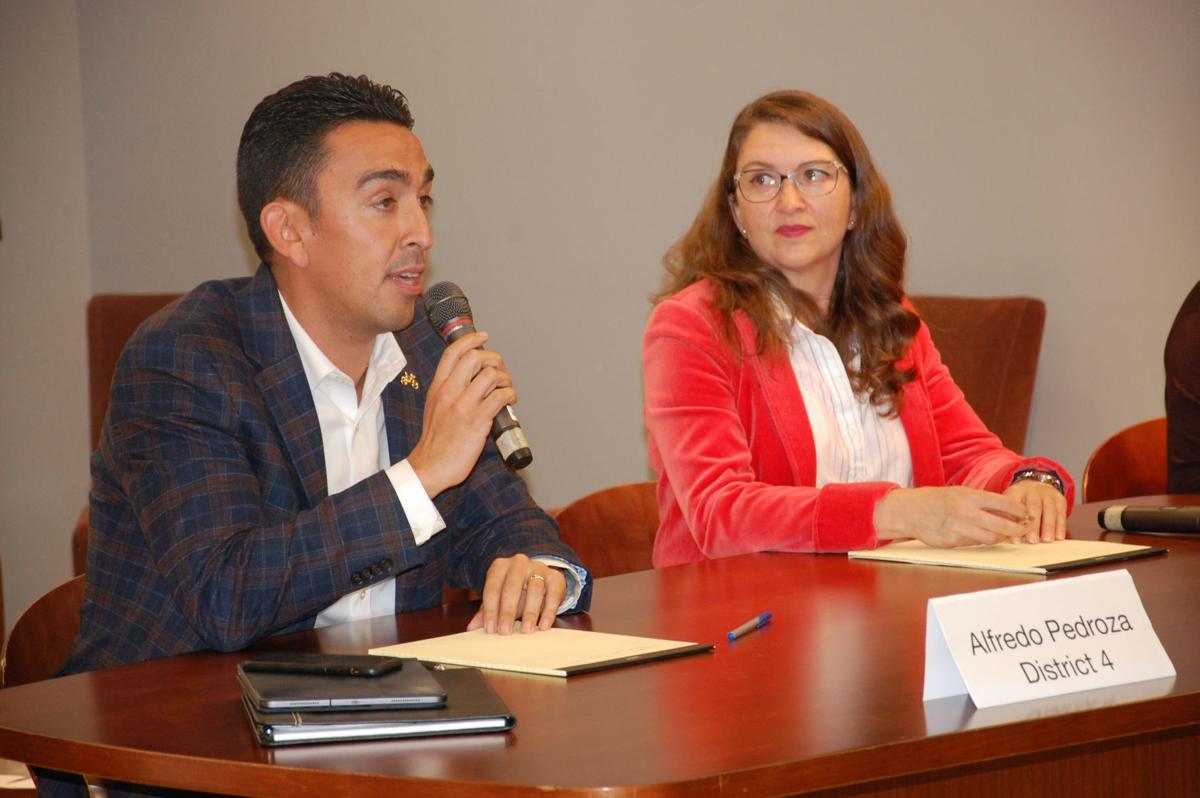 Napa County Supervisors Alfredo Pedroza and Belia Ramos took early leads in Tuesday's elections as they try to retain their seats – Pedroza a substantial lead and Ramos a tighter one.
The county Election Division at 8 p.m. Tuesday released results for ballots returned through Sunday in the all-vote-by-mail election. Thousands of ballots remain to be counted, with an update to come on Friday.
In the 4th District supervisor race, Pedroza led challenger Amber Manfree 55.2 percent to 44.8  percent, with 4,254 ballots counted. His vote lead was 2,348 to 1,906.
In the 5th District supervisor race, Ramos led 53.7 percent to 46.3 percent, with 3,769 ballots counted. Her vote lead was 2,024 to 1,745.
Pedroza held his election night party at Gran Electrica in downtown Napa, with such attendees as Napa Mayor Jill Techel and Napa City Councilwoman Liz Alessio. People looked at the results on their cellphones and cheered when they saw Pedroza ahead.
"We have a good lead," Pedroza said. "We're comfortable with the results and grateful for the outcome we're seeing right now."
Pedroza saw several main issues emerge as he talked to people door-to-door during the campaign.
"Housing for their kids, traffic (solutions) to improve their quality of life, making sure the government is showing leadership on climate change issues," he said.
But he also heard more basic concerns, like wanting sidewalk cuts for people with wheelchairs to use.
Manfree's party was a few blocks away at Ristorante Allegria. Her backers included members of the Napa Vision 2050 and Growers/Vintners for Responsible Agriculture, who have questioned wine country growth policies and called for greater watershed and tree protections.
Manfree wasn't certain of the chances for a comeback in later counts, this being her first race.
"I think to even come as close as I appear to be right now is a big positive win for locals who want to be heard," she said.
Regardless of the outcome, Manfree sees some good things emerging from her campaign. Groups such as Napa Vision 2050 and Growers/Vintners for Responsible Agriculture made connections with other groups in the community, she said.
"I think that will be a powerful thing moving forward," Manfree said.
During her door-to-door campaigning, she heard housing as being the major issue in the city of Napa. Residents in the rural Lake Berryessa area were split over wanting more recreational offerings at the lake and preferring a quieter atmosphere.
One thing she didn't hear people say was that the county needs more tourists and that it doesn't have enough wineries, she said.
"I think the county has some grappling to do with planning," Manfree said.
The 4th District includes the east-central city of Napa, Silverado and the south Lake Berryessa area.
Pedroza was elected to the Napa City Council in 2012 at age 25, making him the city's youngest council member ever and first Latino. He was appointed to his Board of Supervisors seat by Gov. Jerry Brown in 2014 and won election in 2016. He is vice chairman of the Metropolitan Transportation Commission.
Manfree is a Soda Canyon resident and holds a doctorate in geography. She said she ran in part because she thought the Board of Supervisors didn't listen to her science-informed views on watershed and land-use issues, or to views from her neighbors.
Then there was the Ramos-versus-Aboudamous race. The 5th District includes American Canyon, the southeast part of the city of Napa and the Coombsville area.
Ramos couldn't be reached by phone for a comment Tuesday night after the initial election results were released. She did answer questions from the Napa Valley Register late last week.
"I am really proud of the issues-based campaign that we have run. We have knocked on over 3,500 doors and spoken with more than 6,000 individual voters in American Canyon, Alta Heights, Coombsville and South Napa," she said.
Ramos, a former American Canyon City Councilmember and an attorney, won her Board of Supervisors seat unopposed in 2016 and is seeking a second term. She grew up in St. Helena and is the daughter of farmworkers.
Aboudamous started the evening sitting behind the dais for an American City Council meeting. She planned to be at the clubhouse of the Canyon Ridge at Napa Junction apartments in American Canyon afterward.
She too couldn't be reached by phone for a comment on Tuesday evening.
Aboudamous is an attorney who won election to the American Canyon City Council in 2016, making her the county's first Muslim to hold local, elected office. She grew up in American Canyon and is the daughter of Palestinian immigrants from Jerusalem. 
The election split local leaders on endorsements. Ramos won endorsements from such officials as Rep. Mike Thompson, D-St. Helena, and Supervisors Brad Wagenknecht and Ryan Gregory. Aboudamous won endorsements from state Sen. Bill Dodd, D-Napa and Supervisors Diane Dillon and Pedroza.
In addition, the Napa County Farm Bureau political action committee spent more than $19,000 on an opposition campaign to Ramos. Ramos was also opposed by Napa Vision 2050 and Growers/Vintners for Responsible Agriculture, which have fought bitter battles with the Farm Bureau over watershed protections. Both sides said they think Aboudamous would have an open mind on the issue.
Gregory was also on the ballot for the 2nd District seat. He had no opponent. The 2nd District includes the northwestern part of the city of Napa and the Mount Veeder area.
At stake with the races is the direction taken by the five-person Board of Supervisors. Issues facing the county include regulating winery growth, protecting watersheds, easing traffic, redeveloping Lake Berryessa resorts and delivering health and social services.
Get local news delivered to your inbox!
Subscribe to our Daily Headlines newsletter.