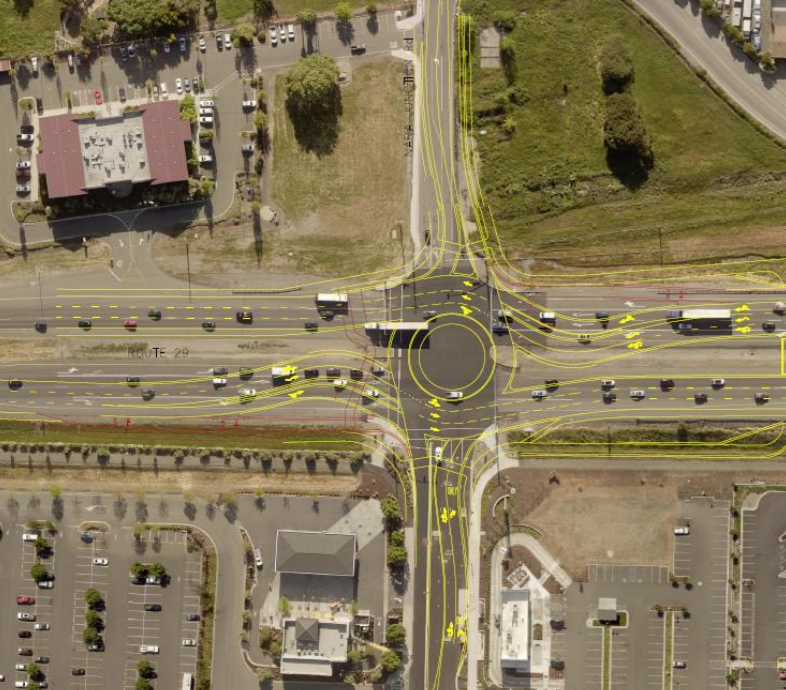 Would creating six roundabouts along Highway 29 through American Canyon make for safer intersections and smoother traffic flow or the commute version of a white-knuckle thrill ride?
People have the chance to opine on this and other options under consideration. The Napa Valley Transportation Authority (NVTA) has posted an online map where people can leave their comments.
Support local news coverage and the people who report it by subscribing to the Napa Valley Register. Special offer: $1 for your first 6 months!
The NVTA, Caltrans and American Canyon are working on potential solutions to Highway 29 congestion and safety woes in American Canyon. The goal is to have a project ready for construction within a few years, though nothing could be built unless funding is found.
This two-mile stretch of Highway 29 past the shopping centers and vacant lots of American Canyon can be a rush-hour crawl. Transportation officials said fatal and injury collisions there are twice the statewide average. Total collisions are 84% higher than the statewide average.
Options under consideration are:
Retain four lanes, but shrink each lane to 11-foot width. Allow for part-time bus use on widened shoulders. Improve intersections. Build a sidewalk/bikeway in both directions. Build a pedestrian undercrossing.
Mostly the same as option one, but replace signals with roundabouts at six intersections. Some roundabouts would be six lanes, three lanes in each direction. The highway would return to four lanes outside of the roundabouts.
Mostly the same as option one, but make Highway 29 six lanes through American Canyon, three in each direction. Intersections would remain signalized, without roundabouts.
People got a chance to comment verbally during an Oct. 4 Zoom meeting.
"I guess I have standard roundabout anxiety in general and six (roundabout) lanes kind of worries me," American Canyon Vice Mayor Mark Joseph said.
Some speakers noted that children cross Highway 29 to get to school. Resident Chris James wondered if drivers in those six lanes of roundabout traffic would yield to pedestrians.
"I'm having a hard time visualizing how a pedestrian gets through a roundabout intersection," Mayor Leon Garcia said.
Consultant Lindsey Van Parys said roundabouts have pedestrian refuge islands, creating shorter crossing distances. They would have pedestrian signals or beacons. Vehicles at most would go through the roundabouts at 30 mph.
Carlotta Sainato of the Napa County Bicycle Coalition wants more than lip service for efforts to make cyclists and pedestrians feel safe along Highway 29.
"It's not just meeting safety standards" she said. "It has to be comfortable to use. Otherwise, people will still want to drive."
"The simple, 'If you build it they, will come,' doesn't work if you build it and it's high-stress," she said.
In some parts of California, highways have been rerouted to bypass the main sections of cities, with their traffic signals and store driveways.
NVTA Executive Director Kate Miller said a bypass in this case already effectively exists. People can take Highway 12 through Jameson Canyon to Interstate 80 to avoid American Canyon.
"Sometimes when there is congestion in American Canyon, that's a better way to go," she said.
Of course, Highway 12 has its own congestion problems, with eastbound evening rush-hour backups that can reach two miles. But Caltrans is widening the onramp to I-80 to alleviate this bottleneck.
The Highway 29/American Canyon options will be part of an environmental impact report on the project. The report will have a preferred alternative.
Miller sees the six-lane widening option as being at a disadvantage in competing for funds. State policies in light of climate change don't favor capacity projects that increase vehicle miles traveled. Also, Caltrans doesn't want to maintain additional resources, she said.
The six roundabouts option wouldn't face the same funding hurdles.
Preliminary costs for the Highway 29 options place the roundabouts option at $61.1 million to $78.1 million, compared to $46.8 million to $61.1 million for the six lanes.
But that can be misleading. Miller said right-of-way acquisitions are not included and doing so would likely make the six-lane option more expensive than the six roundabouts.
Still, costs for any of the three options are in league with the planned, $64 million Soscol Junction project that has taken years to put together. That raises the question of whether American Canyon improvements can start in a few years or are simply a long-range dream.
Miller ticked off a number of potential funding sources that could be reason for optimism. She also noted Napa County is a small county that must compete for funds with larger counties.
"It's a lot of unknowns at this point," she told the Napa Valley Register.
Catch up on Napa County's top news stories
Get unlimited digital access to the Napa Valley Register for just $1 for your first 6 months! Enjoy every article without restrictions and find tons of subscriber-only perks, such as access to our daily eEdition. Click here for details!