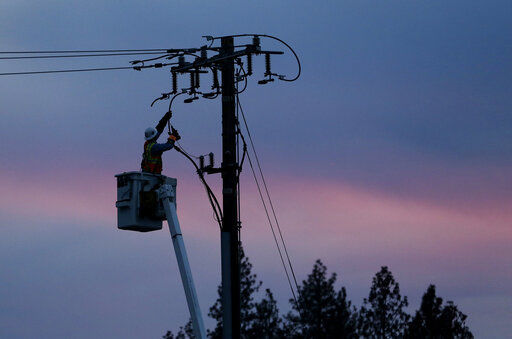 Six of the 124 high-priority issues needed immediate action, according to the report released this week. All of those have since been addressed, PG&E said.
The other 118 repairs needed to be taken care of within three months from the date they were found. Sixty percent of those repairs have been completed, PG&E said.
The problems were discovered in a series of inspections that the utility performed over the past six months, according to a PG&E statement.
The report offered a county-by-county and city-by-city look at which distribution lines, transmission lines and substations had the most serious problems. PG&E has inspected 222 substations, 25,200 miles of distribution lines and 5,500 miles of transmission lines, according to the statement.
PG&E identified 23 high-priority repairs in Napa, 17 in St. Helena and 10 in Calistoga.
Four repairs deemed an immediate threat were found in Napa and all of those have been addressed, according to PG&E. More than half of the other 19 repairs needed have been made, according to PG&E.
Nearly 40 percent of the 17 repairs needed in St. Helena have been made and 60 percent of repairs need in Calistoga have been made.
High-priority repairs identified by PG&E are scheduled to be completed more quickly than other repairs in PG&E's work plan, according to the utility's statement.
Napa County fared much better than its larger and more populous North Bay neighbor, Sonoma County. Nearly 500 high-priority repairs were identified in Sonoma County, which was also devastated by 2017 wildfires.
PG&E identified nearly 240 repairs needed in Lake County and 60 repairs needed in Solano County.
While some inspections were completed from the ground or by climbing, PG&E said helicopters and drones were used for others. The utility is slated to perform chopper inspections in Napa County throughout July as part of its effort to inspect 25,000 miles of distribution lines in areas with a high fire risk, such as Napa County.
Get local news delivered to your inbox!
Subscribe to our Daily Headlines newsletter.