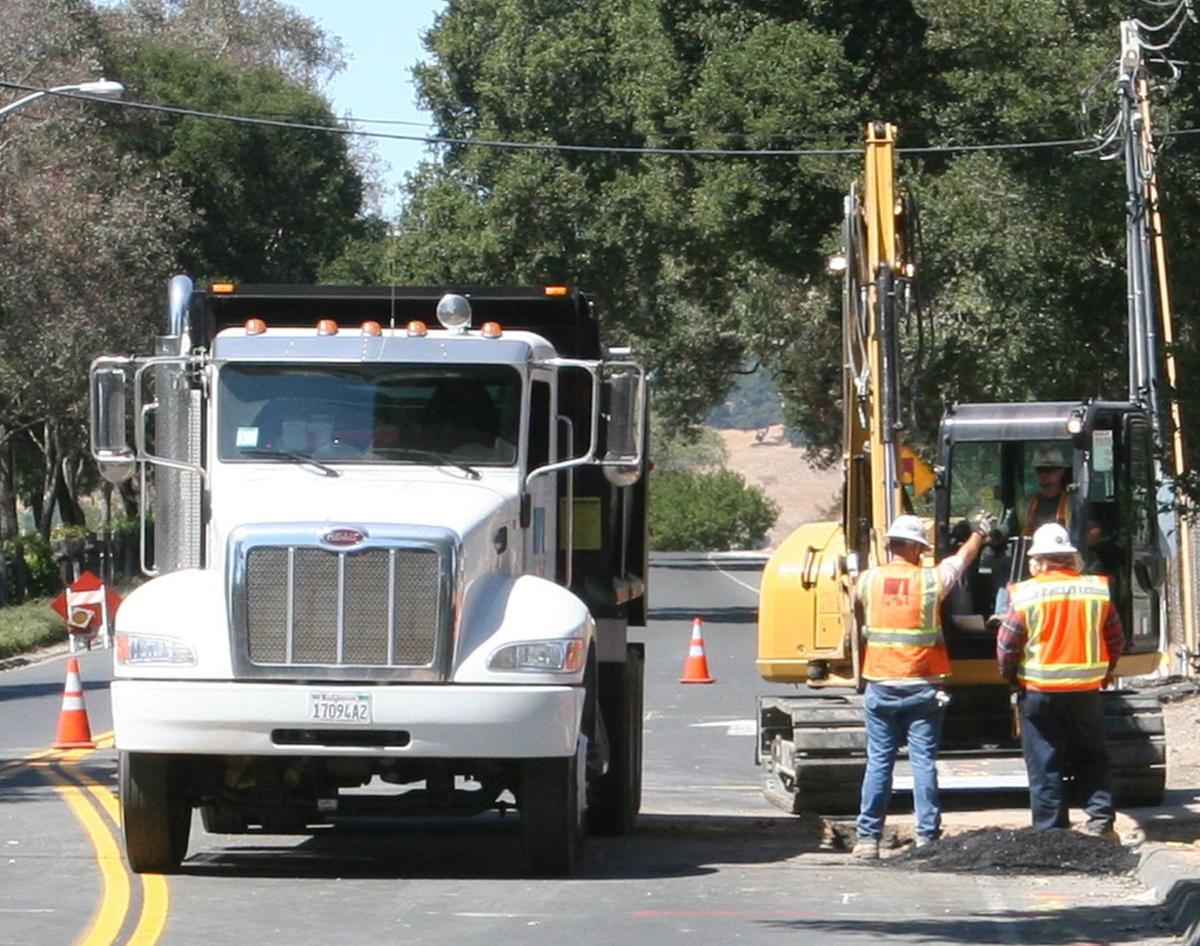 Pacific, Gas & Electric will work on a 1930s-era gas line near Highway 29 over the next two years, bringing periodic bouts of traffic disruptions, dust and noise to western Napa Valley.
The project involves 20 miles of line between Stanly Lane south of the city of Napa and Dunaweal Lane southeast of Calistoga. One stretch runs along Solano Avenue and Freeway Drive in the city of Napa.
"We'll be testing, improving and replacing pretty much the entire gas transmission line we know as DFM 0405," project manager Brian Garber said.
Residents at times might experience short-term pain. But PG&E officials say there will be gain.
"Safe and reliable gas is what we're trying to provide for as far in the future as gas is needed and gas is required," Garber said.
PG&E officials made a presentation on the project Tuesday to the Napa County Board of Supervisors. Here's what they say lies ahead:
- From April through August, work will be done on pipe running from Stanly Lane to north of Yountville at 27 locations. The project includes excavations to replace pipe fittings and will close lanes on Solano Avenue and Freeway Drive. No work is to be done on Highway 29.
- From June to September, work will be done in the Highway 29 shoulder from Oakville Grade Road to Mee Lane – 3 miles- at 10 to 12 locations. Water will be pumped into the line to detect leaks. Minimal traffic disruption is expected.
- From April 2021 to November 2021, work will be done in the St. Helena/Calistoga area that involves replacing pipe, testing pipe and putting the pipe hanging from Sulphur Creek bridge underground. Projects along Highway 29 will be "highly impactful" due to traffic disruption and noise.
For those wanting a preview, PG&E in recent months has been working on a 950-foot stretch of Highway 29 north of Lodi Lane. That caused traffic slowdowns, occasional detours and metal sheeting being placed over the highway while excavation work was done.
PG&E must keep natural gas flowing to customers over the coming two years as it does its work.
The easier part is south of Yountville, where two gas transmission pipes serve the city of Napa and other areas. One pipe can be shut down without interrupting service, since the other can backfill the natural gas needs.
But there is only one pipe north of Yountville supplying St. Helena, Calistoga and Angwin. When a section is shut down, customers down the line will still need natural gas.
PG&E will solve the problem by injecting liquid natural gas into the line. The main injection site will be along Highway 29 at Dunaweal Lane near Calistoga.
The utility will put up construction fencing with screening at the site, which will have a trailer. When liquid natural gas is being injected, passersby will see the top of trucks sticking above the fence. Portable lights will be used at night, Garber said.
"The only place you can obtain liquid natural gas in California is in Boron, which is down by Barstow," Garber said. "We will be rotating four tanker trucks from Boron up to Calistoga."
County Public Works Director Steven Lederer said the county will coordinate with PG&E. The goal is to avoid doing paving work on a Silverado Trail segment parallel to a Highway 29 segment where PG&E is working.
Lederer sees a possible benefit from the PG&E project for efforts to build a Napa Valley Vine Trail segment between St. Helena and Calistoga. PG&E will be doing pipeline work along the Vine Trail route-to-be and can bring dirt to the proper elevation for the trail.
The Board of Supervisors heard from the public. Kit Long of Napa Climate Now! said the project appears to be planned well, but that natural gas is a warms the climate. Long wants the spotlight on finding natural gas alternatives.
Supervisor Brad Wagenknecht said he doesn't want to see natural gas used for decades to come. But he wants natural gas to be delivered safely in the meantime.
PG&E officials said an open house to explain the project will be held, probably in late March and probably in Yountville. The utility will send letters to customers. It will, in some cases, contact people door-to-door in areas of heavier impact.