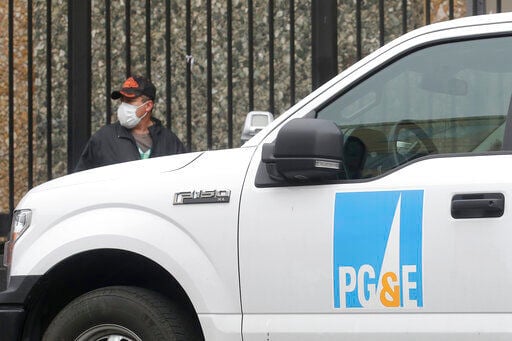 Pacific, Gas & Electric will build a regional service center in American Canyon's industrial area as home base for its local maintenance, installation and emergency response operations.
The center will be located at 500 Boone Drive in the Napa Logistics Park. It is to include three buildings totaling 98,800 square feet and 210 parking spaces for employees, visitors and fleet storage on 24.5 acres.
PG&E presently uses services centers in the city of Napa and Vallejo to tend to its local electric and gas systems. Boris Letuchy of the utility said the intent is to combine the centers in a central location.
Support local news coverage and the people who report it by subscribing to the Napa Valley Register. Special offer: $1 for your first 6 months!
He described the project as "a very large and very strategic initiative."
Details emerged at the Sept. 30 American Canyon City Council meeting. Commissioners approved a design permit for the service center.
A regional service center might conjure up visions of an unsightly, sprawling maintenance yard. PG&E officials said that won't be the case.
"We will make sure this project is of the greatest excellence that your city deserves," utility spokesperson Mark van Gorder told commissioners.
The operations building nearest to the street is to have earth tone colors, bay windows, a stone veneer and glass-fronted lobby. The perimeter fence is to be, not chain link, but wrought iron.
Site constraints pose challenges to meeting all of the city's landscaping requirements. The solution: PG&E will do a quarter-acre's worth of landscaping at a totally different site three miles across town, at the substation it owns at Highway 29 and American Canyon Road.
"It's a better use of the landscaping if we can bring it to the middle of the city," city Associate Planner William He said.
This substation is at one of American Canyon's most visible locations. The metal circuits and equipment provide the incongruous backdrop for a tourist-orientated Highway 29 sign saying "American Canyon, where your Napa Valley experience begins."
Resident Chris James favored letting PG&E transfer some of its landscaping requirements from the regional service center to the substation.
"I'm excited about that. It is a bit of an eyesore in the city," James said.
But Commissioner Eric Altman said he's heard promises before from PG&E to enhance the landscaping at the substation. As far as he's concerned, these promises haven't been fulfilled and now there's another approach.
"I admit, I'm a skeptic," he said.
PG&E had no final plans for the landscaping at the substation. The commission decides it wants to see the plans before the city issues the first building permit for the regional service center.
Altman also had concerns about the regional service center.
PG&E officials talked about plans to produce enough renewable energy onsite to power the operations building. They would accomplish this by mounting photovoltaic (PV) solar panels on the canopy of the employee parking area.
"If this isn't enough PV, we'll put some more PV on the roof of the building in order to help us achieve that," project architect Richard Price said.
Or the utility will mount mini-wind turbines on the building's parapet, he said.
Altman wanted more. All three buildings could have solar panels. The fleet parking area could be covered and have panels, he said. Portions of the site with exposed concrete could have panels.
He didn't accept PG&E's contention that it makes more financial sense in the short-term to use renewable energy generated elsewhere, such as out-of-state, for some of the center's power needs.
"Isn't this supposed to be an energy-efficient showcase project for PG&E, to show how they're moving in a new direction, to be more energy-efficient and conscious and so on?" Altman said.
"This is not a showcase. This is a very good regional operations center, where we operate from to serve our customers," Letuchy responded.
In the end, the commission decided to focus on the operations building. It made PG&E's net-zero power use goal for this particular building a requirement.
On Tuesday, PG&E spokesperson Deanna Contreras said the American Canyon regional service center should open in late 2022. Employees from the existing Napa and Vallejo service centers will be transferred there, with no job losses expected. The utility is working with its employees and unions on the transition.
The Napa service center is located at 300 Burnell St. next to Napa Valley Expo and includes a substation. PG&E officials didn't say what might happen to the property when the consolidated American Canyon center opens.
Catch up on Napa County's top news stories
Get unlimited digital access to the Napa Valley Register for just $1 for your first 6 months! Enjoy every article without restrictions and find tons of subscriber-only perks, such as access to our daily eEdition. Click here for details!