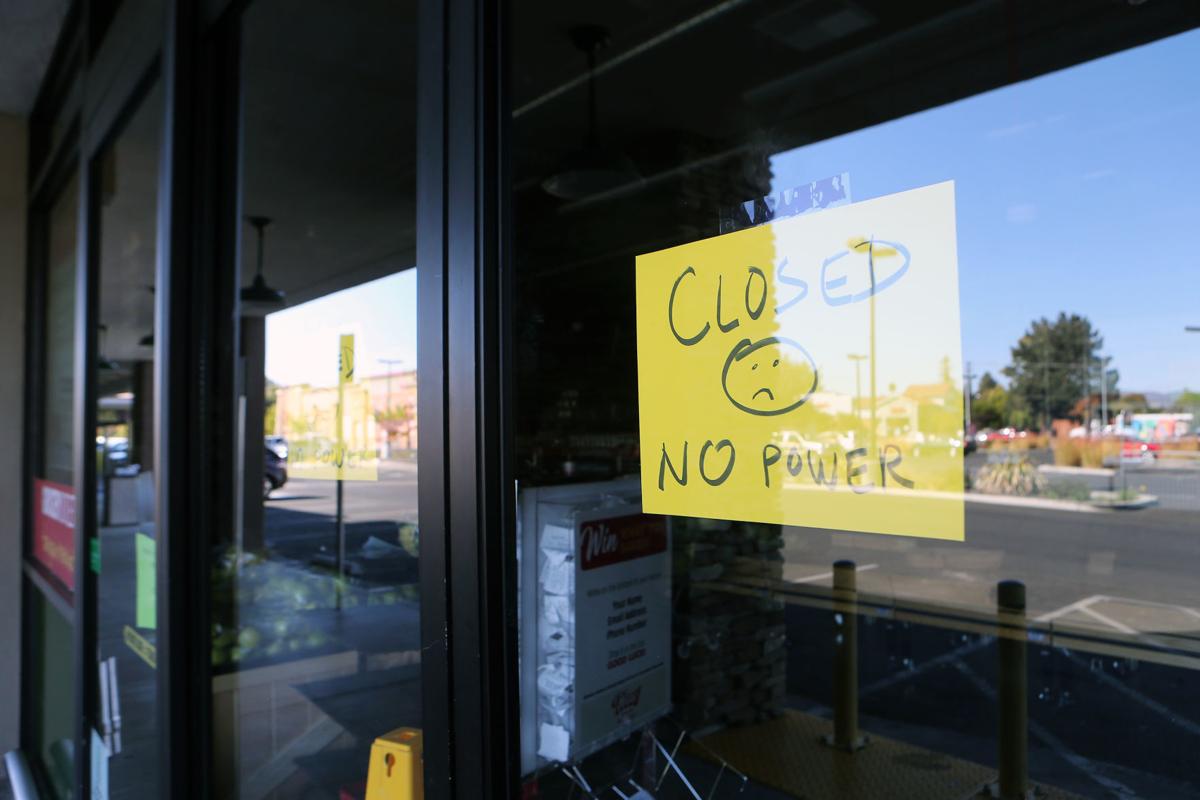 Pacific Gas & Electric officials say more of Napa Valley should be spared from public safety power shutoffs during high fire danger weather and power should be restored more quickly when shutoffs happen.
One goal is to finish installing 43 sectionalizing devices on local lines by September, in addition to eight installed last year, PG&E officials said. That is supposed to allow lines running through remote, high fire danger areas to be de-energized without also cutting power in more populated areas.
PG&E spokesperson Mark Van Gorder said the utility will be able to keep most of the population in an island of electricity while keeping electricity from flowing up into the wooded hillsides where falling lines can spark wildfires.
"The main point is keeping power on," he told the Napa County Board of Supervisors last week.
The grid is not designed to be turned off this way, said Aaron Johnson of PG&E. Sectionalizing devices break the grid into smaller pieces, allowing the blackouts to focus on areas where the fire risk is the greatest without having collateral impacts in other areas, he said.
A map shows where the sectionalizing devices are being installed along the western and eastern edges of Napa Valley. An area from south of the city of Napa to St. Helena could potentially be removed from the shutoff scope.
Temporary microgrids will help provide power during shutoffs in parts of American Canyon, Angwin and Calistoga, Van Gorder said. He added that a shutoff that affected American Canyon last year was "a bit of an anomaly."
Another goal is to have power restored twice as quickly as last year, within 12 daylight hours of the weather clearing, PG&E officials said. More helicopters and field crews for line inspections are to help achieve this.
"Smaller, shorter and smarter" is the mantra PG&E is using for potential public safety power shutoffs this year.
"It's not meant to be a marketing slogan," Johnson said. "It's not meant to be clever. It's an organizing principle for all of the teams of people working to reduce the impacts of (public safety power shutoffs)."
County Supervisor Alfredo Pedroza said he wants more than slogans.
"My constituents want action ... I hope you understand the urgency folks have when they call us," he told Johnson.
"I hear you loud and clear," Johnson responded.
PG&E began power shutoffs after Cal Fire attributed several devastating wildfires to downed power lines and trees falling into power lines. Those include the Atlas and Nuns fires in October 2017 that destroyed several hundred homes in Napa County.
Unable to guarantee that its lines can withstand strong winds and falling trees, the utility began shutting down the lines during high fire danger weather to avoid sparking fires. That left homes and businesses in various parts of Napa County without power at times in 2019.
According to PG&E, a June 8-9 shutoff affected 1,300 customers, a Sept. 23-26 shutoff affected 700, an Oct. 9-12 shutoff affected 32,200, an Oct. 23-25 shutoff affected 6,900, an Oct. 26-to-Nov. 1 shutoff affected 18,800 and a Nov. 20-21 shutoff affected 10,700.
In the city of Napa, the shutoffs affected the edges of town, in some cases for days at a time. There, the sound of generators became common on suburban streets as residents tried to keep their lights on and refrigerators running. Others used flashlights and threw out ruined food.
Relations between Napa County and PG&E became strained. County officials said PG&E wasn't providing enough information about the shutoffs and didn't take into account local impacts. They wanted a voice as PG&E crafted its intentional blackout plans.
Things apparently have changed. PG&E during Tuesday's Board of Supervisors meeting provided the type of information the county had been asking for from the start. PG&E officials also took questions and provided answers that didn't always seem scripted.
"There has been a huge advancement in the communications and the substance of the information they are now providing us," Board of Supervisors chairperson Diane Dillon said after the hour-long session.
Vegetation clearing and underground wires
Dillon wanted to know more about clearing vegetation that can blow into power lines, sparking fires. Utility officials in the past have said it will take eight to 12 years to do vegetation work in Northern California.
Johnson said PG&E does routine vegetation inspections in high fire risk areas. Then there is the more involved, enhanced vegetation management that has happened in fits and starts.
A couple of years ago, PG&E looked at clearing big rights-of-way around its lines. That proved unpopular with some residents. Now the utility is looking at more effective ways to do the work, he said.
The focus is clearing from ground to sky in a sort of cylinder of space around the poles. PG&E could do clearing work for 96 miles of lines this year in Napa County. It will take about three years complete the work in the highest fire danger areas and another six years in the other elevated fire danger areas, he said.
Dillon asked about putting power lines underground in high fire risk areas.
Johnson said PG&E is focusing on the highest fire danger areas. It looks at improving lines to better withstand winds and wind-blown vegetation. In many areas with steep and rugged terrain, it's simply impossible to put lines underground, he said.
The goal this year is to improve seven miles of lines in Napa County, Johnson said. He didn't say if any lines will be put underground.
PG&E looked at weather data from 1989 to 2018. It calculated that Napa County can expect one to three public safety power shutoffs during an average year.
One area of concern for PG&E is making certain power is available for hospitals, Johnson said. Another is to keep power shutoffs from interrupting the Nov. 3 general election.
"Thank you for hearing us and holding us to the high bar that you should," Johnson told supervisors.
Napa County has 1,181 miles of distribution lines, of which 46% are in high fire danger areas as defined by the California Public Utilities Commission. It has 181 miles of overhead transmission lines, of which 52% are in high fire danger areas.
The county has eight substations. PG&E serves 62,400 customers, of which 11 percent live in high fire danger areas, according to the utility.
Among the factors used by PG&E to call for public safety power shutoffs are red flag warnings declared by the National Weather Service, humidity of 20% or lower, sustained winds above 25 mph and gusts topping 45 mph and vegetation moisture content.