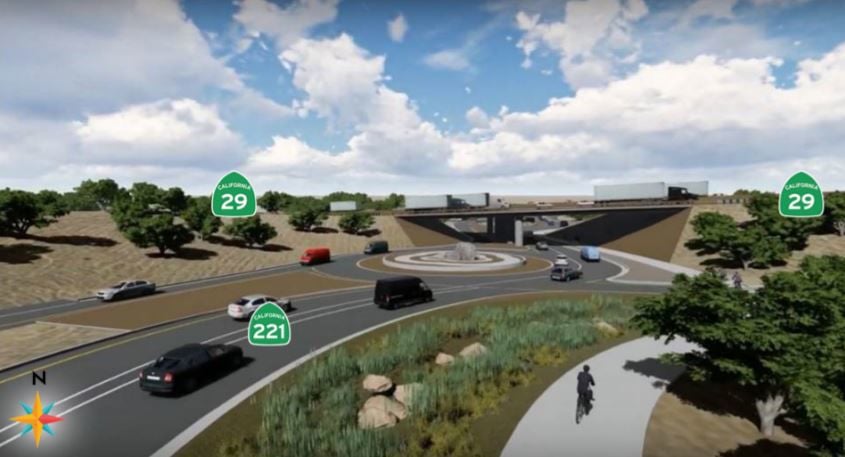 A steep rise in the estimated cost for the proposed, congestion-busting Soscol Junction project isn't sinking building plans.
The estimated price has risen from $40 million to $64 million. Napa Valley Transportation Authority Executive Director Kate Miller said the plan is still to break ground in 2021.
"This is just a critical priority for us," Miller said on Tuesday. "We're just going to do it. Some way or another, we'll find a way."
The longer Soscol Junction is delayed, the more the project will cost, an agency report said.
Soscol Junction is the intersection of Highway 29 and Highway 221/Soscol Ferry Road east of the Butler Bridge and Grapecrusher statue. The plan is to raise Highway 29 on an overpass and remove the traffic signals so traffic keeps flowing.
Highway 221/Soscol Ferry Road beneath the overpass would have two roundabouts to regulate through traffic and traffic entering and leaving Highway 29. Highway 29 would not have a roundabout.
NVTA for several years has listed a price estimate of $35 million to $40 million. A new report pegs it at $64 million, with $50 million needed for construction.
The price hike apparently isn't as sudden as it might sound.
Miller said the project has been in the environmental phase for years and construction costs rise 3 percent to 6 percent annually. Caltrans recently released the draft environmental document, so that phase is nearing an end.
Also, competition for construction engineering companies that do this type of work is adding to the estimated cost, Miller said.
NVTA Director Danielle Schmitz said that Soscol Junction is about 80 percent designed. Two years ago, the design wasn't near 65 percent.
"I think if you were to ask any engineer, the funding estimate or cost estimate of the project is more secure as you get farther along in the design," Schmidt told the NVTA Board of Directors last week.
But that still leaves the question of how to pay for Soscol Junction.
The NVTA Board of Directors last week authorized Miller to seek a $20-million advance in regional transportation improvement program money for Soscol Junction. This state money comes to the county in two-year cycles for local transportation projects. The 2020 cycle has $2 million available for new projects.
Napa County would tie up several cycles of funding. It would forgo using this money source for other, smaller transportation projects for years to come in exchange for the large, signature Soscol Junction project.
NVTA considered this approach in 2017, when the Board authorized seeking $35 million in regional transportation improvement program fund advances for Soscol Junction. Schmidt said the agency didn't follow through because it wanted to first further develop the project.
Another potential Soscol Junction funding source is regional state bridge toll hikes approved by voters in 2018, though this money is frozen because of a court case challenging the increases. Still another possible source is a grant related to 2017's Senate Bill 1, which raised state fuel taxes and vehicles fees.
Soscol Junction is a Caltrans project because it involves state highways. But Miller said that the NVTA must find the money for it.
The worst rushhour waits at Soscol Junction in 2025 will top five minutes if no project is built, according to the Caltrans environmental study. With the project, waits even by 2045 would be eight to 17 seconds, it said.
Get local news delivered to your inbox!
Subscribe to our Daily Headlines newsletter.