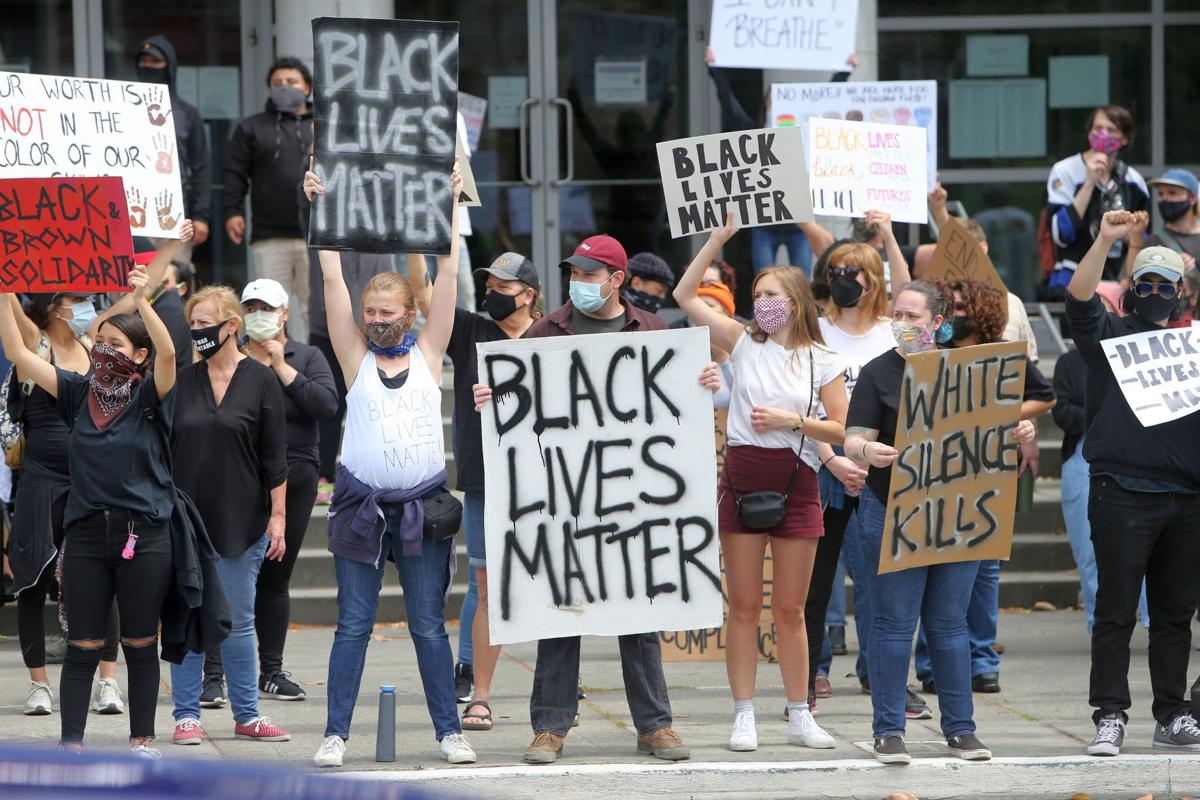 The Napa rally on Sunday stemming from the death of a black man during an arrest in Minneapolis drew about 300 protesters to downtown, according to police.
What began as a loud, passionate and megaphone-powered demonstration Sunday afternoon against racism and police violence against minorities evolved into a march that began around 6:15 p.m. and continued for more than five hours, Lt. Chase Haag reported Monday.
The protest was Napa's first in reaction to the death of George Floyd, a 46-year-old African American who died May 25 after a policeman detaining him pinned a knee to his neck for more than eight minutes.
Sign-carrying marchers began in the downtown core, where they earlier led chants of "Black lives matter!" and "No justice, no peace!" in front of the Napa County Courthouse and Veterans Memorial Park. When the protest became a procession, demonstrators took to various downtown streets before heading to Soscol Avenue, Jefferson Street and Lincoln Avenue before ending their march at Veterans Memorial Park at about 11:30 p.m., according to Haag.
Officers periodically blocked vehicle traffic as protesters entered the roadway at various points along their route, Haag said. Earlier, marchers blocked the intersection of Main and Third Streets, but moved to the sidewalks after Police Chief Robert Plummer spoke with them and went to one knee as some marchers did the same — a moment Napa Police later shared in a photo posted to its Facebook page.
In contrast to the violence and looting that has broken out in several U.S. cities in the wake of Floyd's death, Napa Police reported no vandalism or property damage connected to the Sunday protest. The one arrest reported in the path of the demonstration was for public intoxication, and officers did not issue any orders for marchers to disperse, according to Haag.
The Napa demonstration and march took shape after an earlier version of the protest was canceled Saturday by Women's March Napa Valley, which cited police reports that outside groups might enter the city and cause disruptions. Other reports of organized groups entering Napa during the protest, which were shared on social media, were unfounded, Haag said in an email.