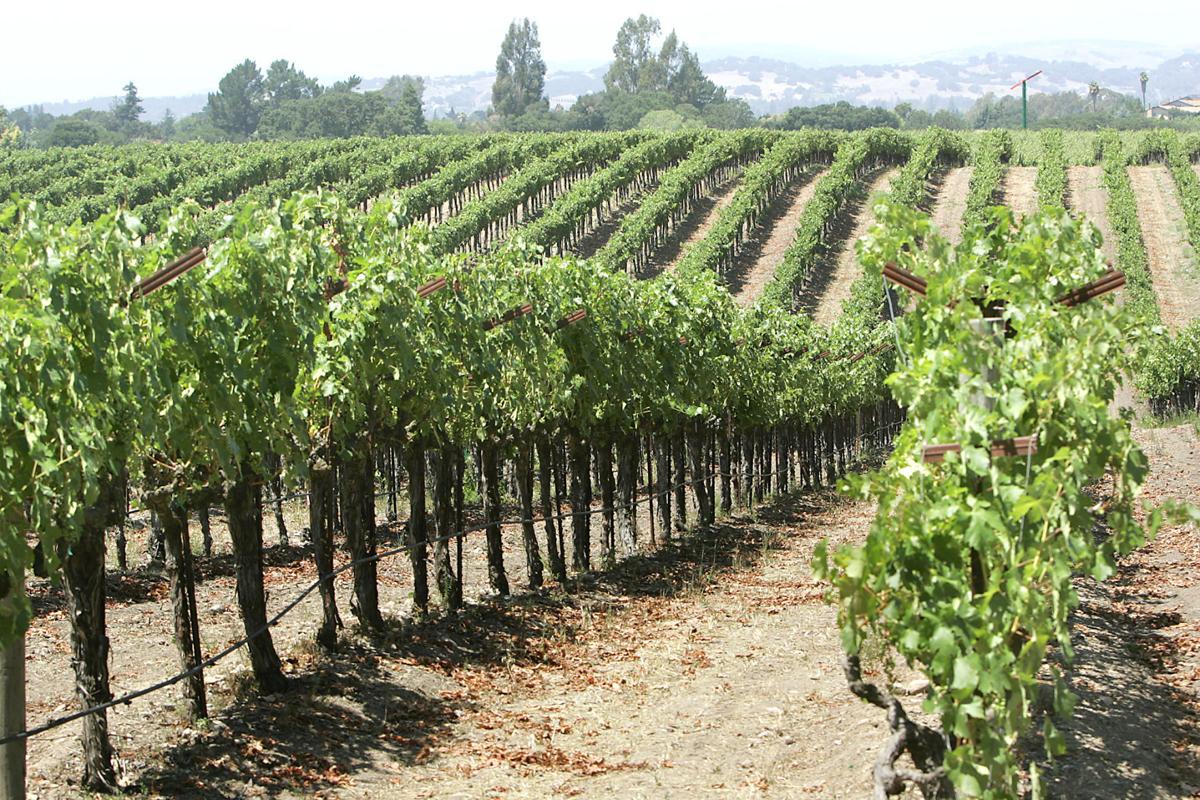 In a region economically dependent on vineyards and wine production, the potential for a drought that could last decades or even centuries could spell deep trouble for Napa Valley, and especially grapegrowers.
"It's on everyone's mind. It's not an overstatement to say everybody is thinking about it when they decide to irrigate or not," said vineyard manager Mike Wolf.
Wolf's company oversees the management of about 650 acres across the Napa Valley, from Calistoga to Howell Mountain to Carneros. He is also a board member for the Napa Valley Farmworker Foundation. Within the past year, he has seen vineyard owners cancel plans for replanting. Many, he says, are worried about the water levels in their wells.
Support local news coverage and the people who report it by subscribing to the Napa Valley Register. Special offer: $1 for your first 6 months!
"You can't make up for a dry winter with irrigation, volume-wise. You don't recover from this kind of situation with one good winter. This is a multi-year deficit we have to make up for and we need to get into this conservation mode with everything we do. Vineyards definitely have a huge part to play in that."
Long-term drought
Napa County comprises about 500,000 acres, and currently, about 50,000 acres is devoted to vineyards.
According to those who study climate patterns, California appears to be in a transition phase, entering its next "mega-drought," meaning it could last as long as 300 years.
"It's normal for the state to experience long cycles of drought, lasting anywhere from decades to centuries," said geologist and California land use expert Amber Manfree. "There was a wet period that started around the Gold Rush, in about 1848, and it appears to be ending. In between (the wet and dry years) there's a transitional period where the number of drought years increase until it becomes more common, and then normal."
No one can predict just yet how long these dry conditions may persist, but we'll know more after a few more seasons.
"Really, it could be anywhere from decades to centuries. You don't know until you start to get in (the dry period) for a few years," Manfree said.
Climate change has thrown another wrench into the works.
"It's a wild card. It will most likely make whatever our prevailing conditions are more extreme," she said.
This year, however, Wolf is optimistic. "Vines have their own mechanisms for responding to drought, with really strong survival instincts. Smaller canopies can be seen on vines and this year's crop looks to be about average. So we don't need to irrigate like we would in a more normal situation."
Water conservation
Within the past couple of months, the cities of Napa, Yountville, St. Helena, and Calistoga have all declared water emergencies and mandated conservation measures for residents.
The situation is a little different for vineyards, many of which operate with their own wells.
"We all need to do our share, but the reality is we're not all drinking out of the same glass," Wolf said. "I'm not sure a vineyard owner in Oakville, for example, is having much impact on somebody using municipal water in Calistoga."
Perhaps not vineyards, but to produce a gallon of wine it takes five or six gallons of potable water from municipal supplies. Unlike vineyards, the wineries are competing with residents for that water, Manfree said.
There is also timing. Almost all of that water use happens at the driest time of year, from August through the end of October.
But pointing the finger at individual water users and saying "you need to conserve" is not productive, Manfree said. There are also hotels and resorts and "it takes a lot of water to wash all those sheets and towels, and keep the pool full."
"I think we could benefit from a more holistic approach where we look at all of the water resources and figure out what all of the allocations look like, because the amount of water that's allocated to agriculture is enormous in Napa County," Manfree said.
If the well runs dry
Irrigating vineyards from a well without relying on municipal water supplies is a mixed blessing. Unlike with a reservoir, if your well runs dry, you won't know it until it happens.
Areas of Coombsville are an example of a place where shallow wells have been poorly maintained, requiring water deliveries, Wolf said.
"You don't know what you have until you don't have any. People with shallow wells are probably nervous every time they open the tap," he said. "If your well runs dry, the only alternative is buy water."
The county recently sent out a notice that it is monitoring a portion of its wells, and there was some comfort in that, Wolf said. However, "People in the valley are typically not really great about monitoring their wells on a regular basis, and that needs to change."             
Some vines won't make it
But knowing when you're going to run out of water isn't much of a blessing either.
Jericho Canyon Vineyards, just north of Calistoga City limits, sits in the shadow of the Palisades. Instead of wells, the 40-acre vineyard depends on holding ponds and reservoirs for irrigation. The reservoirs normally fill up in the winter and go down in the summer.   
Even when the reservoirs are full, however, "It's hard every year," said Nick Bleecher, Jericho Canyon's winemaker and general manager.
"You're always worried. And if it's a warmer year, you're worried about running out before the end of the year," said Bleecher, the son of founders Dale and Marly Bleecher. "We don't have an option to draw from wells and water tables. Our reservoirs and irrigation is the only thing that keeps the vines alive in the summer."
Bleecher can recall previous dry seasons, off and on from 2011–2017, but this season is worse, he said. "If there's no water then we're just out of luck. We hope that won't happen, but realistically, most of them probably won't survive the summer. But as long as there is some rain we should be okay."
On the valley floor, vine roots can dig deep for water. Bleecher said his only go down a couple of feet. On the plus side, the dry conditions do actually make for high-quality wine, as grapegrowers are normally trying to stress the vines with less water. "You're always kind of pushing it. On the downside, we are at that line already. If you cross the threshold, the vines aren't going to come back. Having limited water isn't ever a good thing."
Even knowing how much water you have, there's no way to prepare for any potential losses, Bleecher said.
"The only thing you can do is cut all the fruit off to save the vines. It's agriculture. It's farming. You just kind of have to expect what's going to happen and do the best you can."  
Expanding wine production
Despite the drought, Jericho Canyon plans to expand. Earlier this year, it submitted plans to update its 20-year-old winery permit, which would expand production by about 20,000 gallons per year. This is a separate issue from growing grapes, Bleecher explained.
"There are no more vineyards being planted and there's no more distribution planned. We have to catch up as the times change, and also have people visit onsite," he said. The property already has a space in which to expand production.
"I got a call the other day from someone whose winery burned down in the Glass Fire saying, 'Can you help us?' (In that case) it's just moving production from one winery to another," he said.
The winery and houses are served by well water, and Jericho also has a biofilter system so water used for production is filtered and recycled for irrigation. "It's not using water and making water disappear," Bleecher said.
A future in question
In response to the drought, some vineyard owners are not replanting like they used to, Wolf said. In one case last year, the field was ready and vines had been ordered, "But they had empty reservoirs so they put it off until this year, and probably put it off again. I think people are rethinking their vineyard designs, if it's not too late to do that, with fewer vines per acre to irrigate."
And if there is a side benefit to "the horrors of the drought and potential fires, it's a raised consciousness about using water."
Pritchard Hill's Chappellet Winery, in the eastern hills of the Napa Valley, near St. Helena, has been in operation for more than half a century. Cyril Chappellet, president of the winery, put it succinctly: If the heat and drought trends worsen, "We're probably out of business," he recently told the New York Times. "All of us are out of business."