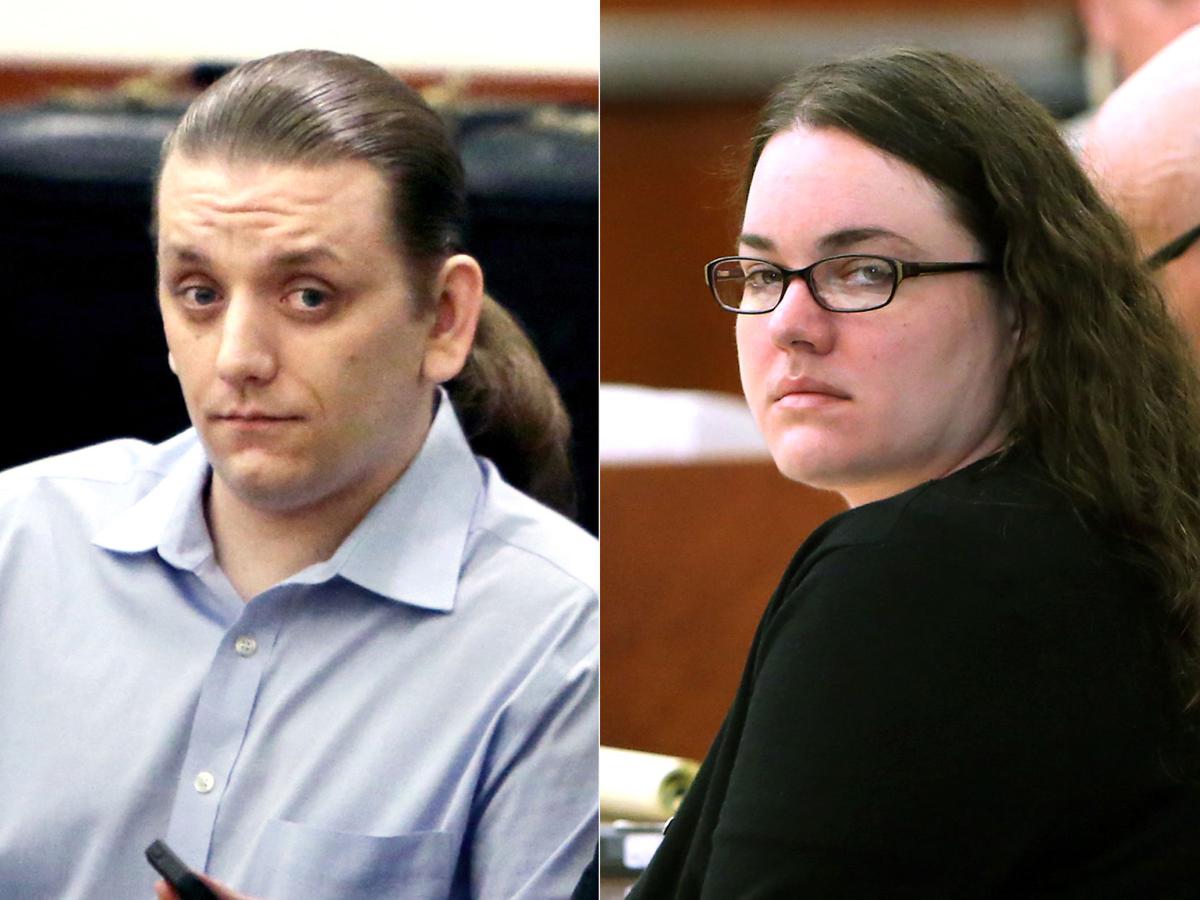 A day after Sara Lynn Krueger and Ryan Scott Warner were sentenced to life in prison for the murder of Krueger's daughter, 3-year-old Kayleigh Slusher, the Napa County Superior Court released assessments of the defendants by county probation officers Friday.
These reports provide another glimpse into the lives of Krueger and Warner from before and after Kayleigh's death in early 2014 in the east Napa apartment that Krueger and Warner shared.
During the trial in May, Krueger's attorney, Jim McEntee, attempted to portray his client as a battered woman suffering from PTSD. On the stand, Krueger testified that she had been raped as a teenager, started using methamphetamine early in life and had a hectic home life.
Despite describing a "turbulent" early adolescence, Krueger, now 27, was, at times, a productive member of the community, according to the probation officer's report. After attending one year at Napa High School, Krueger, who had gotten into some trouble as a teen, graduated from Liberty High School and eventually started studying early childhood education at Napa Valley College.
Krueger has held jobs as a cashier at Target, Walmart, Central Valley Supply, Browns Valley Market and Expresso, according to the report.
Krueger said that she had been off meth from the time she had become pregnant with Kayleigh until the summer of 2013 when Warner moved into her apartment at 2060 Wilkins Ave. in Napa. When he reintroduced her to the drug, she said, it got to a point where she just couldn't say no.
About six months after Warner moved in, Kayleigh was found dead with bruises all over her body. After temporarily placing her lifeless body in their apartment freezer, Kayleigh was tucked into bed and the couple eventually got out of town. They were arrested in El Cerrito on Feb. 2, 2014, the day after police found Kayleigh dead at the apartment.
In a recent interview at the Napa County jail, Krueger blamed Warner for her daughter's death, the report says. She said that Warner controlled the whole situation and that he should pay for what he did to Kayleigh, according to the report.
Krueger said that she feels guilty for relapsing and that she knows she failed "her baby," reads the report. She believes she should be charged with something, but "not necessarily as severe" as her current charges.
According to the report, Krueger said she keeps a photo of Kayleigh nearby so she can see her every day. Krueger said that she and Kayleigh should be out swimming now, the report says. She said she wonders what types of things Kayleigh, who would be 7 years old if she were alive, would be interested in.
Krueger, who plans to appeal her case, said that she would like to start a charity in honor of Kayleigh, helping other people stay sober, the report says.
Probation found that Krueger, if released, is at a high risk to reoffend and, in order to avoid possible recidivism, she would have to address risk factors including education and employment, companions and her anti-social pattern.
Warner, 29, did not testify during his trial, but did make a statement prior to his sentencing on Thursday. He apologized for his actions following the discovery of Kayleigh's body, but said that he maintains his innocence.
Other than his known use of methamphetamine, one of the only things said about Warner during the trial was that several of Krueger's friends got "bad vibes" from him. It also came out that he and Krueger had known each other as teenagers and had, at some point, reconnected via Facebook.
The probation officer's report doesn't reveal much more about Warner since he "declined to discuss his personal history." What he did say, according to the report, is that he was born in San Jose, attended San Yeto High School in Fairfield, dropped out his senior year and took about one semester of courses at Solano Community College.
Warner was on juvenile probation for unlawful use of a credit card and had been under supervision for more than four years, the report says. The last time he was employed was in 2013 when he said he worked for a temp agency "here and there," according to the report.
Although Warner had previously told police that he treated Kayleigh like she was his own daughter, probation officers said that his actions were in "stark contrast" with how a reasonable adult cares for a child.
"She was neglected, tortured, and ultimately died in extreme pain, naked and alone on the bathroom floor," reads the report. Probation found that Warner's "actions, severe neglect and lack of empathy or remorse towards the vulnerable 3-year-old victim causes great concern for the safety of others."
Warner is the youngest of three siblings and has a 4-year-old son, according to the report. Warner also plans to appeal his conviction.
Several of Kayleigh's family members made statements during Thursday's sentencing. Similar statements were provided in the probation reports.
Jason Slusher, Kayleigh's father, said that he can't even hear young children playing or be around other children in his family because it makes him think of Kayleigh, according to the report.
"Whenever I see a child of [Kayleigh's] age, especially when they are blond little girls like [Kayleigh], I am a mess," he wrote. It's very painful, too, when people see him at the store or gas station and want to tell him how sorry they are about his daughter's death.
Slusher did not request any victim restitution, only that Kayleigh's belongings – her toys, stuffed animals, photos – be returned to him.
"Everything that [Kayleigh] owned or touched is precious to me," he wrote.
Get local news delivered to your inbox!
Subscribe to our Daily Headlines newsletter.