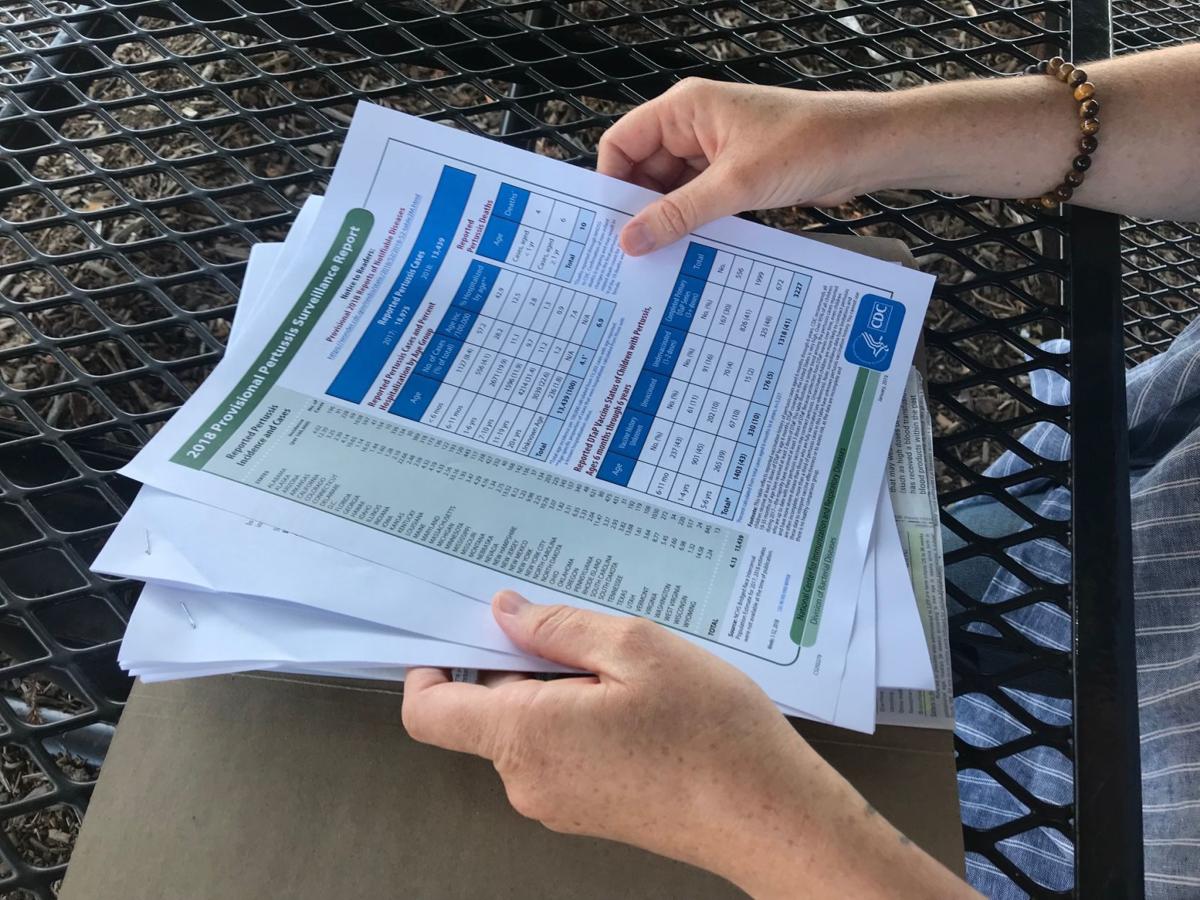 Ashley, a Napa mother of two, is the kind of person who carefully evaluates everything she uses, from a new vacuum to the type of sunscreen she applied when she was pregnant and the car seat she selected for her baby.
"I've always been that way," said Ashley, who is in her early 30s. "I do my research before I consume or buy something."
So when it came time to vaccinate her children, Ashley took the same approach. And then she made a decision that many consider unpopular, or downright dangerous.
She's not vaccinating her children. At all.
"Vaccines are not one-size-fits-all," said Ashley. "There are different risks for different children." (Because she's afraid her family may be harmed if people knew they don't vaccinate, the Register agreed not to use Ashley's real name).
She doesn't consider herself an "anti-vaxxer," said Ashley.
"I am not anti-vaccine as much as I am pro-choice. I believe everyone needs to make the decision that is best for their family."
Her family falls along the spectrum of "vaccine hesitancy," said Ashley. "If vaccines were proven 100 percent safe, I would have no issues vaccinating my children."
It's a decision that has impacted her relationship with her community, friends and family.
When people find out they're not vaccinating, "We're ridiculed, we're disrespected; we lose friends," jobs or worse, Ashley said.
The decision not to vaccinate
Choosing not to vaccinate wasn't something she originally planned, said Ashley. At first, "I didn't think twice about vaccines, because I was vaccinated." However, when her husband was growing up, he did not receive all of his vaccinations.
Ashley said she decided against vaccinations after spending many years researching the adverse reactions and complications. Her sources include the Centers for Disease Control and Prevention, the World Health Organization and others. In addition, the fact that vaccine manufacturers can't be held liable for vaccine injuries also concerns her.
Her decision was prompted when she was pregnant with their first child. At that time, Ashley was offered a flu shot. After researching the effectiveness of the vaccine, the risks and ingredients of the shot, she declined.
"For me it didn't make sense," said Ashley.
She also declined the Hepatitis B and DTaP shot (which immunizes against diphtheria, tetanus and whooping cough or pertussis) based on her concerns about adverse reactions and the vaccine ingredients.
Ashley will not vaccinate her children for measles, mumps or rubella either. She's read about severe reactions and even deaths as a result of the MMR vaccine, she said.
"I am not afraid of measles," said Ashley. "To some parents that sounds ludicrous," she admitted, but "I know how to treat my children." They are rarely sick, she noted. If they were to get the measles, "we'll be uncomfortable for 10 days (but) I feel confident we'll move along."
Ashley continues to decline other vaccinations for her family.
When it comes time for kindergarten, she may homeschool her children or seek a medical exemption. California schools require children to be immunized.
Ashley doesn't want vaccines to be mandated. "Not being allowed to have a choice of what is being injected into your body, that's a scary thought."
She'd also like to see more and different safety studies and new and improved standards for vaccine testing.
"I feel like all parents would agree more safety studies would be a good thing for all of us."
Ashley knows her choice not to vaccinate is controversial. She originally agreed to use her real name for this story. But after reading an April 30 opinion piece in the Washington Post titled "Anti Vaxxers are dangerous. Make them face isolation, fines and arrest," Ashley changed her mind.
In that opinion piece, author Juliette Kayyem wrote: "In the same way we have created sex-offenders lists to protect our children, communities can inventory families that choose not to be vaccinated, notifying employers of these parents as well as neighbors who may choose not to expose their children."
That call stoked Ashley's fears.
"I am afraid of being ostracized because parents are afraid of unvaccinated children," she said.
She's already been banned from visiting friends with young babies that haven't been able to be vaccinated yet. She understands their decision, "But I can't say it doesn't hurt," Ashley said.
Ashley said the reason she's willing to speak out is because she wants to encourage a conversation "to speak honestly and openly," about vaccines and choices.
Ashley isn't alone in her decision not to vaccinate. Another Napa mother, Megan, doesn't vaccinate her children either.
Megan said she's also been ridiculed and shamed for that choice.
She's afraid that if everyone knew of her decision "people would personally attack my family," she said. The Register agreed not to use her real name for this story.
Megan, who was vaccinated as a child, said she began to question vaccinations after her son had a bad reaction after one immunization. Megan recalled another family member who had "weird food allergies that developed after she started vaccinations."
When her pediatrician suggested the human papillomaviruses (HPV) vaccination for her older daughter, Megan researched the vaccine.
"The more I started looking into that vaccine there was just no way I was going to give that to her."
At that point she stopped all vaccines, said Megan.
"I can't see injecting my child with these substances that have not been proven to be safe," she said. "The fact that vaccine manufacturers cannot be held liable just blows my mind," said Megan. She also cited claims that some make about vaccines leading to or causing autism.
"I feel like parents are doing more research about what car seat they are putting their kids than what they are injecting into their kids' bodies," said Megan.
Megan also refuses the flu vaccine every year.
"I just feel that I'm young and healthy enough that if I were to get the flu I would be able to fight it off just fine," said Megan.
Her youngest child is very healthy, said Megan. "Just because she's not getting immunized, doesn't mean she doesn't have natural immunity."
The issue is so fraught that some in Megan's own family don't know she doesn't vaccinate.
"It's not something I discuss," said Megan. If they knew, "I would be ostracized and my kids would be ostracized. Especially my youngest," said Megan.
"At this point what they don't know isn't hurting them."
When her younger child is old enough for kindergarten, Megan will seek a medical exemption.
"I'm keeping an open mind to homeschooling or moving out of California because other states still have personal belief exemptions."
Vaccinating would be her last choice. In that case she would only vaccinate using a delayed schedule, giving only one vaccine at a time and only the minimum required.
Because those who don't vaccinate can be shunned, "When I do find like-minded people like myself, it's a relief," said Megan. "It's so nice to know there's other people in my hometown that feel the same way. There's a lot more than you think."
The medical community speaks out
The recent upsurge of measles has many parents and health care providers talking.
As of May 3, there were 764 cases of measles confirmed in the U.S. This is the highest number of cases reported in the U.S. since measles was eliminated in this country in 2000.
There are a number of pediatricians in Napa who won't accept families that aren't vaccinated.
Megan receives her medical care from Kaiser.
"We do not turn members away who are not vaccinated," said Dr. Randy Bergen, a pediatrician spokesperson from Kaiser Permanente's Diablo area. "However, we are deeply committed to vaccines as a central part of keeping our members healthy. Our physicians and staff do our best to provide education and personalized consultation to our members about the critical value of vaccinations."
Ashley's family receives medical care from OLE Health.
OLE Health will see pediatric patients who have not been vaccinated or who are on alternative vaccine schedules, said Alicia Hardy, OLE Health's CEO.
However, "It's very clear through a robust body of medical literature and decades of scientific evidence that what is best for children is to be fully vaccinated," said Hardy.
"Vaccines are safe. Vaccines are effective. Vaccines save lives, quite simply."
OLE Health advises providers "to have compassionate conversations with parents to clear up misconceptions around vaccines, provide accurate information about the safety and importance of vaccines and strive over time to help parents make the decision to vaccinate their child," said Hardy.
"Vaccines are a safe and cost-effective way to prevent certain diseases," said Karen I. Relucio, M.D., Napa County chief public health officer.
"Part of the decision to vaccinate is not just to protect your own children but to protect other children as well," said Relucio.
"If you make the decision not to vaccinate, it doesn't just affect your child and your family. It can impact other people who can't get vaccinated," such as babies who aren't old enough to get their first MMR vaccine dose, pregnant women, or people who have weakened immune systems, Relucio pointed out.
Relucio noted that measles is not a mild disease.
"Measles can cause complications, even in healthy children," and cause serious illnesses requiring hospitalization, said Relucio.
According to the Centers for Disease Control and Prevention, one in 10 children with measles gets an ear infection, which can lead to deafness. One in 20 children with measles gets pneumonia and one in 1,000 develops brain swelling that can cause brain damage.
One or two out of every 1,000 children who get measles will die.
"We're about to hit 1,000 cases in the U.S.," said Relucio. "We're going to start seeing complications."
According to the World Health Organization, 110,000 people died from measles in 2017, mostly children under the age of 5.
The last measles death in the US occurred in 2015. That being said, it is estimated that from 2000 to 2016, 20.4 million deaths were prevented globally.
In addition, "There is a terrible disease that results from measles," called subacute sclerosing panencephalitis, said Relucio. This rare and fatal disease of the brain can develop seven to 10 years after someone is infected with the measles.
Aside from measles, whooping cough, or pertussis, is another serious disease. Babies can and do die from whooping cough, said Relucio.
Relucio said that vaccine reactions are rare.
"Getting the disease is much worse than the possibility of a serious adverse reaction," she said.
According to a 2015 report from the National Institutes of Health, "A person is far more likely to be seriously or fatally injured by a disease prevented by vaccines than by a vaccine itself."
However, Relucio knows it's hard to convince people who have made the decision to delay or deny vaccinations.
"It's important to do your own research and be informed but it's also important to have that discussion with your physician as well," said Relucio.
"You may not have all the information," she said.
Get local news delivered to your inbox!
Subscribe to our Daily Headlines newsletter.