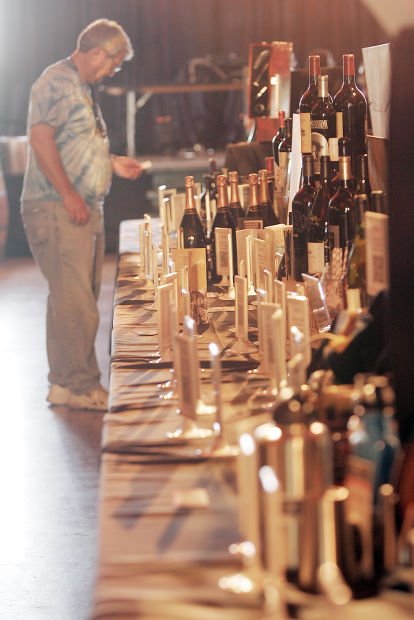 BottleRock was billed as music festival with a conscience, but two months after the event, the more than two dozen charities that hoped to divvy up as much as $1 million in festival donations have yet to receive a dollar.
"We were very excited" to be named one of the nonprofit partners of BottleRock, said Marc Lhormer, co-founder of the Napa Valley Film Festival. Based on rough projections of drinks sold, Lhormer said, organizers were touting donations as high as $40,000 to $100,000.
"Our expectation is that we would get a very nice payout based on our contributions," Lhormer said. Unfortunately, "we haven't seen a penny."
In addition to a storied musical lineup and fine food and wine, much was made of the festival's giving plans. According to BottleRock co-founders Gabe Meyers and Bob Vogt, $4 from every festival ticket sold was to go to a list of five community partners. Another $1 from every drink sold was to be allocated to a BottleRock-managed fund called the Bacchus Benefits Group. A Macklemore & Ryan Lewis concert was also billed as a benefit.
Finally, supporters who raised $1,000 for BottleRock charities via a group called The 300 also made contributions.
As a BottleRock nonprofit partner, the Napa Valley Film Festival promised to sell tickets, promote the festival to its own supporters and contribute at least 10 auction items or packages to an eBay charity auction.
Proceeds from that auction would then be distributed equally among all the nonprofit partners, the nonprofit participation contract said.
Each charity would also have space to promote its cause inside the nonprofit "Autism CHORDS Pavilion," located in Cabernet Hall at the Napa Valley Expo.
Lhormer said he understood very well that first-year festivals often struggle, and he said he was grateful for the opportunity to promote the film festival. However, the BottleRock experience inside the pavilion fell short.
"The execution of the auction was not great," Lhormer said. "There was much lower traffic in the pavilion than BottleRock projected."
Promised acoustic sets, food specials and chef appearances never materialized, he said. One top of that, "there was terrible Internet access," which meant most bidders couldn't actually bid inside the pavilion.
He said he thinks his nonprofit may yet receive $1,500 from the auction, the same as the approximate value of items they donated. That's disappointing, Lhormer said.
After the festival, Lhormer said Meyers asked him to be patient, saying "they're trying to work through" financial issues.
"We wish BottleRock nothing but big success, and we certainly hope the financial stuff gets worked out," Lhormer said last week.
The five-day music marathon, held May 8 to 12, was the largest event in Napa history, bringing more than 120,000 music lovers to the Napa Expo. Musically, the festival went off without a hitch, with such major acts as Kings of Leon and the Black Keys performing well-received concerts.
Only since the festival closed have BottleRock's financial problems begun to surface. To date, creditors have filed lawsuits or publicly asserted debts totaling $2.5 million.
BottleRock organizers have yet to pay 142 union workers $630,000 in wages as well as a number of other vendors who worked at the five-day music event. Three lawsuits for breach of contract have been filed against the festival, including one by Meyers' father.
Craig Smith, the executive director of the nonprofit Downtown Merchants Association, said he was pleasantly surprised to be chosen as one of five community partners that would share $4 from each ticket sold.
"I have never known a group to offer what BottleRock was," Smith said. "We were impressed. That could have been a whole bunch of money." While encouraged, "we didn't make any specific plans for that money. We knew it depended on the success of the event."
To date, the merchants association hasn't received any donations. "It's very unfortunate," Smith said.   
Jennifer Brusstar, CEO of the Tug McGraw Foundation, which works to enhance the quality of life of people with brain tumors, post-traumatic stress disorder and traumatic brain injury, said her group thought the nonprofit concept was "a great way to get our message out. We were very appreciative of the opportunity."
Because BottleRock was a first-year festival, Brusstar said, she didn't have big expectations. She hoped her foundation might receive around $5,000.
While the auction concept was "great," there were organizational challenges inside the hall such as the poor cellular reception, she said.
"Their heart was in the right place, but I think there were too many moving pieces," said Brusstar, who said she's resigned to the fact that the group might not receive any donation.
"We did not count on this for any programs," Brusstar said. "In the nonprofit world, we're used to budgets being readjusted," she noted. "Not every commitment can come through."
Rob Max is the executive director of Sweet Relief Musicians Fund, a Southern California-based nonprofit that provides financial assistance to musicians facing illness, disability or age-related problems.
Because he had to travel to Napa on short notice and would incur out-of-pocket expenses such as housing, Max said he asked BottleRock organizers for a guarantee of at least a $10,000 donation.
It has not been received, he said.
Max said he has extensive experience working at festivals like BottleRock. "None of what we've seen has surprised us," said Max. "We were well aware they were going to lose money this year," he said. "All first-year festivals do."
Max doubted he had any legal options for collecting the promised $10,000. "If we were talking about $100,000, it might be worth it, but at $10,000, what are you going to do?"
"We walked away with a good experience. We got to meet so many locals and other nonprofits," which was valuable, he said. "Our greatest regret is that the people who are really suffering" and could have benefited from a BottleRock donation won't get that money.
"We did not have high expectations" about what BottleRock might potentially donate, said Sandy Sohcot, executive director of the Rex Foundation of San Francisco.
"Festivals are not easy initiatives to undertake," she said. "We are anticipating something from the silent auction proceeds," but not a significant amount.
The situation "sounds unfortunate for all parties," Sohcot said.
Mike Costanzo, executive director of the Napa County Bicycle Coalition, said his group received a donation from BottleRock before the festival began. Organizers provided a "generous cash sponsorship" of $3,500 for a Napa Bike event April 27. During BottleRock, the group managed the valet bike parking.
"It was an opportunity to be in on the ground floor of an annual event," Costanzo said. "We didn't attach any expectations to it. Based upon our previous interactions, we believed it would turn out just fine."
"We're hoping they sort their troubles" and a donation can be made, Costanzo said. "I'm cautiously optimistic." However, if the money isn't donated, "it's not the end of the world for us," he said.
The nonprofit pavilion included bidding on donated items gathered by the nonprofit partners. The total amount raised in the eBay auction was $37,702.31, said eBay spokeswoman Karen Bard Sayah.
The first wave of auctions launched prior to the event benefited the International Mental Health Research Organization (IMHRO) in the amount of $4,370. The second wave of auctions totaling $33,332.31 will be split in equal shares among the festivals 20 nonprofit partners, Bard Sayah wrote in an email.
The IMHRO, based in Yountville, was the fiscal sponsor for the auction as well as a nonprofit partner and exhibitor in the pavilion.
One of BottleRock's community partners is Autism CHORDS, a pending 501(c)(3) nonprofit established by BottleRock co-founders Meyers and Vogt. Vogt's 21-year-old son Will was diagnosed with an autism spectrum disorder.
According to the Internal Revenue Service website, Autism CHORDS did not appear last week on its list of tax-exempt organizations. Autism CHORDS' application to receive tax-exempt status is still pending, Vogt said Thursday.
While Autism CHORDS awaits its nonprofit designation, its supporters can make donations in care of IMHRO, said Cindy Dyar, IMHRO's managing director. Donations will sit in a restricted account. Once Autism CHORDS receives its tax-exempt status, the organization can grant the funds to Autism CHORDS, she said.
"If their program doesn't proceed, then we will give those donations to other autism-related organizations," she said. IMHRO had nothing to do with the Bacchus fund, Dyar noted.
Lee Abernethy, spokeswoman for Napa High School's Believe in Bleachers Renovation Project, said she had no expectations as to the amount of money her group might receive from BottleRock.
"We'd be appreciative of anything we got," Abernethy said. "It wasn't just about what BottleRock was going to do for us. We were there to sell what we were trying to do" to festivalgoers.
While the group hasn't received any donations, during the festival it did sell a $500 seat for its own fundraising efforts, she said.
"I'm hoping eBay comes through with a little something," perhaps in the $1,000 to $2,000 range. "That's all we can ask," Abernethy said.
"The chance to perform at BottleRock gave our kids a one-of-a-kind experience," wrote Shelley Surh, executive director of the Napa Valley Youth Symphony. "Playing music on that stage on the opening night offered an exciting showcase for their energy, dedication and talent, and we deeply appreciate what that did for our entire organization. If that's the only compensation we receive from participating in the festival, we're OK with that," she said in a statement.
 Vogt said  by phone  Thursday that he wants the nonprofits to receive their donations. The majority of them contributed hundreds of volunteer hours staffing booths and tables at the festival.
"These are 25 wonderful organizations," he said. "We are all going to work together to make sure they have gotten what we have promised."
Vogt has said the holdup on making the donations and paying other bills and workers centers on a financial dispute with CP Cooks, the group that organized the food and beverage services at the festival.
According to his estimate of drinks sold, Vogt said the Bacchus fund should have raised $500,000 to $600,000.  
Asked where the money was from the Macklemore & Ryan Lewis benefit concert, Vogt said, "I can't comment on that."  
Phone calls to Meyers  for comment were not returned.
Vogt said he continues to seek investors for the festival so debts can be paid and BottleRock can return to the Expo next year. Progress is "very, very positive. That's all I can say now," he said Thursday.