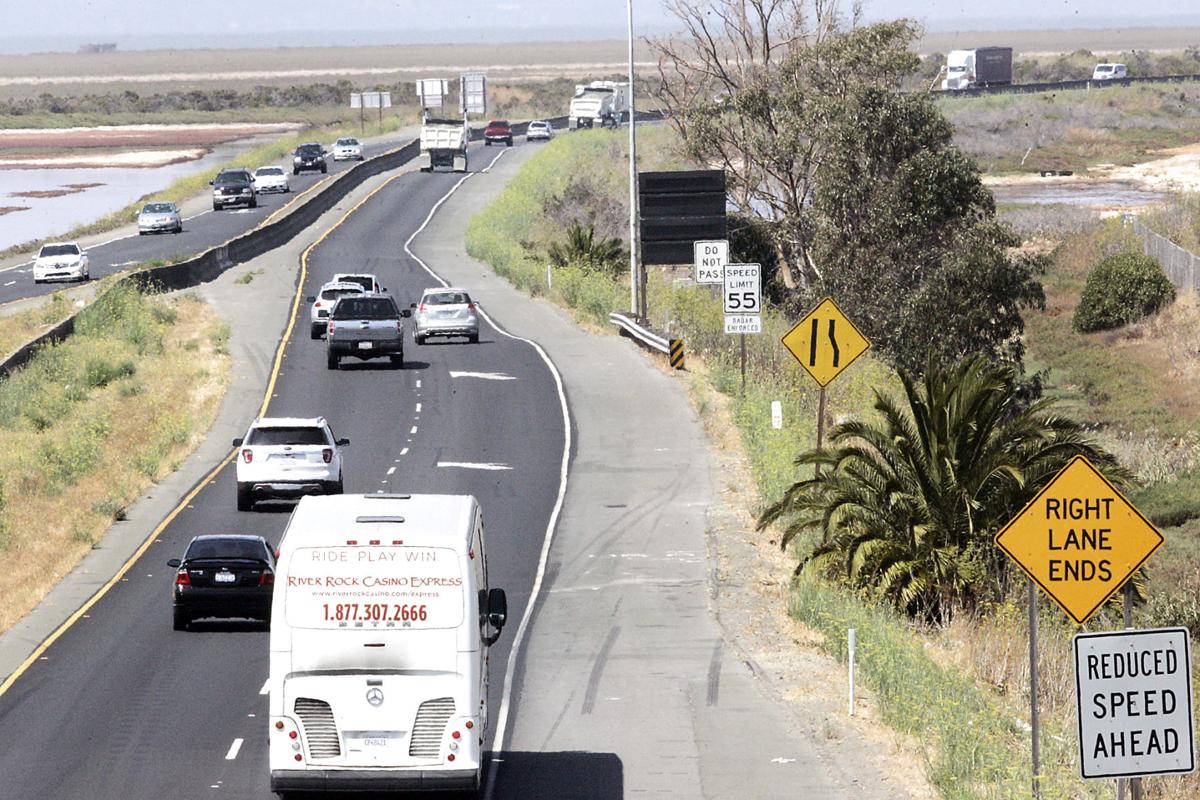 Highway 37 between Mare Island and Sears Point could get a congestion-relieving makeover as soon as 2025 — if the money can be found.
This isn't the grand idea of elevating Highway 37 on a causeway or embankment so it doesn't get swallowed by San Pablo Bay in coming decades by predicted sea level rise. What transportation officials call "the ultimate project" will be left for another day.
Rather, this would be a project that could be finished much more quickly. Stated goals are to ease traffic snarls as soon as possible while building within the existing right-of-way to have a minimal impact on surrounding wetlands.
"For the congestion relief project, the roadway would not be raised by any measurable amount," project consultant Jeff Zimmerman said during a virtual open house on Wednesday evening.
The 9.5-mile stretch of Highway 37 between Mare Island and Sears Point is two lanes – one each direction – with a concrete median barrier. The road is on a berm and crosses the Napa-Sonoma marshes and San Pablo Bay National Wildlife Refuge.
Three near-term congestion-relieving proposals are being considered:
— Add an extra lane to create a three-lane highway. Which direction of traffic uses the lane would change with morning and evening rush hours. A special truck would move nine miles of median barrier twice a day so that the middle lane would always serve peak-hour, peak-direction traffic.
— Use the shoulder space as two extra lanes, one eastbound and one westbound. A shoulder could be used only by peak-hour, peak-direction traffic. At other times, it would remain a shoulder closed to traffic.
— Use the shoulder space to create new lanes for a four-lane highway, two lanes in each direction open at all times. A four-foot-wide shoulder would remain.
In all three alternatives, the new lanes would be high occupancy vehicle (HOV) lanes for carpools and buses. If a proposed Highway 37 toll becomes reality, all lanes would be subject to tolling.
A draft environmental impact report for the project is to be available in summer 2021 and a final version in summer 2022. If money is found, construction would begin in 2023 and be finished in 2025, according to a project video.
Transportation officials took written questions from online participants during the virtual open house.
Some participants questioned spending money on a stop-gap measure that will no longer be needed when the ultimate project is built. They preferred moving ahead with the causeway.
"I think the barrier is probably funding for the ultimate project," Zimmerman said. "I think everyone would want to go forward with the project if funding were available now."
That ultimate project will not incorporate whatever near-term improvements are made on Highway 37 between Mare Island and Sears Point. Zimmerman said it would be built along a separate alignment.
Previously-announced cost estimates for the ultimate project along the entire length of Highway 37, from Vallejo to Novato, range from $1.5 billion to $2.5 billion. Zimmerman said estimates for the proposed, near-term project between Mare Island and Sears Point will be included in the draft environmental impact report.
Someone asked if Highway 37 would remain open during construction. The answer was "yes," with some night closures. Workers would be behind concrete barriers.
"This is an important thoroughfare," Zimmerman said. "It would have to be maintained during construction."
The entire 21-mile length of Highway 37 from Vallejo to Novato takes about 20 minutes to drive with free-flowing traffic. Eastbound traffic during evening rush hour can take 100 minutes, a Caltrans presentation said. The two-lane Mare Island-to-Sears Point section is a bottleneck.
Caltrans will take comments through Aug. 24 on what issues should be considered in the upcoming, draft environmental impact report. Go to https://bit.ly/2CWLYwi for more information.
The Highway 37 project is being overseen by Caltrans, Napa Valley Transportation Authority, Solano Transportation Authority, Transportation Authority of Marin, Sonoma County Transportation Authority and Metropolitan Transportation Commission.
Watch: Tips to get motivated for exercise
Get local news delivered to your inbox!
Subscribe to our Daily Headlines newsletter.