South Napa County transportation projects such as long-planned Highway 29/Highway 221 intersection improvements would receive money from a proposed toll hike on Bay Area bridges.
Napa County is to receive $20 million of the toll hike revenues for projects along Highway 29, including the Soscol Junction intersection. It could also compete for money to help build park-and-ride lots and other projects.
"Everybody always wants more, but it's a pretty substantial line item for Napa," Napa Valley Transportation Authority (NVTA) Executive Director Kate Miller said.
But first, voters would have to pass Regional Measure 3 on June 5 to hike tolls on the Benicia-Martinez, Carquinez, Antioch, San Francisco-Oakland Bay, San Mateo-Haywood, Richmond-San Rafael and Dumbarton bridges. The Golden Gate Bridge is not a state-owned bridge, so it is not included.
Regional Measure 3 calls for three rounds of $1 toll increases. For example, the $5 Carquinez Bridge toll in nearby Solano County would rise to $6 in 2019, $7 in 2022 and $8 in 2025.
The proposed toll hikes are to fund $4.45 billion in transportation projects across the Bay Area. Napa County has worked to secure slices of that pie. Here are the local possibilities:
- $20 million allotment for Highway 29 projects in the southern county.
- $100 million for North Bay mass transit projects. Napa County could compete for money.
- $150 million to improve pedestrian and bike access to mass transit hubs and to close San Francisco Bay Trail gaps. Again, Napa County could compete for money.
- $100 million for projects on Highway 37, both near-term to address congestion and long-term to address forecasted sea level rise that could swamp the road. Local officials said traffic congestion on the highway linking Solano and Marin counties can spill onto Napa County roads.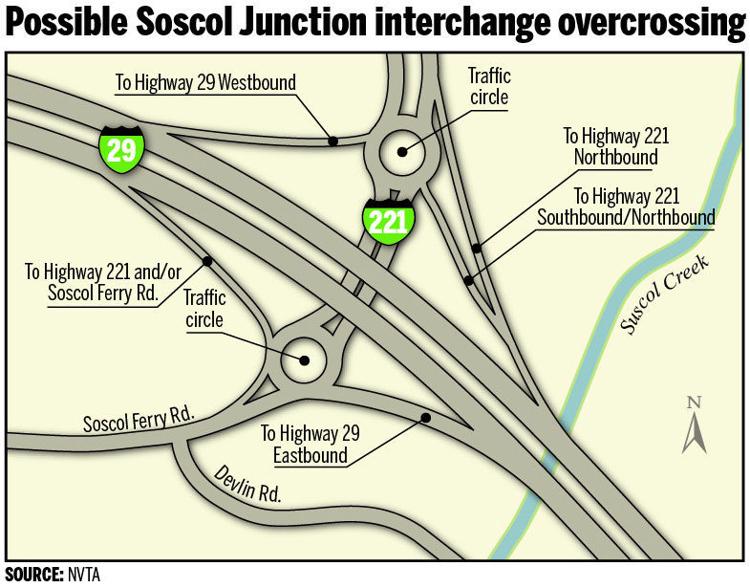 Soscol Junction at the intersection of Highway 29 and Highway 221 would be a signature project. The traffic signal during a bad rush hour backs vehicles up for a mile, leaving frustrated drivers sitting and staring at the nearby Grape Crusher statue.
The NVTA and Caltrans are looking at a $35 million project that would eliminate the signal and allow Highway 29 traffic to move freely on a new overpass. Two roundabouts would regulate traffic entering and leaving the highway and passing underneath it.
Soscol Junction alone could swallow up that $20 million allotment for south Napa County. But the NVTA is also looking at additional funding sources for the junction, so some of the toll allotment money could be available for other Highway 29 projects.
Miller mentioned as a possibility the proposed, $1 million Carneros Junction project at the signalized Highway 29 intersection where Highway 12 heads west to Sonoma. The signal would stay, but new merge lanes and a constant green light for northbound Highway 29 traffic would bring congestion relief.
Napa County could compete for Regional Measure 3 funds to do such things as improve the Imola Avenue park-and-ride lot in Napa. Still other money could help move express bus stops closer to Highway 29 to cut time from bus runs. Express buses go to BART, the Vallejo Ferry and Fairfield-Suisun.
American Canyon Interim City Manager Jason Holley sees possible Highway 29 projects in his city. For example, he mentioned creating additional turn lanes to improve intersections.
"Twice each day, American Canyon bears the brunt of excessive regional traffic on State Highway 29, and these proposed new revenues will help jump start necessary, long-term solutions for congestion relief," Holley said.
But first, voters would have to pass Regional Measure 3. A survey presented to the Bay Area Toll Authority (BATA) in December showed that 54 percent of Bay Area voters support the measure. A simple majority vote is needed for passage.
That survey also looked at various counties. In Napa and Solano counties, the measure had 45 percent support. This rose to 50 percent when voters learned of possible projects.
The survey polled Napa and Solano voters on what they think are the most important projects. Respondents listed Highway 37 improvements as number one, with 81 percent saying this is important.
Other projects with high importance ratings are reducing truck traffic and improving air quality at 78 percent, purchasing new BART cars to run more frequent trains at 73 percent and improving bike and pedestrian access to train stations and ferry terminals at 65 percent.
Perhaps because residents in both counties were polled, Soscol Junction and south county Highway 29 improvements ranked lower on the priority list, with 60 percent of respondents deeming these projects important.
EMC Research conducted the telephone-web hybrid survey of 4,151 residents in nine Bay Area counties. The margin of error is 2.6 percent.
People traveling from Napa County to San Francisco using Interstate 80 cross both the Carquinez and San Francisco-Oakland Bay bridges. Under the state legislation enabling Regional Measure 3, commuters paying tolls electronically would receive a 50 percent discount on toll increases at the second bridge during commute hours.
Whether bridge toll hikes under a voter-passed Regional Measure 3 would end at $3 in 2025 remains to be seen. State legislation enabling the measure allows BATA to raise tolls thereafter to keep pace with inflation. Union City Mayor and BATA Board Member Carol Dutra-Vernaci wants voters to know this.
"I think transparency is important in this situation," Dutra-Vernaci said during a January BATA meeting.
Metropolitan Transportation Commission Executive Director Steve Heminger responded that the matter is hypothetical at this point, given voters have yet to pass the toll increase. If they do, BATA would have the discretion to impose cost-of-living adjustments after 2025.
The cost-of-living adjustment possibility will be disclosed in the voter handbook, Heminger said. People opposed to this idea will probably also make sure voters know about it, he added with a smile.
Napa County was excluded from voting on the 1988 Regional Measure 1 toll hike and 2004 Regional Measure 2 toll hike, in part because the county has no toll bridge. But local voters will have a voice on Regional Measure 3.
"We have users of the toll bridges," Miller said. "There are revenues we generate. It seems fair we should have a vote in that."
MTC data shows that Napa County residents are responsible for 2 percent of the toll revenue at the Bay Area's state-owned bridges. The leaders are Alameda County at 31 percent, Contra Costa County at 18 percent and Solano County at 14 percent.
Napa County also has 2 percent of the Bay Area voters who will be asked to decide the toll increase.