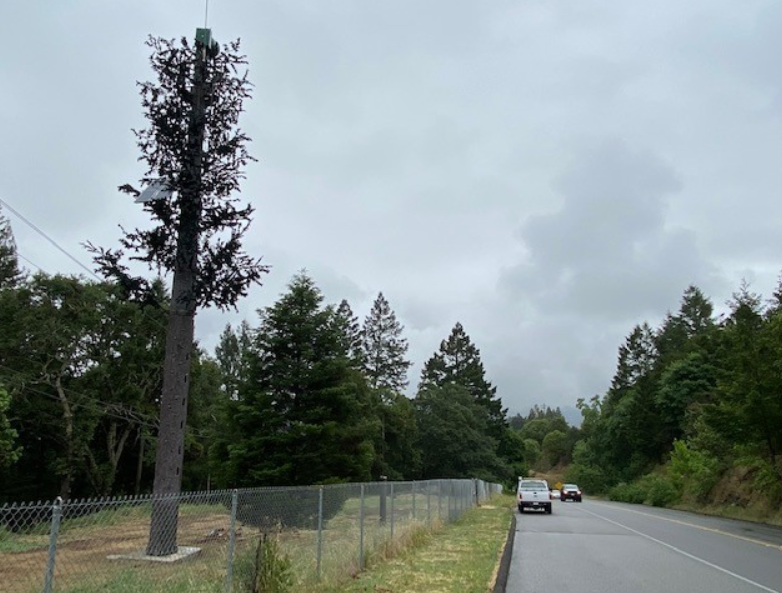 Napa County will negotiate with a company that seeks to erect 32 telecommunication monopoles disguised as trees on both sides of Napa Valley and top them with emergency warning sirens.
Illumination Technologies California erects towers and tries to lease them to companies such as AT&T. In return for using public right-of-ways, it offers communities those emergency sirens.
Company officials say the loud sirens could be heard by 70% of county residents if the county ever again is faced with a situation like October 2017, when it was ablaze with wildfires. Telecommunications in rural areas would also be improved.
"My goal here is to get to 'yes,' because I think this is a fabulous opportunity for the county," Board of Supervisors Chair Diane Dillon said.
Still, the Board of Supervisors at Tuesday's meeting saw issues to be addressed. Dillon and Supervisor Alfredo Pedroza will work with staff during negotiations with Illumination Technologies.
Residents who live in high-fire danger areas contacted by the Napa Valley Register on Friday said they like the idea of emergency sirens in general, without getting into the specifics of the Illumination Technologies offer.
Glenn Schreuder lives five miles up Soda Canyon northeast of the city of Napa. He learned about the Atlas fire, which killed six residents when it broke out the night of Oct. 8, 2017, from his daughter. She called from the city of Napa after seeing the orange-and-red glow in the Soda Canyon area, giving Schreuder and his wife the warning that they needed to evacuate.
Moreover, Schreuder said a couple with health problems living in the Soda Canyon area slept through the night. They could easily have died in their beds had the fire burned their property.
He would have welcomed an emergency siren blast that night.
"Something like that would be great," Schreuder said. "I'm 100% behind it."
The question is whether the Illumination Technologies proposal includes a siren that could be heard throughout Soda Canyon. A Soda Canyon siren is to be located along Soda Canyon Road not far from Silverado Trail. A county report lists the upper canyon as being a gap in the coverage.
Stu Williams lives in Berryessa Highlands, a rural community near Lake Berryessa and amid the brush of the east county. That community has been threatened by several fires in recent years, including the 2017 Atlas fire and 2018 County fire that burned the Blue Ridge.
He, too, would like to hear an emergency siren blast on a night when a fire is nearing. Better to be awakened by a siren than all of a sudden have a fire at the front door, he said.
Lake Berryessa is not slated to get one of the 32 emergency sirens, but Illumination Technologies has expressed interest in installing additional sirens in the Lake Berryessa area.
City dwellers would be able to hear some of the proposed sirens. For example, one is to be located on Golden Gate Drive south of the city of Napa.
That night of Oct. 8, 2017, when the Atlas, Tubbs and Partrick fires rode gusty winds toward hundreds of rural homes, is a key reason the county is considering fire sirens. In their wake, the county has looked at different ways to warn people who might be in a fire's path.
"Many people no longer have land lines, cell service can be unreliable and many people sleep with their cell phones off," said a county report on the Illumination Technologies fire siren offer.
Putting up the 32 towers with emergency sirens would cost Illumination Technologies $4.6 million to $5.2 million, the report said. Napa County would pay nothing, though there would be yet-to-be-identified costs to run the emergency sirens.
One thing Napa County wants to look at is aesthetics: world-famous wine country would have a number of 50-foot-tall fake pine or cypress trees along its main routes of Highway 29 and Silverado Trail.
Supervisor Ryan Gregory talked about the possible, future experiences for drivers as they travel the valley.
"They might see 20 of them?" he said. "That's different than being on a long drive and seeing a couple. So I'm really concerned about the aesthetics. Even those that are well hidden, they still stick out."
A county report discussed other issues to be addressed. County Fire Chief Geoff Belyea wrote that any energized improvement in a wildland area could malfunction and spark a fire. In other words, a malfunctioning fire siren could become a fire source.
Also, fire stations at St. Helena, Angwin and Rutherford already use sirens to summon volunteer firefighters. Adding the emergency sirens could lead to confusion or "siren fatigue," he wrote.
Napa County has a list that shows where each proposed emergency siren would be located. Some examples are Highway 29 at Maple Lane, Coombsville Road west of First Avenue, Atlas Peak Road below Bubbling Well Pet Memorial Park, Oakville Cross Road near the Napa River bridge and Court Place near the Angwin-Parrett Field Airport.
Go to the Board of Supervisors agenda for the July 21 meeting at https://bit.ly/2CM2v6n to see a list of the proposed sites for the emergency siren monopoles.
Watch Now: How to prepare for a wildfire evacuation