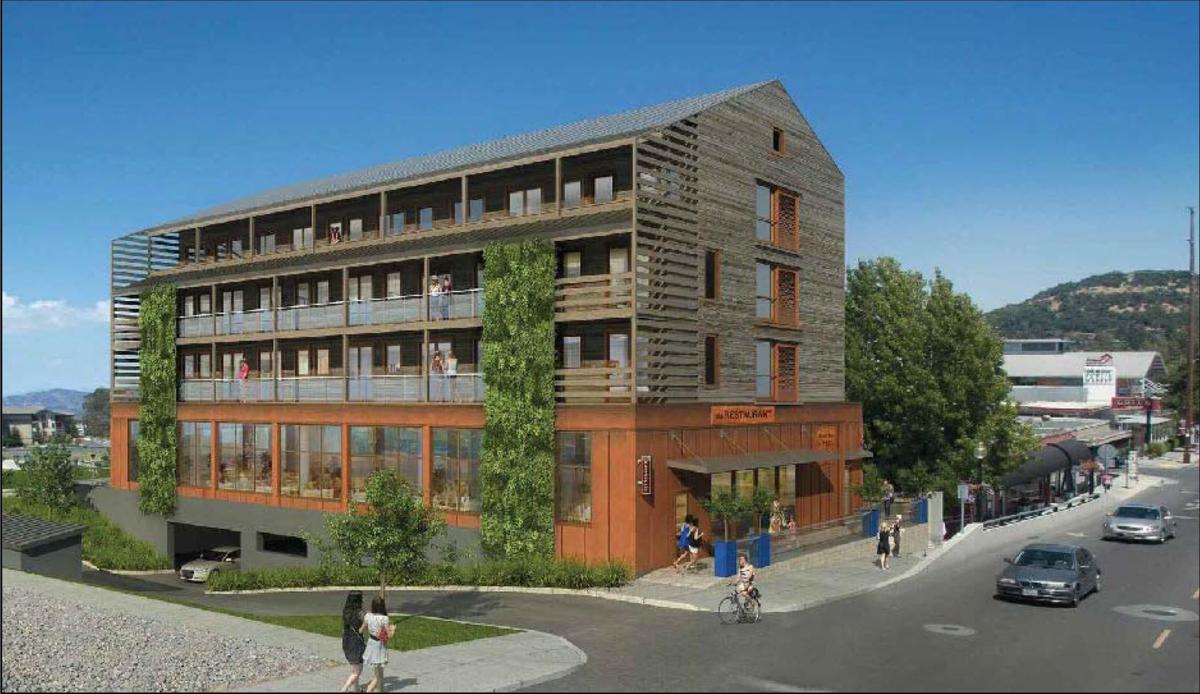 Napa's land-use authority will take an up-close look at one of the latest hotel proposals for a downtown district teeming with high-end lodgings.
The Black Elk hotel, a four-story building that developer Andrew Siegal seeks to build at 728 First St. in the Oxbow neighborhood, will receive a preliminary review Thursday from the city Planning Commission. The non-voting session will allow planners and city staff to suggest changes to the project before Siegal pursues permits for the building – the third iteration of a plan that originally called for apartments and a microbrewery before turning toward the hotel rooms that have proliferated in Napa's core.
On a site just over a third of an acre along the Napa Valley Wine Train tracks, Siegal seeks to raise a structure nearly 60 feet tall with 27 hotel rooms on the three upper floors and a restaurant, retail space and lobby at ground level. A mechanized parking structure would hold up to 56 vehicles beneath the building, with access from First Street.
Siegal's development originally won city approval in 2014 as a three-story building without a hotel, but was revised a year later to include 17 guest rooms and an on-site garage. When an arrangement with the Wine Train to host valet parking spaces fell apart, Siegal overhauled the project again, increasing the number of hotel rooms and replacing the garage with "puzzle-style" automated parking that can stack cars at three levels.
Clad in wooden siding, metal sliding barn doors and a metal roof, he latest version of the Black Elk would appear to have five stories from outside, with the fifth "floor" serving as loft space for fourth-floor hotel rooms. Those changes, announced last September, increased the building size from 26,000 to 31,404 square feet.
The growth of the Black Elk from previous versions – and especially its height and the absence of upper-floor setbacks – may leave it a poor fit amid the single-family homes and smaller buildings of the Oxbow district, cautioned Kyle Butterwick, a contract planner working with the city. Nearly six feet taller than the project approved in 2014, the current design would come within a quarter-inch of the 60-foot height limit for its zoning area – about 15 feet taller than the CIA at Copia center to the east and 20 feet taller than the neighboring Oxbow Public Market, according to plans.
Although future construction eventually may bring other tall buildings into the Oxbow area, "until this happens at some point in the future, the proposed building will initially appear visually dominant and out of scale in the neighborhood," Butterwick wrote the Planning Commission in a memorandum last week.
Siegal's project may have competition to build fresh hotel space in the Oxbow district literally across the street. In September 2016, another Napa businessman, J.B. Leamer, applied for a city permit to build a 74-room inn, condominiums and other commercial space.
Various hotel proposals in Napa, if all were approved and built, would add as many as 1,200 rooms to the city's lodging stock, officials said in February. The applications have flowed into Napa as its bed-tax revenue has become an ever-larger share of revenues, growing from 14 percent of the general fund in 2009 to a quarter of the total this year.