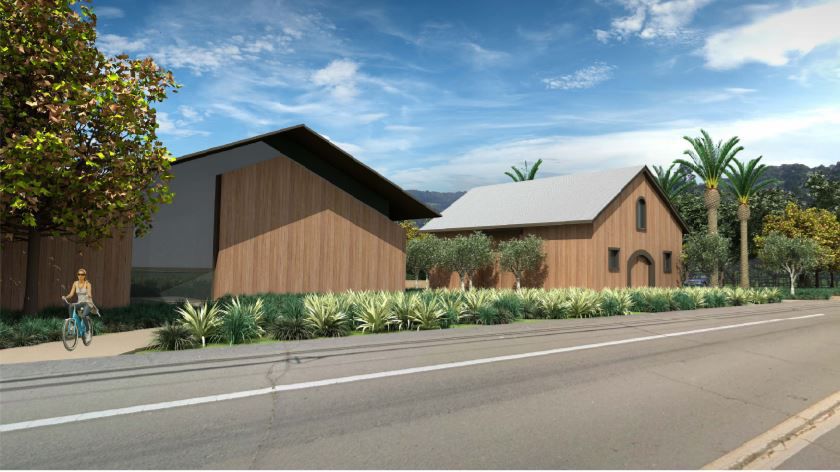 A proposed hotel between Napa and Yountville on rare rural commercial land amid Napa County's famed agricultural preserve appears headed to approval.
The Oak Knoll hotel is to be located at 5091 Solano Avenue across from the Napa Valley Vine Trail. The 50-room hotel, 100-seat restaurant and art gallery/retail space would replace deteriorating, vacant buildings at the former Red Hen complex.
"Park-like," "four-star boutique hotel," "bike-centric," "zen-like" and "eco-conscious development" are some of the ways the applicants describe their project.
On Wednesday, the county Planning Commission tentatively voted in favor of the project and its environmental impact report. A final vote will come at a future meeting.
Project applicants appeared to have solved most concerns from rural neighbors by doing such things as agreeing not to have outdoor events with amplified music.
"I really appreciate everybody's willingness to work with the neighborhood ... it was very unexpected and I really appreciate it," neighbor Elizabeth Vianello said.
Several people said the vacant Red Hen complex behind a chain link fence is an eyesore they'd like to see replaced.
"It's been a long 12 years watching the Red Hen deteriorate into further disrepair ... I would like our winery and vineyards to have a beautiful resort and restaurant next door," said Rebecca Laird of neighboring Laird Family Estate winery.
Yountville Planning Manager Daniel Gordon criticized the Oak Knoll hotel. The project would be commercial development in an agricultural area and major intensification of use at an abandoned site. It would clash with county policies to concentrate development in cities, he said.
Brian Russell of Oak Knoll Resort, LLC said later that Yountville "is known as hotel land" and that maybe the town views Oak Knoll hotel as competition.
"The reality is we're not really competition for them and I'm surprised that they think that we are. We're a small country hotel on a commercially zoned site," Russell said.
Planning Commission Chair Dave Whitmer said the commission wouldn't consider a hotel in this area if the property wasn't zoned commercial. But it is.
"The reality is, what we're trying to do is figure out the best solution for this particular site that fits in with the neighborhood," Whitmer said.
Commissioner Joelle Gallagher was concerned about creating more hospitality jobs in a county that has high housing prices. She noted the city of Napa recently required a hotel developer to provide affordable housing.
Oak Knoll Resort, LLC will pay the county's housing fee, though county officials at the meeting didn't know the amount in this particular case. Greg Pitts of the group described a plan to train local residents for hotel jobs.
The Planning Commission wanted to do still more. But commissioners learned they had limits to what they can require under county policies without undertaking lengthier, more complex actions.
"The housing in this community is a significant issue we all have to begin to deal with," Whitmer said. "I recognize our toolbox may be limited at this point. Understood. But we need to continue to highlight that issue."
That limited affordable housing toolbox frustrated Gallagher.
"We don't have this opportunity very often because we don't do hotels in the (unincorporated) county," Gallagher said.
Project applicants tried to ease concerns that Oak Knoll hotel might end up like the Carneros Inn—now called Carneros Resort and Spa—a rural Napa County hotel that has trucked in water because of groundwater problems.
The city of Napa will provide water to Oak Knoll hotel from a line that runs along rural Solano Avenue, though connections that previously served the Red Hen complex are undersized. Oak Knoll will install a 48,000-gallon underground tank to maintain adequate water flow during peak times.
Wastewater will be treated on the property. Some will be reused to flush toilets and for landscaping.
Get local news delivered to your inbox!
Subscribe to our Daily Headlines newsletter.