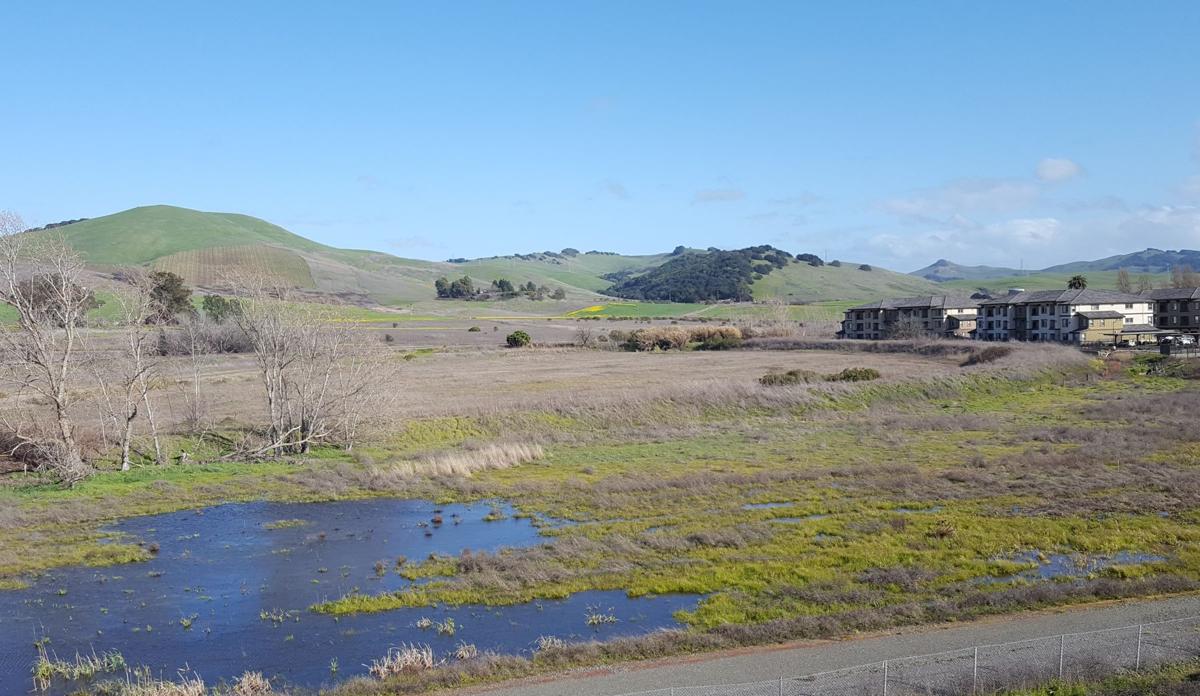 Plans to build the largest apartment complex in American Canyon have surfaced, much to the chagrin of those who own Canyon Ridge Apartments, which opened just last year.
The new project — dubbed Canyon Crossings in paperwork filed with the American Canyon Planning Commission — would be constructed right next door to Canyon Ridge, located east of Highway 29 and north of the Napa Junction Shopping Center.
Canyon Crossings with 272 apartments would be nearly twice as large as Canyon Ridge, which has 148 units.
It would also eclipse the city's largest apartment complex in size — The Lodge with 216 units — located just south of Canyon Ridge.
The Reliant Group, owner, developer and manager of Canyon Ridge, raised objections to the new project with the Planning Commission on Feb. 22.
"I don't want to come across as anti-development," said Chris Flynn, director of asset management for Reliant. "We are developers, we own real estate, this is how we make a living. But I think the project as proposed," he added, "feels a little bit overbearing upon the project we've already built."
Referring to the design showing 12 three-story buildings positioned just north of Canyon Ridge, Flynn said, "All those buildings really encroach upon our buildings."
"These buildings feel very large, they feel very dense, they feel very on top of us," he said. "We feel a little encircled by this project as proposed here."
Planning commissioners took no action on the proposed project at the hearing, which served as an opportunity for them and the public to get a first look at Canyon Crossings.
Chairman Eric Altman noted that the applicant, Branagh Development, has only filed a pre-application at this point, meaning the project is still in the very early stages.
Commissioners raised their own concerns with Canyon Crossings.
Altman and Commissioner Crystal Mallare asked if a mixed-use element could be added to the project, such as a convenience store, so residents have a retail option on site.
Branagh Development should "see if that would pencil out" economically for them, said Altman.
The chairman also asked the Branagh representative, Lisa Vilhauer, to consider turning one or two buildings into condos — something American Canyon has little of, he said.
"If you look at this community, it is probably the single biggest missing piece" in the housing stock, Altman said. Condos are an attractive option for either "empty nesters who want to downsize from their large homes" or first-time home buyers looking to get established in the housing market, according to Altman.
Vilhauer responded: "The economics for a large condominium project don't work" because of land prices, construction costs and sale pricing of condos.
She also told the commission that their research shows the city could use more rental housing for residents, noting that Canyon Ridge is largely filled up.
"We do feel there is a need for multi-family apartments in American Canyon," she said.
Flynn acknowledged that Canyon Ridge has a low occupancy rate of 8 percent. But, he added, putting in 272 units "is probably a bigger project than is needed for this area."
Vilhauer said of the 272 proposed apartments, 25 percent would be one-bedroom, 50 percent two-bedroom, and 25 percent three-bedroom.
Canyon Ridge has only one- and two-bedroom units, though Flynn said when they first proposed their project, their design included three-bedroom apartments, but the Planning Commission discouraged this option.
"A thing we got beat up for with our development was we wanted to have three-bedroom units," Flynn said. "They're desirable, but there seems to be an issue of capacity with the schools, what they can handle" with new students coming in.
The parcel for Canyon Crossings is 15 acres in size, situated on land owned by Union Pacific Railroad. Branagh intends to purchase the property if they go through with the development, Vilhauer said.
But a chunk of the 15 acres is unusable for housing for two reasons. Some of it is wetlands, and some falls within the Napa County Airport's "D Zone" that prohibits new residential developments.
The 12 three-story apartment buildings would fit on the remaining portion of the 15 acres, which was why Flynn and others raised the issue of "density" with the project.
Vincent "Buzz" Butler with Lake Street Ventures, which built the Napa Junction Retail Center and The Lodge, said cramming so many units in the remaining available space was "the biggest problem" with Canyon Crossings.
Butler, however, said he supports the idea of more apartments on the proposed site.