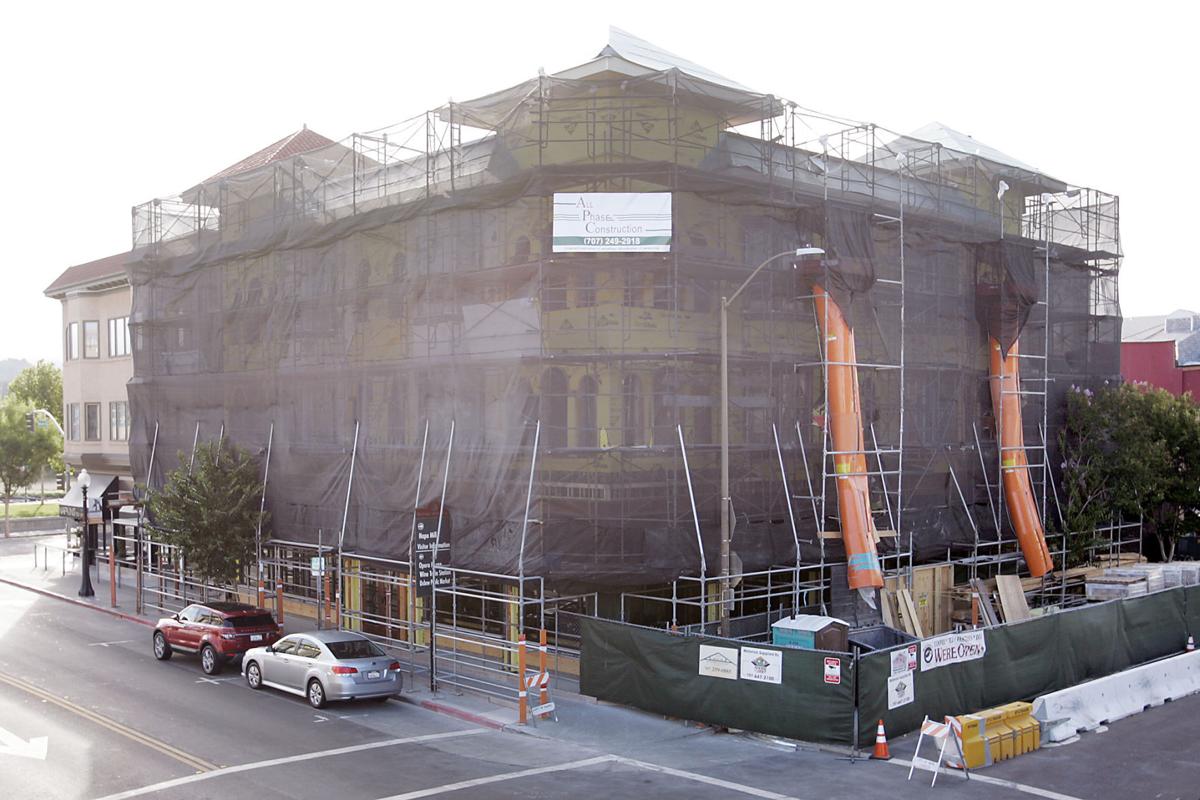 It's one of the iconic images of Napa's Aug. 24 earthquake –- the askew rooftop cupola atop Alexandria Square, the street below covered with toppled bricks.
Almost a year later, the roof is back in place. And while the building remains shrouded by protective construction sheeting, inside it's back to business for tenants.
The majority of the pre-quake occupants have moved back in and the construction should be finished by the end of September, said property owner Mike DeSimoni, Sr. Among the 15 tenants are the Carpe Diem restaurant, several attorney offices and the Visit Napa Valley tourism agency.
DeSimoni said it will be "beautiful" when it's done. "We're spending a fortune" to repair it. 
The landlord said he will spend more than $1.2 million on repairs and renovations. He did not have earthquake insurance.
DeSimoni said that significant structural improvements have been added to the property, as well as custom-made windows and replacement bricks that match the vintage masonry.
"It's a huge expense, but it's very strong now," DeSimoni said. When the scaffolding comes down, "it will last forever."
After months of temporarily cooking at a stall at the Oxbow Public Market, Scott Kendall, owner of Carpe Diem, was able to reopen his ground-floor business at Alexandria Square this past week.
"We had a good first week. We are very excited to be back in our home," said Kendall. "Inside, the space looks better than it ever has before."
The earthquake impacted his business drastically. "It's been a humbling experience to have your business just shut for 10 months," he said. Emotionally and financially, "it's been tough."
Kendall used personal savings to cover the estimated $150,000 loss of equipment, food and wine. He estimated he's lost more than $1 million in revenue.
Working at the much smaller Oxbow space, he had to cut his overhead, staff and production.
"We just did what we could to survive," he said. "We changed our whole business model around," scaling back the menu, pricing and portion size.
He credits support from family, friends, locals and DeSimoni for helping him get back on his feet.
Signs for the restaurant should be installed any day, and once the scaffolding comes down, he said more street traffic will see that his business has reopened.
"We can't wait for the building to be done," he said.
Visit Napa Valley, another Alexandria Square tenant, leases several spaces at the building. After the quake, CEO Clay Gregory said his team was displaced from a portion of those offices for up to six weeks and had to work from home or other locations.
"The landlord has done a very good job of trying to move along as quickly as possible" with the repairs, Gregory said.
Gregory said Visit Napa Valley never thought about moving permanently, even with the hubbub of construction surrounding them. DeSimoni also owns the Riverfront complex where the Visit Napa Valley Welcome Center is located.
"We're very tied in with him and happy about it," said Gregory. The agency recently renewed its leases at both the Riverfront and Alexandria Square, he said.
Longtime Alexandria Square tenant John Harrington, president and CEO of Harrington Investments, Inc., said he was displaced for just two weeks.
"We're fortunate that we're on the east side of the building" that had the least amount of damage, he said. "The management company was really great in getting us back as quickly as they could."
"We're pleased that the building is going to return to an active status," said Harrington. "Unfortunately, there are other parts of Napa that haven't been repaired like the Post Office and on Brown Street."