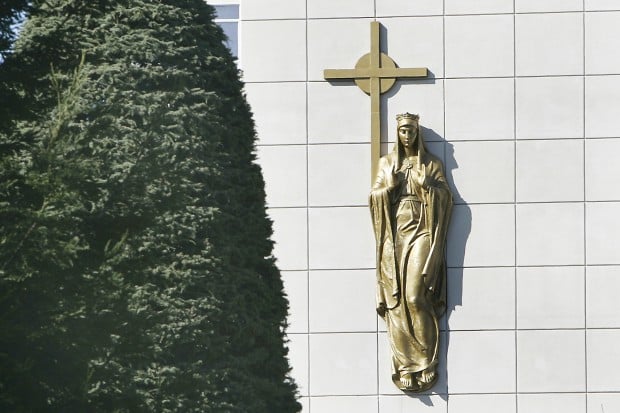 Queen of the Valley Medical Center is tightening its rules regarding tubal ligations — a permanent form of birth control in which a woman's fallopian tubes are blocked, tied or cut.
Following Catholic doctrine against birth control, the hospital has never performed tubal ligation simply upon request, but allowed the surgery if a woman's physician gave a medical reason, such as asserting that a pregnancy would be a danger to her health, said Sister Marian Schubert, vice president of Mission Integration.
But such circumstances are now considered a form of direct sterilization and against the moral teachings of the Catholic Church, Schubert said.
As a Catholic hospital, Queen of the Valley must follow the Ethical and Religious Directives for Catholic Health Care Services, issued by the U.S. Conference of Catholic Bishops, Schubert said.
According to those directives, direct sterilization is considered immoral, and such procedures are not permitted for either men or women.
Queen spokeswoman Vanessa deGier declined to say how many tubal ligations the hospital has performed, saying it was "not relevant to the fact that we have clarified our policy regarding sterilization."
Women can still receive tubal ligations at other local hospitals and clinics, including St. Helena Hospital, Kaiser Permanente and Clinic Ole, which offers non-surgical tubal ligations at its ob-gyn site in Napa. Some Planned Parenthood clinics also offer tubal ligations, but not the Napa clinic.
Queen of the Valley will continue to be allowed to perform surgeries that result in indirect sterilization, such as removing cancerous ovaries or fallopian tubes, Schubert said. Another example of indirect sterilization is if a woman is hemorrhaging and the uterus must be removed to stop the bleeding — the hospital would perform that surgery to save her life, Schubert said.
The decision to review and revise the policy was made internally, within the St. Joseph Health System, to which Queen of the Valley belongs, deGier said. The health system wants its hospitals to be following "one universal policy," Schubert said.
"This and other policies are being standardized as we are working on many fronts to become more integrated as a health system," deGier said.  
The policy revision regarding sterilization is coming at a time when tensions are high between U.S. Catholic bishops and the Obama administration over the government's birth control insurance coverage policy. The administration's plan would require insurers to offer free birth control coverage to women who work at faith-based institutions — churches excluded.
Hospitals in the St. Joseph Health System serve under different bishops in California. Queen of the Valley serves under the Diocese of Santa Rosa led by Bishop Robert Vasa. Vasa said he was not aware that Queen of the Valley was revising its policy, but commended the hospital for doing so and for being more consistent with Catholic moral teachings.
Vasa previously served as bishop of the Diocese of Baker in Oregon, where he revoked the Catholic status of a hospital in Bend after determining the hospital was providing direct sterilizations.
The Obama administration's birth control plan has been a "wake-up call" to Catholic hospitals, Vasa said Friday, adding that he hopes hospitals will strengthen their consistencies with Catholic teachings so they may "stand fast" against future government mandates.
Vasa said the argument over birth control is much more than a health care issue. "It's a religious freedom issue," he said.
Schubert said the Queen's policy revision is not out of concern over the hospital losing its Catholic status. She added that the policy change does not affect Queen of the Valley's commitment to the care of women, and the hospital will "continue to provide wonderful care."
"We will do right by our patients," Schubert said. "We always have and always will."
Both St. Helena Hospital and Kaiser offer tubal ligations at the time of C-section, laparoscopically as a same-day surgery, and as a non-surgical office procedure.
The nonsurgical procedure, called the Essure method, is done without incisions, by inserting small coils into the fallopian tubes, said Tracy Flanagan, director of women's health for Kaiser Permanente Northern California. These coils, over several months, block the tubes, Flanagan said.
 Dr. Jerome Solomon, whose ob-gyn practice joined Clinic Ole in January 2011, said there are no real health impacts in delaying tubal ligation surgeries after a C-section in a hospital. The patient would just have to schedule another procedure, which could be either laparoscopic or the Essure method.
His practice does two to three non-surgical tubal ligations per month, Solomon said. One of the drawbacks to Essure is it s not immediately effective like the laparoscopic surgery, which uses a thin, lighted tube put through an incision in the belly. With Essure, the patient must wait three months and then follow up with an X-ray, while laparoscopic surgery is effective immediately, he said.
"But Essure can be done in the medical office, and the patient is fine the next day, so she can return to work quickly," he said. "The surgical procedure requires more recovery time. It's a matter of preference."