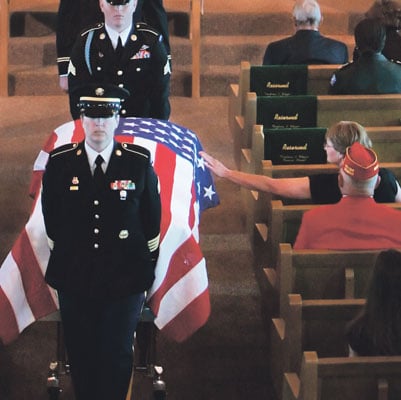 Four months ago, Napa resident and U.S. Army Pfc. Jennifer Cole died in a non-combat incident in Bayji, Iraq.
Today, even with an Army investigation completed, her family still has questions.
Chris Grey, spokesman for the Army criminal investigations in Iraq, said this week only that Cole's death was a negligent homicide. "We sent our findings to the appropriate Army legal commanders and legal representatives for disposition and adjudication," he said.
Cole's mother, Candy Gholson of Napa, and her father, Rick Mahanay of Oregon, are frustrated they have not been able to get the facts behind the incident that took their daughter's life.
"I understand they had a trial for the guy who shot my daughter. I was told he spent 30 days in a military jail and was discharged from the Army. He didn't get a dishonorable discharge, but the one just above that. But I have never received any paperwork to that effect," Gholson said. "I just want answers. And it's not easy trying to get them from a military government institution.
"I've heard three different stories from the Army about what happened the day Jennifer died," Gholson said. "I want to know what exactly happened that day. There were witnesses. Why can't the Army get the story straight?"
Cole, 34, died on Aug. 2, when she was accidentally shot by a Mossburg M500 shotgun in the abdomen by a fellow soldier while they were cleaning their weapons. The weapon had not been cleared prior to cleaning.
"The shotgun was signed out by a sergeant. I think if he signed it out, he would be responsible for it." Gholson said. "The investigators in Iraq said they do not know how the weapon got inside the place where they are cleaned without being cleared.
"One of the first versions I heard was they were passing the gun back and forth and noticed the safety was not on. That sounds strange. This man, I just know his last name, Thurston, is the person who shot Jennifer," she said.
"Another story I've been told was they were just coming into the motor pool. Jennifer put the gun on the table, he picked it up and it went off," Gholson said. "Then they also said when the weapon was being cleaned, this Thurston guy, went to put the safety on and gun just went off. What am I supposed to believe? They say they have witnesses."
Gholson said the only paper work she has received from the Army is a certified copy of the death certificate.
"And all it says is the cause of death is a shotgun wound to the abdomen. I already knew that," she said.
Gholson said Cole's roommate called her shortly after Cole's death.
"She and Jennifer were very close. She told me no one from the Army has ever contacted her," Gholson said. "You would think in conducting a criminal investigation they would want to know as much as possible about Jennifer. And probably of anyone in Iraq, this girl knew her best."
Not knowing what exactly happened and trying to deal with the bureaucracy of the Army has been a struggle for Gholson.
Mahanay shares his ex-wife's frustration.
Although Mahanay is not Cole's biological father, he raised her for most of her school years when the family lived in American Canyon. The pair remained close after Gholson and Mahanay divorced.
"I am trying to get the investigation report from the trial. The Army investigator in Iraq said I have to go through the Freedom of Information Act. They told me it could take up to a year to get the transcript. I'm really getting frustrated with all this bureaucratic red tape," he said. "This is so the typical government run-around. I don't know much more than I did when she died four months ago."
Mahanay said he believes the "whole thing was just a stupid accident. But I want details. I want to know who checked out the shotgun, who handled it, who did they interview," he said.
Mahanay said he bears no bad feelings toward the man who killed his daughter.
"It was just stupidity. His superiors should have been court-martialed. His squad leaders should have been around to supervise," he said. "I wait every day for answers. But being an ex-Marine, I expected this was going to happen. It's the military."
Cole was assigned to E Company, 426th Forward Support Battalion, 1st Brigade Combat Team, 101st Airborne Division. She was stationed in Bayji, Iraq, north Baghdad and the site of the country's largest oil refinery.
She was born in Vallejo. She and her family moved to American Canyon in 1985. Cole attended Silverado Middle School and Vintage High School, graduating in 1992. Later, she moved to Napa.
Before being deployed to Iraq, Cole was stationed at Ft. Campbell in Kentucky. Calls by the Register to the public information officer at that base about Cole's death were not returned.