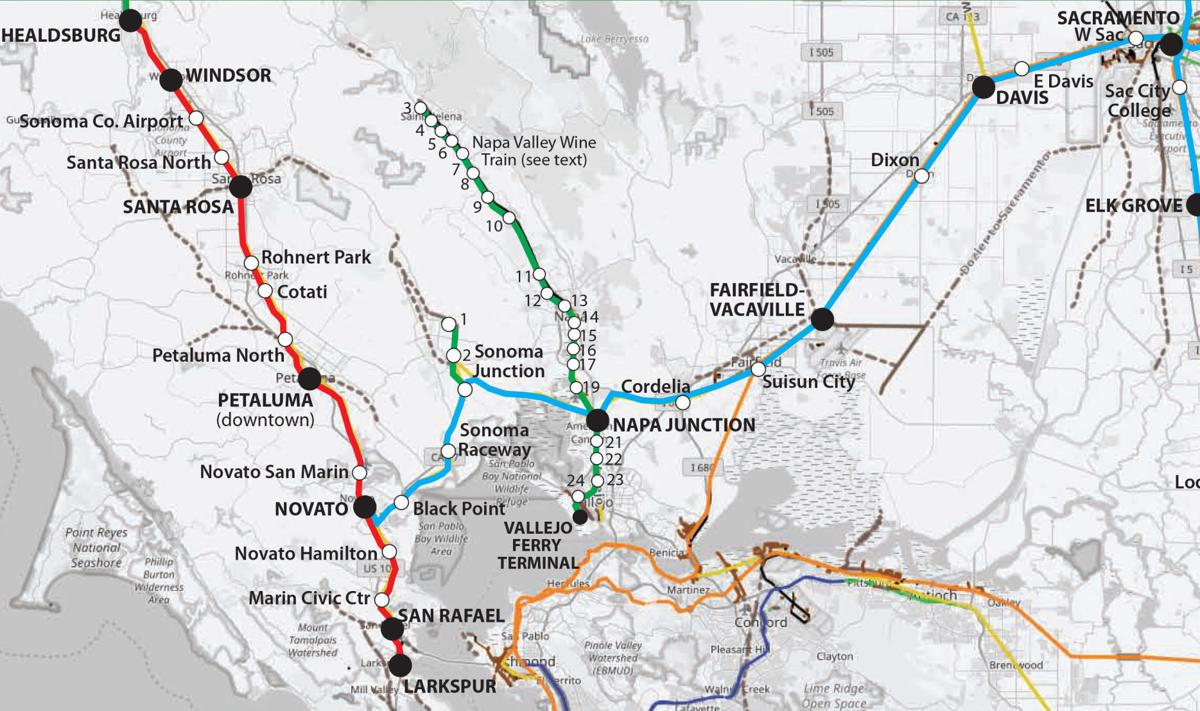 A group advocating for a wider web of commuter railroads in the Bay Area believes its goal can become reality – if Napa Junction can live up to its name again.
The public transit plan released by the Train Riders Association of California identifies Napa Junction – a onetime rail crossroads in present-day American Canyon – as a linchpin for future commuter service west to Novato and east toward Suisun City. Other extensions could connect the hub with city of Napa and the Vallejo Ferry Terminal, putting more people on the doorstep of boats to San Francisco, TRAC leaders told an audience during a railroad forum earlier this month at the Napa County Library.
The nonprofit rail advocacy group made its case for a rail link it pitches as a cheaper, quicker-to-build alternative to a state-sponsored goal of extending the recently opened Sonoma-Marin Area Rail Transit system eastward to Solano County, and from there to the Capitol Corridor linking Sacramento to San Jose. An east-west route through the North Bay is one element in the California State Rail Plan, a report published in October to outline how to expand and coordinate rail service through 2040.
The state report's section on North Bay transit reads, in part: "Evaluate expansion of rail service from San Rafael, Sonoma, and Napa Counties to Solano County, considering rail service primarily on existing rail alignments with potential connections to the statewide network at Fairfield-Suisun or near Vallejo."
The use of as much existing trackage as possible – including rails currently used for freight – is essential to crafting a budget-conscious system more likely to win state and federal funding support, according to TRAC member Michael Setty.
"Our idea – which is not how the rail industry works – is: Let's go really cheap and see what happens," said Setty, editor of the transit group's newsletter California Rail News.
The State Rail Plan envisions SMART, which began passenger service last August on a 43-mile stretch between Santa Rosa and San Rafael, extending eastward toward Solano County. But TRAC leaders object to a key to the state proposal, a SMART-owned 25-mile stretch paralleling congested, flood-prone Highway 37 that advocates called unequal to the task of relieving a growing commuter load.
"We wanted to come up with a transit alternative that would provide options for people who would otherwise be stuck in traffic on Highway 37 – as I was tonight," David Schonbrunn told the Napa forum audience.
Instead, he and Setty offered a strategy of running commuter trains through existing rails farther inland toward a reborn rail hub at Napa Junction, once a stop on the electric railway that linked Vallejo with Calistoga until its closure in 1937. In addition to linking the SMART system to Solano County and beyond, the new line could include a stop outside Sonoma Raceway, where yearly NASCAR and IndyCar races create lengthy, sprawling traffic backups into and out of the 47,000-seat track.
In addition to a main stem from the Novato SMART station to Suisun City's Amtrak stop, a transit system could include extensions to Napa, the city of Sonoma and the Vallejo Ferry Terminal, although the last two would require building new spur lines.
Heavier commuting activity around Napa, Vallejo and Fairfield, directly west of Suisun City, should make those cities the main target for the first stage of a commuter line, the rail group argued. TRAC cited U.S. Census Bureau figures showing that an average of 12,205 daily commuting trips into and out of Napa in 2015, along with 10,125 trips from Vallejo and 11,176 in the Fairfield-Suisun area.
TRAC members emphasized the importance of holding down costs for a North Bay rail corridor, suggesting that planners should save money by using cars with onboard diesel motors and low floors that would avoid the need for costly raised station platforms. One of the main structural expenses would be the replacement of railroad ties to allow safe travel up to 60 mph, according to Schonbrunn.
No cost estimates were offered for the embryonic commuter line, but Schonbrunn predicted intractable traffic congestion will break down much of the resistance to funding public transit, even in the Bay Area's farther reaches.
"We think the time has come for this," he said. "Quite frankly, the age of happy motoring is over; commuting is so painful that we see rail as a viable business venture in terms of carrying commuters."
Earlier in the Napa rail forum, Wine Train leaders shared its goal of launching an experimental commuting service later this year to let St. Helena hospitality workers living in Napa travel to their jobs by rail. The plan would require partnerships with Upvalley wineries, restaurants and hotels willing to sign six-month leases on seats inside surplus passenger train cars the Wine Train bought two years ago.
A one-car commuting service would make a single round trip each day, covering the 18-mile route in about 40 minutes, according to Wine Train partner Scott Goldie.
Get local news delivered to your inbox!
Subscribe to our Daily Headlines newsletter.