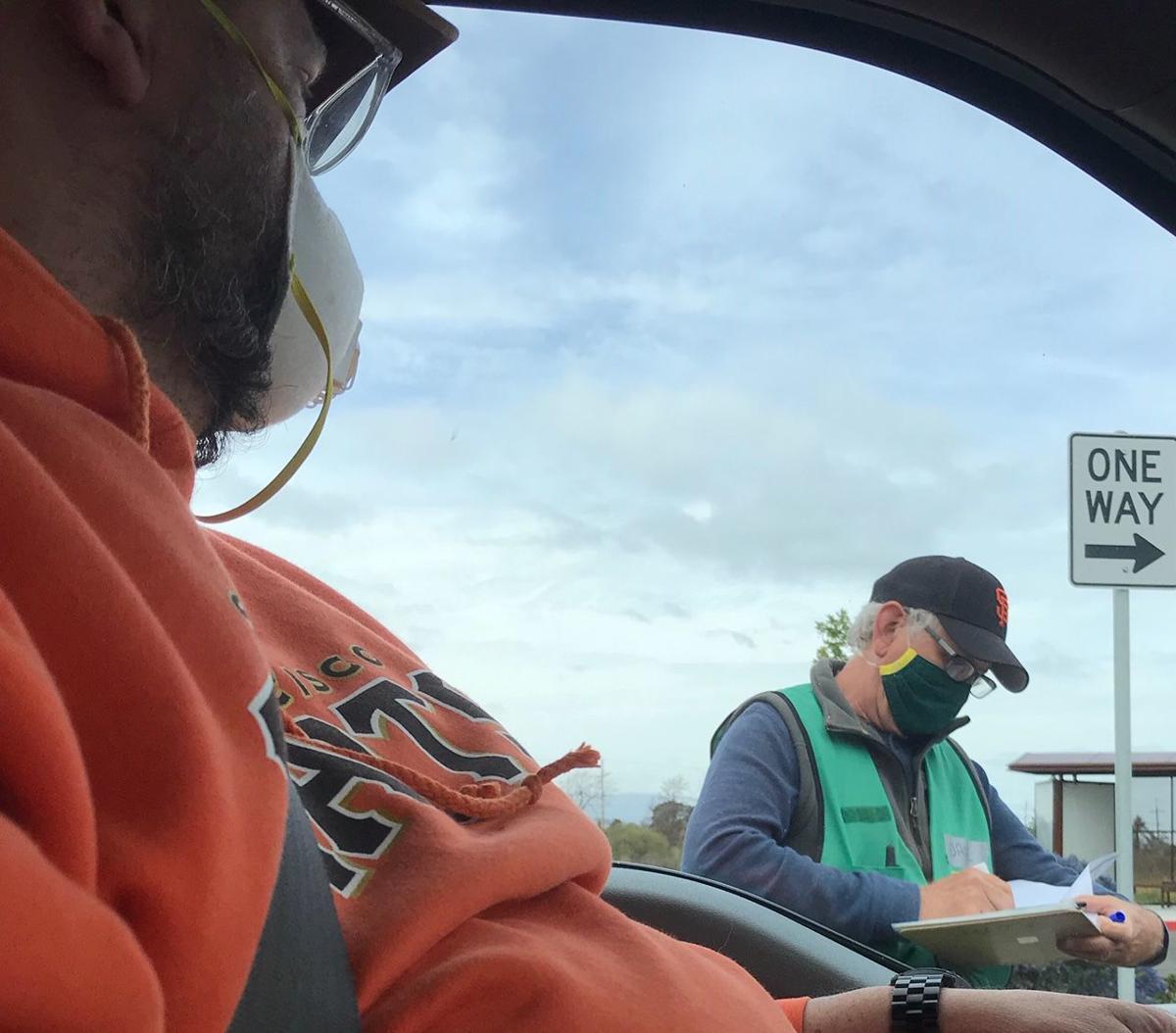 What does it feel like to get tested for COVID-19? My husband, Don, can tell you.
On Friday, April 17, he became the first person I know to get tested for coronavirus. And I got to ride along.
After a February trip to the early COVID-19 hotbed of Washington state followed by a lingering bout of bronchitis, Don was still feeling out of breath. So he went back to his primary care doctor in Napa.
Like many Napans who've had any part of any coronavirus symptom, a question was nagging at him.
"Is it possible I have coronavirus?" he asked the doctor.
It's hard to tell, his physician told him. Don does have an underlying health condition. Perhaps that's what tipped the balance in the doctor's mind.
The doctor said he would order a coronavirus test. Don should hear from someone to schedule an appointment within 48 hours, he said.
Almost exactly 48 hours later, we found ourselves – both wearing masks — driving into the south county staging area for Napa County's public health coronavirus testing. It was only open to those by appointment. To avoid unscheduled visitors, the county did not want the location to be named. The Register agreed to that request. (Subsequently, the county said it would close this site and move testing to Napa Valley Expo.)
"How are you feeling?" I asked my husband.
"A little bit nervous," he admitted.
"I don't think I have it but I want to know for sure," said Don. "It'd be crazy not to take the test. I feel like it's my responsibility to get tested, for my family."
Others in our family also have underlying health conditions. Two of the three Huffman daughters are currently sheltering-in-place at our house, which has limited isolation areas. We mix and mingle freely at home, along with our many germs.
Don said he was expecting the actual test to be a little uncomfortable. "They're going to shove a big long stick up my nose," he predicted. But in his mind, "It can't be worse" than a strep test.
He was about to find out.
Arriving at the county's temporary testing site, which is in an open area with few other businesses or buildings nearby, staffers wearing masks and green vests with the Community Emergency Response Team (CERT) logo on it greeted us by holding up printed signs in plastic sleeves.
"KEEP YOUR WINDOW UP," said the first sign.
Two other workers held up signs asking for Don to show his ID through the window.
"No cameras" to protect patient privacy, read another sign.
Confirming Don's appointment by checking a list on a clipboard, the staffers then placed a laminated sign on his front window. "8-D," it read.
More signs gave more instructions. We drove around a small circular area with plenty of room for other cars, although we were the only "patients" at that time.
"Slow. Stop," read more signs. "Wait here until called."
The site was clean and orderly. Law enforcement vehicles were parked nearby including a Community Outreach Team trailer from the Sheriff's office. Ten to a dozen workers wearing personal protective gear stood nearby. "Medical Reserve Corps" read a sign on a pop-up tent.
As we slowly pulled forward to another covered tent area, a staffer held up more signs in plastic sleeves.
"SHIFT YOUR CAR INTO PARK."
A different health care worker, also wearing personal protective equipment including a clear plastic face shield, approached Don, who was in the driver's seat.
She indicated he could now roll down his window.
"My name's Jamie," she said. "I'm the nurse today. I'll be doing your swab. Any questions so far?"
"OK, this is an informational sheet you can review afterwards," she said, handing him a printed flyer.
"I have a mask for you," said Jamie. "This one will replace the one you're wearing. Keep it below your nose."
Jamie then handed Don a tissue. "Blow your nose with this," she said. "Keep the tissue."
"Are you doing alright?" she paused to ask him, before continuing.
"Do you have a preference for which side I enter on your nose? Have you ever had a broken nose?"
"OK, I'm going to reach in – and I'm going to go all the way to the back, until I feel the back of your throat, and I have to hold it there for a couple of seconds and twist and turn a little bit. I want to get a good swab the first time."
She slowly inserted the swab a further into his nose.
"You might feel watery eyes," said Jamie. "Some people want to cough" as a reaction, she said. Tilt your head back a little bit, she said. "OK, nice and easy," she said encouragingly. "Great. Good one," she said as she continued to slowly twist and probe the swab.
"Ugh," said Don, tapping his fingers on his leg. I could tell he was definitely uncomfortable. "I'm holding my breath."
"(It's) sensitive back there," Jamie acknowledged. "Alright. Good. I'm going to pull out," said the nurse.
"Ugh," he said again, squirming a little bit.
"That was horrible," he said afterwards, although he doesn't want to discourage anyone from getting tested. "That hurt way worse than getting my tattoos. It's not like sticking a little Q-tip up your nose."'
What else was he feeling?
"Tingling," he continued. "My sinuses are definitely irritated."
That was probably for good reason. The stick – a thin white plastic stick that had a little bristle-like section at one end, was about 6 inches long. At one point, it looked to be ¾ of the way into Don's nose.
After checking the video I took of the test, we realized the stick was only in place for 30 seconds.
"But 30 seconds is a long time to have a stick in your nose," Don pointed out.
When asked what he thought of the testing and site, Don had nothing but compliments for the health care workers on the site. "The people there are very careful," he said. Even with masks on, "You could see empathy in their eyes."
His only complaint is that he wished the results would come back sooner. He'd heard that some other testing sites are getting results back as soon as one hour. "I don't understand" why it will take an estimated three to seven days for him to get his results. In his opinion, the COVID-19 test should be available to everyone. Once there's widespread testing, "we can return to some sense of normalcy," he said.
"Take care of yourself," the nurse said as we said started to pull away. "Any new symptoms, call your doctor."
We drove out of the site with Don still wearing his testing mask. From start to finish, the entire process took less than 10 minutes. The test step, including instructions, itself took only 3 minutes.
Until he got the results, Don planned to self-isolate at home. Luckily for all of us, he didn't have to quarantine for long. On Sunday, around noon, a public health official called.
"Have a good rest of your weekend."
Editor's note: Because of the health implications of the COVID-19 virus, this article is being made available free to subscribers and non-subscribers alike. If you'd like to join us in supporting the mission of local journalism, please visit napavalleyregister.com/members/join/
Complete coronavirus coverage from the Napa Valley Register, St. Helena Star, and The Weekly Calistogan
This webpage contains all Napa County coronavirus coverage as featured in the Napa Valley Register, St. Helena Star and The Weekly Calistogan. This page will be updated several times a day as news comes in. Please bookmark this page to stay on top of local developments.
Concerned about COVID-19?
Sign up now to get the most recent coronavirus headlines and other important local and national news sent to your email inbox daily.