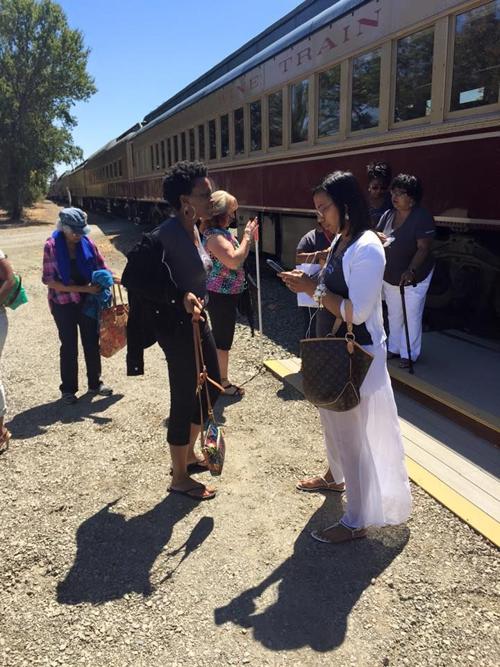 It was supposed to be a relaxing afternoon in the wine country, 11 book-loving women on the luxurious Napa Valley Wine Train. But passengers say a Saturday trip ended with the mostly African-American group ordered off the wine-and-food excursion -- and now online readers are attacking the removal as racially motivated.
The 11, members of a long-standing book club, boarded the Wine Train at about 11 a.m. on Saturday but were told to leave the train in St. Helena after a maître d'hotel complained about their behavior, saying they were being disruptive, according to Lisa Johnson, an Antioch author and member of the club.
The train stopped in St. Helena, where the women -- 10 black and one white -- were escorted through the six cars and off the train before a van took them back to Napa, she told the Register Sunday afternoon.
After Johnson detailed the aborted train ride on Facebook and Twitter later Saturday -- declaring her group was guilty of nothing more than "#laughingwhileblack" -- social media users from across the country used the platform to excoriate the rail company.
"Laughing and eating cheese and grapes while Black. Damn, you're scary," Tonya Marie Amos wrote on Facebook in response to Johnson's account.
"You should face a lawsuit. Very disgusting what was done to the book club. #laughingwhileblack not a crime. #businessfail," wrote Michelle Mariposa on Twitter.
Though the book club passengers received refunds for their ill-fated trip, Johnson remained indignant afterward and denied any disruptive behavior.
"They need to look at their own policies. I feel like we as a group were made to bear the consequences of their not having policy on seating their customers," she said Sunday afternoon. "They need to give sensitivity training to their staff immediately. We want a public apology for how they treated us and for the public humiliation, which is unacceptable for anybody."
Kira Devitt, spokeswoman for the Wine Train, confirmed the removal of the 11 women, saying at least three passengers in the same car complained about the book club's noise level.
"If guests are being severely disruptive, that's when we discuss whether they should be removed," said Devitt. "We don't make that judgment unless we receive a complaint from the people around them." She added such removals are "not an uncommon occurrence" but she did not immediately have information on the average number per year.
Wine Train management is conducting an internal audit to see whether staff members followed company policy during the Saturday incident, according to Devitt.
The Wine Train journey was a departure for the book club, which Johnson said has met for 17 years and has long made annual wine country tours in the Napa Valley by limousine. In the rearmost of six Pullman cars, four women sat at each of two tables on either side of the aisle, while three others occupied seats just ahead, she said.
"I'm an author so I like to chronicle things on social media," said Johnson. "We did a selfie video like, 'Hey, we're on the train, choo choo!' and put it on Periscope (a streaming video service) and Facebook. We were really excited about the experience."
After several miles of "chitchatting" among the club members, Johnson said, the train's maître d'hotel told the group, "Your noise level is a little loud, and you have to tone it down so we don't make others uncomfortable."
"We thought the purpose of the Wine Train was to have a good time and enjoy being with a large group. No one told us of any noise ordinance. If you get a group of 11 women talking and laughing, it's going to be loud," Johnson said.
Later, the maître d'hotel came by a second time, warning the women they would be ordered off the train if they didn't quiet down, Johnson said.
"She said people were complaining and I said, 'Who's complaining?' And she said, 'Well, people's faces are uncomfortable,'" said Johnson. "At that point, one passenger nearby said, 'Well, this is not a bar.' We reacted, 'Yes, it is a bar, a bar on wheels.'"
When the Wine Train stopped in St. Helena, four law enforcement officers had been called to the track, according to Johnson.
"We wanted to get off through the exit door of the train (car) but were told we had to go through all the other cars," she said, adding that her traveling party included an 80-year-old woman and another passenger using a cane after a recent knee operation. "We were paraded; 10 African-American women and one white woman, being paraded through the cars with four police officers outside."
There were no arrests or citations, and the officers left after a few minutes, Johnson said. Twenty minutes after leaving the Wine Train, the women boarded a van back to the Wine Train terminal in Napa, where they received refunds, she said.
St. Helena officers were called in because the railroad police officer normally assigned to the Wine Train was in Napa and not immediately available Upvalley, according to Devitt, the Wine Train spokeswoman. The city police officers left after the rail officer's arrival, she said.
"When you have a restaurant, sometimes you have to remove patrons," Devitt said. "Our restaurant happens to be on a train and sometimes, that makes things complicated. … It happens occasionally, and we hate removing people from the train. We're not in the business of taking people off the train; we're in the business of putting people on it."
A message posted to the Wine Train's Facebook account late Saturday afternoon, but later taken down, stated that "following verbal and physical abuse towards other guests and staff, it was necessary to get our police involved. … When these celebrations impact our other guests, we do intervene."
The expelled book club members will soon decide on their next steps, said Johnson, including whether to pursue a lawsuit or civil rights complaint against the Wine Train.
"We will meet as a group and decompress and discuss our options," she said. "We have not ruled out any of those things."
As social media users have shared and re-shared accounts of the train ride, Johnson said she and her friends have drawn considerable support -- but also some comments as offensive as the removal itself.
"That's not who we are. We are beautiful professional women who would not use violence in any way," said Johnson. "I'm very traumatized by the picture they've painted of us."