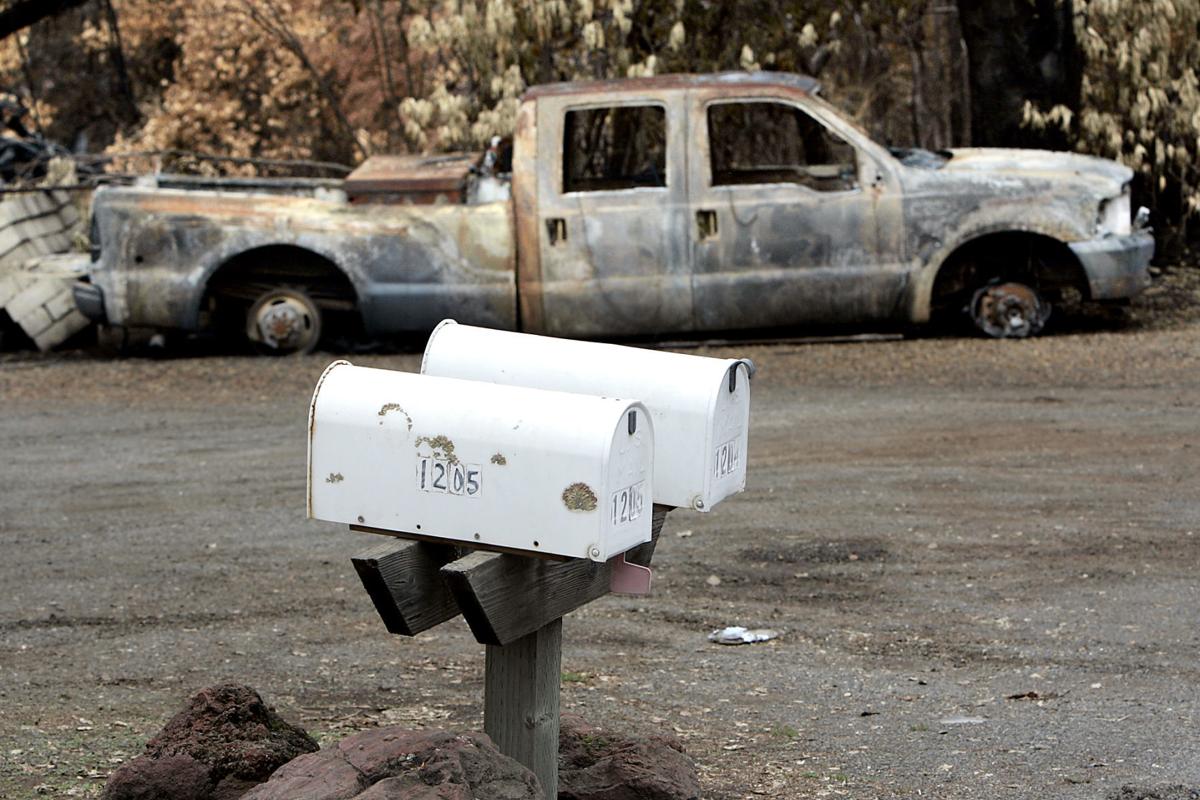 A new survey shows the extent of Napa County's telecommunication meltdown during the first few days of the October wildfires: 87 percent of respondents lost cell phone service, 67 percent lost landline service and 73 percent lost internet service.
"It's ridiculous how helpless we are without power and our internet!!" one survey respondent said.
The survey is part of a fire communications post-mortem released by the North Bay/North Coast Broadband Consortium. Through numbers and personal accounts, the report paints a picture of residents worried about fast-moving fires and struggling to find the latest information because of electricity and cell phone outages.
"During the 2017 wildfires, it was learned the (region) lacked a well-designed telecommunications network that was resilient enough to survive wildfires," the report said.
The Broadband Consortium of Napa, Sonoma, Marin and Mendocino counties concluded that investing to create resilient, reliable, redundant and diverse telecommunications infrastructure should be a priority.
Residents in Napa, Sonoma and Mendocino counties were able to take an online "outage" survey from Oct. 25 into December. Results are available for each county. Napa County had 2,018 respondents living in local cities and areas threatened by the Atlas, Tubbs and Partrick/Nuns fires.
Supervisor Diane Dillon represents Napa County on the Broadband Consortium. She said communication approaches for emergencies could include everything from encouraging people to keep portable radios to having mobile cell towers that can be quickly deployed.
"I think the really important thing to remember is there's no one magic bullet," Dillon said.
A number of survey respondents described in the report how they lost cell phone service and didn't receive county emergency alerts as the life-threatening fires moved toward their homes.
"We had zero notification of the pending fire," one person said. "Some residents in Soda Canyon did not even know there was a fire until the next morning. We need sirens, not cell phones. The phone system is extremely poor and instantly failed. No power equals no cell, no water, no lights."
Another respondent expressed frustration at the information void. The county used its Nixle system to send text message and email alerts, but with electricity down and cell towers not working, not everyone received them.
"Our neighborhood was safe," the person said. "BUT—the Partrick fire could have come to our neighborhood. We never received any type of alerts that would tell us what was happening. Nixle is fine, as long as there is cell service and internet."
AT&T owns most of the fiber infrastructure in the three counties. Other carriers, including mobile providers, lease AT&T fiber. That means most people's phone, internet, cellular and other telecommunications services—no matter the provider—depend on the AT&T system, the report said.
AT&T in 2016 announced it had completed upgrades to protect North Coast phone and internet services from outages. But the severity of the 2017 wildfires was unpredictable and, to nobody's fault, the upgrades didn't take catastrophic wildfires under consideration, the report said.
Across Northern California during October, wildfires damaged or destroyed 340 cell sites. Napa County seemed harder hit by telecommunication outages than Sonoma and Mendocino counties, the report said.
Old-fashioned land lines using the copper wire telephone network are less vulnerable to service outages in disasters. Power comes from a central office and is conducted by the copper. A phone can still operate in a house that has no electricity.
Still, 67 percent of those surveyed in Napa County reported partial or total loss of land line service during the fires. That may be in part due to what type of land line service they have, the report said.
Some residents might mistakenly think their land-line phone is hooked into an old-fashioned copper line. Instead, they might have Voice over internet protocol (VoIP) using a broadband Internet connection dependent on the power grid, unless the customer has a back-up battery, the report said.
In addition, the traditional, all-copper telephone network is now a hybrid of both copper and fiber technologies, the report said. That can leave the system vulnerable to power outages.
The survey included several respondents' experiences with land lines.
"I have an old-fashioned Princess phone to plug in when the power goes out," one person said. "So I still had AT&T to receive the call from the friend telling me to evacuate."
Another survey respondent benefited from a land line at a phone booth.
"Verizon cell tower was down so even when the power came on, still couldn't use the phone," the person said. "Thank God for the phone booth at the Angwin market and for having change saved up."
Still another respondent described how a radio and land line proved valuable during the fires.
"I lost electricity early Monday morning but had my mother's transistor radio that I have always plugged in and put batteries in it to listen to KVON radio station," the person said. "They were a life saver letting people know what was happening. I also kept my mother's corded telephone and was able to use that to call friends and family."
But the consortium report seeks ways to keep the 21st century technology working also.
"California has always experienced wildfires and we can expect the same in the future," the report said. "Fires bring into focus the importance of making investments ... in times of crisis, our communications networks are critical."
The consortium plans to share its report with the California Public Utilities Commission, Federal Communications Commission and federal, state and local officials to advocate for telecommunication system changes.
Dillon said that locally, the county must look at solutions in coordination with local cities and towns, as well as the state-run Veterans Home of California, Yountville.