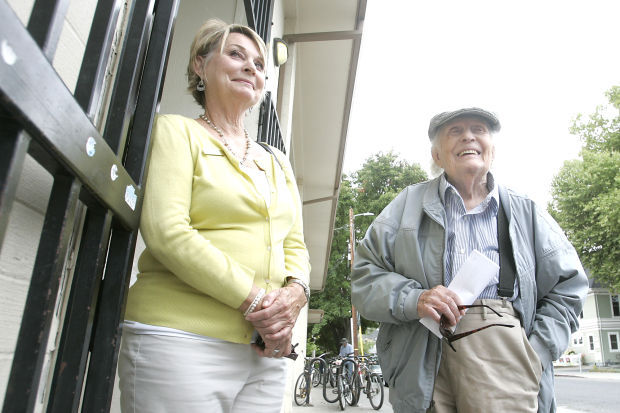 Residents of Napa showed just what they are really made of this week, rallying to help a 97-year-old veteran who was forced into a homeless shelter because he couldn't afford the cleaning fees from his former senior living facility.
James Farrell, a ukulele-playing veteran, had been living at the Redwood Retirement Residence in northwest Napa until he was evicted in early July. He had arranged to find new digs at Piner's Nursing Home, with the help of Carol Eldridge, a local senior advocate with Senior Visionary Services.
The only problem was that Farrell needed to move into Piner immediately, but couldn't afford to begin paying the new facility for another two weeks, thanks in part to a hefty $1,500 cleaning fee he had to pay to Redwood.
Farrell instead set up his new living situation at Piner's and managed to get a room for a few nights at the Napa Motel 6, and then spent a few nights at the Hostess House at the Yountville Veterans home. Once he got down to his last $100, Farrell did the only thing he think to could do: he sought refuge at the South Napa Shelter for the Homeless.
But after his plight became news in a Napa Valley Register article posted online Thursday and in print on Friday, the residents of Napa began reaching into their pockets to help. According to Eldridge, a man who asked to remain anonymous covered Farrell's rent for two weeks at Piner's, so that he could move in Friday. Another woman donated $1,000 for any moving expenses Farrell might have. And another resident started up an Everribbon online fundraiser to aid Farrell's cause.
"It's been a pretty remarkable day," Eldridge said Friday afternoon. "I woke up this morning thinking I'd be visiting him at the shelter, but the generous people of Napa have stepped forward, and he's already in his new place."
Farrell was pleased and amazed. "It's an astonishing revelation," he said. "I don't know from whom this money came, but from the bottom of my heart, I feel a great gratitude. I would love to meet this person and thank them with a handshake."
Eldridge said the outpouring of support just shows how special Napans are. "Napa embraces the seniors. It was so heartwarming to see that happen," she said. "It really rocks when the community comes together like that."
Longtime Napa resident Rachael Clark, who started the online fundraiser, agreed. Even though she had never met Farrell, she said she felt compelled to act when she heard about his predicament.
"Working at Redwood Retirement Community was one of my first jobs as a teenager," said the event management coordinator who has lived in Napa for 41 years. "Being a part of the senior community was fun and I always loved working there. But I did not like the way the current management handled the situation. It's not an acceptable thing to do to our senior citizens. So I started the page."
To make a donation to the Everribbon fund for Farrell, visit everribbon.com.