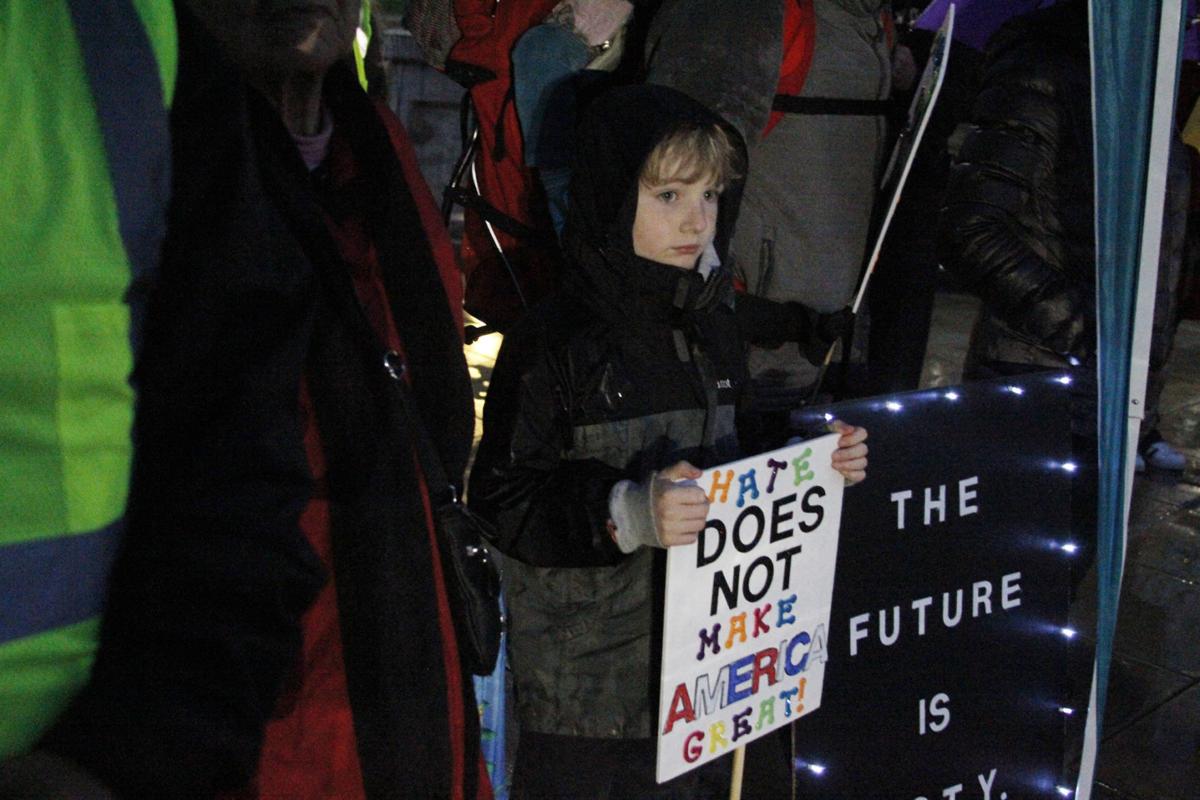 Umbrellas in one hand and handmade signs in the other, at least 100 protesters gathered at Napa's Veterans Memorial Park on Friday night to display their "resistance" of a Trump presidency.
The "Welcome to the Resistance Inauguration Day Demonstration" was an indigenous-led ceremony that featured prayer, ceremonial drumming and a march through downtown Napa.
Anti-Trump signs abounded, but organizers said the real message was one of "love, solidarity, and unification."
Leigh Ann Harmon, 50, of Napa said "solidarity" was the reason she attended the demonstration. Her sign read "None of us were rooting for you."
This was her first protest ever.
"I had to do it," she said. "I think we have to resist and we have to let all level of politics know that it's not right what he's proposing for environmental impact, for immigrants, for women, for the energy department, for the education department – I could go on and on."
Even though she may benefit financially from some of the new administration's policies, Harmon said it isn't worth it. "Not at the risk of kicking out good people who are immigrants or doing damage to our environment," she said, beginning to cry. "It's all so awful that I had to come out and say so."
"I just can't imagine a more horrible person," Harmon said.
Glenn Gulbransen, 67, of Napa said he also joined the growing crowd to show "solidarity for the people who won the popular vote."
Gulbransen said he feels women's rights are being violated by people like Vice President Mike Pence. He said he is worried about other issues as well, including voters' rights and birth control.
"I'm also worried for my kids," he said. "No old white man or cleric should have any say on my children's birth control method or their decision to have a family or when to have it or when not to have it."
Liam Joy, 11, and his brother Cole, 9, were some of the youngest demonstrators holding signs. Their mom, Patti Coyle, said the boys were afraid they were going to get arrested coming out to protest.
"We're here to show them how to exercise their rights," she said. "And to make sure this never happens again."
Coyle, a local schoolteacher, said it is difficult to reconcile teaching children not to be bullies when a bully is in charge of the country. Hopefully by attending events like this, she said, people can make a change in four years.
Another event – Women's March Napa Valley – is planned at Veterans Memorial Park on Saturday. For more information, find "Women's March Napa Valley" on Facebook.
Get local news delivered to your inbox!
Subscribe to our Daily Headlines newsletter.