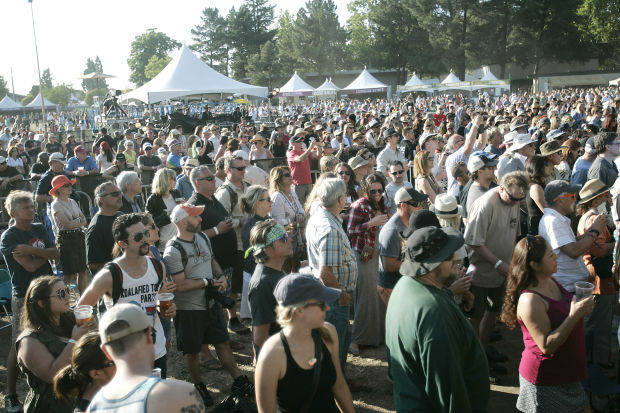 Asked to sum up BottleRock 2014, Dave Graham, the music festival CEO, said one word came to mind: "Redemption."
BottleRock's new promoters put on a festival that attracted 80,000 people, rocked Napa Valley Expo for three days, and succeeded in removing the financial "taint" of last year's event, Graham, the CEO of Latitude 38 Entertainment, said Monday.
This year's goal — reviving a fledgling festival that suffered a financial implosion a year ago — was achieved, said Graham, who promised an even better event in 2015.
Latitude 38 Entertainment produced BottleRock 2014. The 2013 festival was produced by BR Festivals, which failed to pay hundreds of BottleRock 2013 vendors and workers. BR Festivals later filed for bankruptcy.
Using better fiscal controls, the new promoters aimed to take back the BottleRock name and make it into an "amazing" experience for all involved, Graham said.
"We had no major glitches. We expected unforeseen things and they never happened," he said.
"That drama and that taint" of BottleRock 2013 is gone, said Graham. "The proof is in the pudding," he said.
Some 80,000 people attended the festival, the overwhelming majority of vendors are already paid and producers have cash in the bank, Graham said. Just as important, the festival earned much-needed credibility with the music industry, said Graham.
Graham said that 24,000 people attended on Friday, 34,000 on Saturday and 22,000 on Sunday. Unlike last year, when tickets were reportedly given away to draw in crowds, "we didn't do that," he said.
Ticket purchases by Napa area residents initially lagged, Graham admitted. He thinks some locals were waiting for last-minute reduced prices or even free tickets like those given out last year. Once locals seemed to figure out that passes were not being distributed, ticket sales by locals surged starting last Wednesday, he said.
While the Expo grounds teemed with people, especially on Saturday, the festival was relatively uneventful from a public safety standpoint. According to Napa Police Capt. Steve Potter, arrests were minimal.
Over three days, only seven people were arrested at BottleRock: five people for public intoxication, one for DUI adjacent to the facility, and one for a delay in responding to an officer. "That is lower than last year," when 24 were arrested during BottleRock, said Potter. BottleRock 2013 was a five-day festival.
With less parking available due to flood bypass work and First Street construction, "there were some parking issues on Friday," said Potter. "Saturday and Sunday that eased up."
There was heavy traffic going to the event on Saturday, Potter said. On Saturday night, when most left BottleRock, "it temporarily overwhelmed the transportation system and Napa Pipe was difficult to get out of."
Crowds exiting the Expo on Saturday night created gridlock at the shuttle bus stations outside the Expo. That in turn led to long lines at cab stands.
"We tried a new process" for the bus system this year, said Graham. "It definitely needs improvement. An hourlong wait isn't acceptable. We get it."
With a smaller Sunday night crowd, "people were gone in minutes" from the bus station, said Graham.
The specified concert end-time of 10 p.m. was strictly enforced, leading to some surprised fans when artists the Cure and Heart were both silenced midsong.
Latitude 38 promised Expo neighbors that the music would end at 10 p.m., said Graham. "We said it and we meant it," he said.
Band managers were notified of the deadline, but artists typically don't look at their watches while performing live music, he said. When asked if either the Cure or Heart expressed displeasure at the abrupt finish, Graham said no.
A frequent complaint last year was news helicopters circling above the Expo neighborhood. The helicopters returned this year, prompting a number of complaint calls to the Police Department. "We were frustrated," as well, said Graham.
He discouraged news stations from using helicopters and plans to ask media to refrain from helicopters next year. Noise levels from performers were kept within Expo sound guidelines, said Graham.
BR Festivals spent $20 million on the 2013 festival. "We produced the festival for millions less — a lot less," said Graham.
While it's common for new music festivals to lose money the first few years, Graham said this year's BottleRock ended up in good financial shape. While he wouldn't provide specifics, he said, "Put it this way, the partners are very happy with the way we ended up."
Graham said he has ideas about how to improve BottleRock in 2015. "I'm really excited about next year," he said. "We learned a lot and we know what we can do better."
BottleRock 2015 is already in the works, he said. While he couldn't name dates, it will be held in the spring at the Expo, he said. Tickets are not for sale yet.
One change could include making fewer tickets available for sale. "In order to have an amazing experience you can't have too many people," said Graham. "We are definitely considering selling fewer tickets next year across the board so the experience for everyone is wonderful."
Does that mean ticket prices would increase? "It all depends on the budget and what bands we bring in," he said.
Potter described Graham's team as "better organized" than BottleRock 2013 producers. "These guys were incredibly responsive."
Potter said the Police Department is accepting feedback on the event. Latitude 38 will host a final neighborhood community meeting at a date to be announced.
"It went very well," said Expo CEO Joe Anderson. "Nothing went haywire."
He described the organization of the event as "a complete flip-flop from last year. When we had a problem that needed to be fixed, it got done. Everything they said they were going to do, they did it."
Latitude 38 will work with the Expo board to secure a date for next year, he said.
This article has been corrected. About 80,000 people attended the festival.
Get local news delivered to your inbox!
Subscribe to our Daily Headlines newsletter.