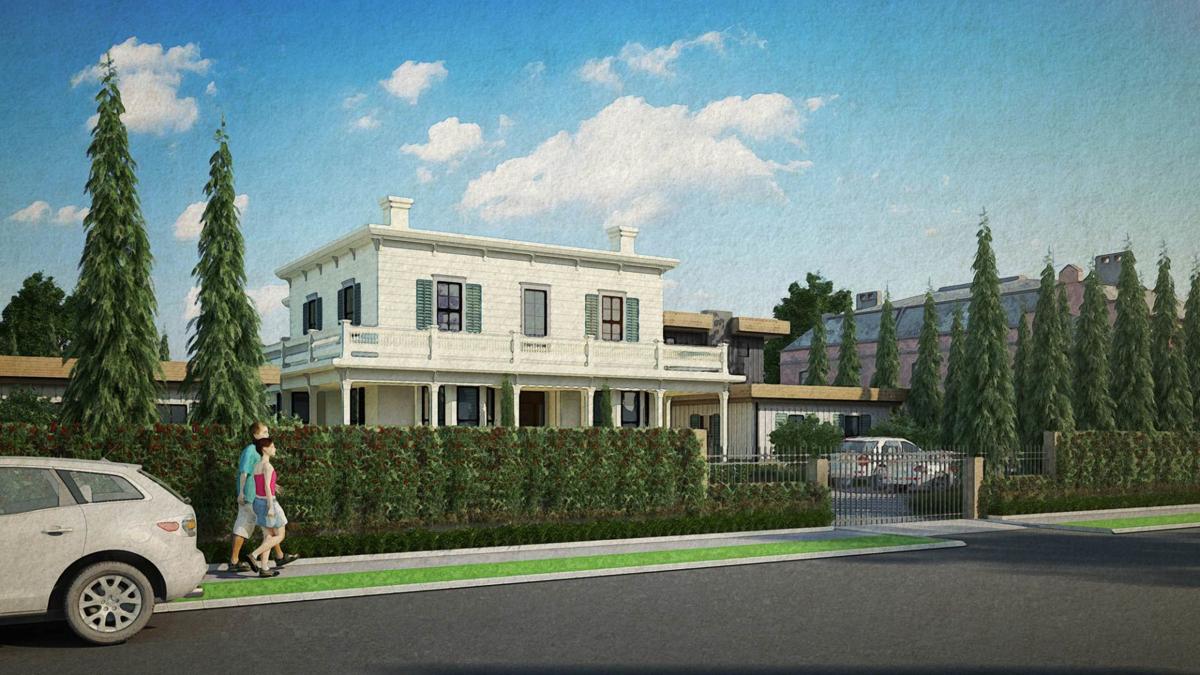 Is the goal of historic preservation in Napa to preserve landmarks exactly as they were a century ago or longer – or to find ways for older buildings to generate enough money to remain usable for future Napans?
That was the question with which the city Planning Commission grappled on Thursday as it debated a plan to revive the deteriorated Thomas Earl House at 1221 Seminary St., one of Napa's few surviving structures from before the Civil War, as a 10-room group retreat center with three new buildings accompanying the original home built in 1861.
The city land-use authority's first review of the project revealed split opinions about whether the creation of more guest rooms is the proper way to breathe life into a faded 19th-century landmark in a Napa historic district – but one that also must share streets and parking spaces with homeowners, a school and other bed-and-breakfast inns.
"It seems to me we're making a commercial venture of this piece of property," said Commissioner Michael Murray of the plan, which the Thomas Earl House's husband-and-wife owners Marc Porat and Claire Tomkins unveiled in January.
"I'm not sure the (zoning) should be used that way in developing other uses out of it," he said in response to criticism of the project by several Napa residents. "If this moves forward, I would like to see if there are other restrictions that apply within the bed and breakfast rules that would prohibit some of the things that are happening on this site."
Murray's fellow commissioners, however, answered that opposing tourism-based uses for the landmark ignores modern-day economic realities that rule out its return to single-family use – and that reuse and adaptation of older buildings has long been a fact of local life.
"We have an innovator who wants to come and do something innovative and something super-cool," said Gordon Huether, who called the prospect of the Thomas Earl House becoming a private home "almost a joke." "I know some you don't like what this gentleman is doing, but I think it's cool, and if I still owned a house on Seminary I would be excited to have you there."
"History doesn't stop. It didn't stop when the house was built; it's not stopping tomorrow, and in 50, 100 years – look at what they did 200 years ago, 100 years ago, that's exciting. That just shows that as a society, we keep on moving and growing and maturing."
Commissioner Paul Kelley, a Napa architect who is a member of the project's design team, recused himself from the discussion.
The debate, an early step toward a future vote by commissioners, was the latest skirmish over whether Napa should continue allowing B&Bs to open or expand to meet growing demand from vacationers.
Earlier Thursday, the commission voted to ask city staff to prepare a denial of the Cedar Gables inn's planned remodeling that would increase the room count from nine to 15 inside the property at 486 Coombs St. That decision followed planners' acceptance last month of a nine-room B&B to occupy the George E. Goodman Jr. house at 492 Randolph St., despite stiff resistance from nearby homeowners in Old Town.
The Thomas Earl overhaul would shift the two-story house, which is listed on the National Register of Historic Places, 10 feet east and closer to Seminary Street. Joining the 1,898-square-foot landmark would be a 24-foot-tall carriage house with four suites and two meeting rooms, as well as a pair of 12-foot-tall cottages each containing one suite.
Plans filed with the city show the companion structures to be designed in a more modern and streamlined vein than the Italianate-style main house, which Porat wrote is intended to have them meld with the landmark without competing with it.
A swimming pool and spa also would be built on the 0.35-acre property, where parking spaces would be built at the front of the house – a feature requiring an exception to a city ban on parking in front setbacks.
Porat, who with his wife Tomkins bought the landmark in 2017, has said the additions are needed for a retreat center to be financially workable. With 10 suites and five meeting rooms, the center – to be named The Compound at the Thomas Earl House – would be offered as a "meeting and off-site retreat for leadership teams," to be rented to groups rather than individual visitors.
Groups of guests are expected to arrive at the Seminary Street property by vans, carpools or ride-sharing services, Porat told commissioners.
But the project raised the hackles of some residents who, if not opposed to another B&B, called the design of the new buildings a clash rather than a complement – or a further strain on neighborhood parking with a school across the street and senior housing a short walk away.
"They look so Bauhaus to me and they just don't belong in a historic neighborhood," said Rebecca Holt, a Calistoga Avenue property owner. "I feel like that would be a slam to the rest of us who have been held accountable by the city to maintain that look. We've spent a bazillion dollars upgrading our properties, but we were never given latitude to even think of doing anything other than historic."
Another property owner, however, supported the renovation to save the site from sliding into further ruin.
"I'm looking forward to it being beautiful again, and I think it will very much positively contribute to our neighborhood," said Cheryl Woods, owner of a pink two-story apartment building at Seminary and Calistoga, who added Porat had sponsored a study of the sun to minimize shadowing from the retreat center onto her own building.
Others remained resolutely against any further tourist-related uses among the historic homes of the Calistoga Avenue neighborhood. "You might say a neighborhood ceases to be a neighborhood when it becomes a location for private business," said Neil Watter, a resident of the Napa Abajo-Fuller Park Historic District.
Such criticism did little to sway Commissioner Alex Myers, who said the age and unique construction of the Thomas Earl House risks driving up the cost of a single-family renovation beyond what most would-be restorers are willing to take on. Earlier, Porat described the home's key material as an early form of concrete with little of the strength of modern portland cement, and said the substance absorbed heavy damage from the 2014 earthquake that required an emergency permit to shore up the structure.
Despite his concerns about the potentially exclusive reputation of such a retreat complex, Myers saw companion buildings to the historic home as an acceptable evolution of the property.
"I don't think the addition of buildings on the lot necessarily detracts from the importance of the house," he said. "This would hopefully be a chapter in the early history of the book that is this building and Napa. In a hundred more years, you can look back and say, 'These were the additions that were put up in 2020' if this goes through."
Get local news delivered to your inbox!
Subscribe to our Daily Headlines newsletter.