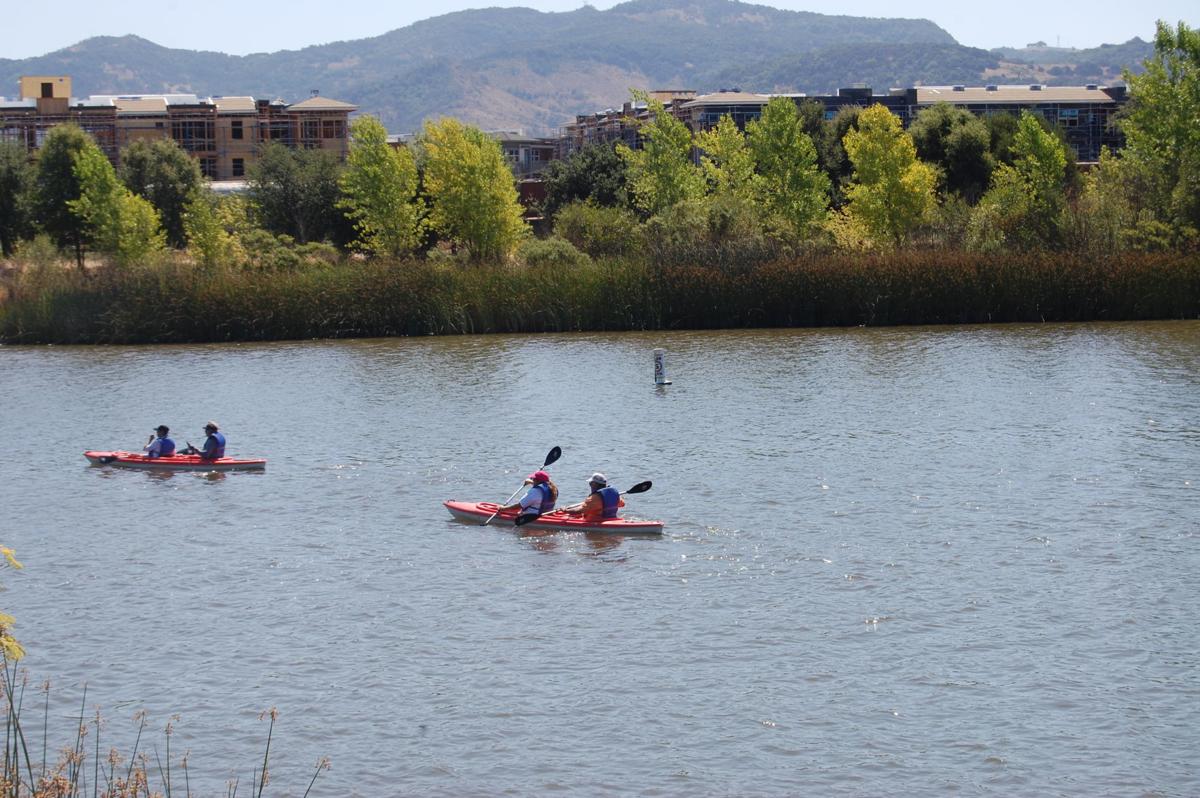 Napa River flood control terraces where wildlife lives and people stroll along a bike path are officially just short of being squeaky clean from an oily past.
Years of monitoring showed a massive 2004 cleanup effort of an industrial area north of Imola Avenue worked. The San Francisco Bay Regional Water Quality Control Board last month officially rescinded its 2001 cleanup order.
That puts the bureaucratic bow on a cleanup done 15 years ago.
"To take a pretty contaminated industrial area and convert it to a restored wetland, riparian habitat is a good thing for the river, for sure," said Richard Thomasser of the Napa County Flood Control and Water Conservation District.
Only one monitoring task remains. Thomasser said a small amount of residual contamination is five to six feet below ground along the river near Eighth Street, just below the practical excavation level for the 2004 cleanup.
The flood control district must keep an eye on the site for signs of major river erosion and visually check it after major earthquakes, such as the 2014 South Napa earthquake.
Otherwise, the flood control work has an official clean bill of health.
"We really feel good about what was done out there," Thomasser said. "We moved all the contaminated materials and then monitored groundwater to show the groundwater conditions were clean."
It took until 2019 to wrap things up, even though groundwater monitoring ended in September 2014. Thomasser attributes that lag in part to the paperwork steps needed with the Regional Water Quality Control Board.
All of this is bound up with the effort by Napa County and the Army Corps of Engineers to bring flood control to the Napa River.
The 1998 Measure A flood control sales tax tax provided the local match to launch the project. A "living river" concept called for flood control terraces on the east side of the river opposite the southern downtown Napa area.
But the site for the terraces was far from pristine between Sixth Street and Tulucay Creek. Oil companies and industry for decades had used this area to store gasoline, diesel and heating oil. Some above-ground tanks held 17,000 to 165,000 gallons.
Standard Oil, Chevron, Basalt Rock Co., Associated Oil, Tidewater Oil, Phillips Petroleum Co., Richfield Oil Co., Humble Oil and Exxon are among the names that have come and gone at the site since the early 20th century, according to a Regional Water Quality Control Board report.
Flood control not only created the river terraces, it erased the oily past. Chevron, Texaco and Phillips Petroleum, among others, agreed to pay $5.9 million for the cleanup effort, a 2001 Napa Valley Register article said.
In September 2003, giant blue tanks were left at Third Street and Soscol Avenue to hold petrochemical-tainted water. A 900-foot wall of steel was driven 40 feet into the ground to protect the river from the toxic removal operation.
An estimated 147,000 cubic yards of polluted soils were shipped to regional landfills and replaced with clean dirt. In 2004, the Regional Water Quality Control Board declared the cleanup finished and began overseeing the monitoring.
Now Napa's oil industry row pollution legacy is officially gone, with only that residual amount to be found in the soils. The Regional Water Quality Control Board has given its long-awaited seal of approval. Even the street called Oil Company Road at the Gasser property has seen a name change, to a Sousa Lane extension.
"I'm really happy to see we're finally getting those (cleanup) orders rescinded, because they've been on the books for a number of years," Thomasser told the Regional Water Quality Control Board at its July 10 meeting.