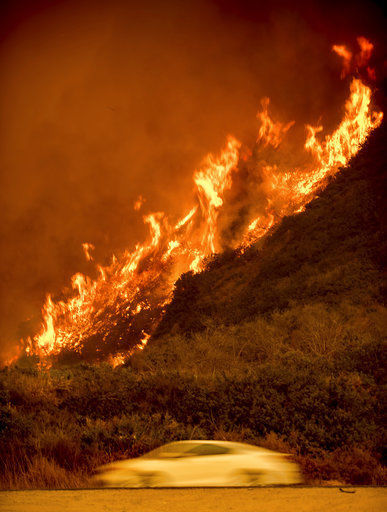 After eight weeks of chaos and shock imposed by the wildfire that destroyed their Fountaingrove home, Antonio Wong and his family were ready for a little normalcy.
They had finally found a rental house and had been reunited under one roof after lodging at different locations in the fire's wake. Wong was to meet with a builder later in the week and was ready to take the first steps toward rebuilding.
Sunday night, the Sutter physician and his family were together in their new west Santa Rosa home, eating their first home-cooked meal since the Oct. 8 firestorm.
Wong, his wife and their son -- Sonoma County residents for just 18 months -- were "starting to feel like we were rounding a corner," he said. "OK, we're back together. We have food. It's all going to be OK."
Then came the Thomas fire, a 65,000-acre blaze that sparked to life Monday night and burned through their former neighborhood in Ventura County, where it was still raging out of control late Wednesday.
Wong was in surgery Tuesday when the texts started coming, alerting him to a fire in his old neighborhood. His house there, one which he and his wife still owned with the idea they might return to it later in life, is gone now, too.
"At first I thought, there's no way that my house can burn down," Wong said Wednesday. "It doesn't seem possible. I just had a house burn down."
But friends in Ventura had actually seen his old house on the north side of town go up in flames in news footage. Wong's Southern California property manager has since confirmed the house was razed. Wong has now seen photos of the house burning himself.
And what seemed an overwhelming task already -- inspections, documenting losses, wrestling with insurance coverage, rebuilding -- now begins again on a separate track.
"You can always make it through things if you keep moving forward," he said wearily. "I'm just grateful I was able to get my cat and my dog and my family out."
A Sutter Health anesthesiologist, Wong, 50, came of age in San Francisco, a one-time Air Force brat who moved around a lot as a child. He studied and trained at UC Berkeley, UC San Francisco and Stanford before taking his first job in Ventura.
It's where he bought his first house and where he and Pratima, who has a doctorate in nursing, lived after their 2003 wedding.
A large, hillside home with a view of the ocean, "it was just very lovely," he said.
"We were happy there," he said. "It was a wonderful house."
But Wong, a pilot who enjoys rafting, motorcycling, photography, scuba diving and lots of other hobbies, said he and his wife always longed for someplace more northerly.
They tried Seattle for six years, adopting their son, Huey, now 19, while they were there.
They also landed briefly in Reno for about a year before discovering Sonoma County last year and deciding it was where they should have been all along.
In the meantime, the Ventura house had been rented out and maintained with the thought that it might be a suitable home for the Wongs in the future. "I always had a connection to it," he said.
He and his wife celebrated his 50th birthday with a party at their well-appointed Rocky Point Way house, and "were really starting to find our groove" before the fires, he said.
"We had the house. It kind of felt like we had our home. We were kind of done traveling," Wong said. "We started making some other plans besides moving."
Then early on Oct. 9, Huey Wong awakened his parents, alerting them to a glow in the sky. Soon, a neighbor was at the door, evacuating, and the Wongs grabbed a few pieces of clothing and some documents.
They left the computer and digital photographs, along with all the bits of personal history that accumulate in anyone's home. They thought they would be back when they joined the fleeing throngs.
In the weeks since, Wong has hopped from one hotel to another, joining his wife and son at his father's home in Napa on weekends. His wife, who telecommutes, has stayed there throughout. Their son found a bed with friends in Oakmont, making it easier to get to school.
The road ahead is daunting, and he feels that he's behind his neighbors already, though he's ready "to take the first step and take the next step, and take it one day at a time."
It was good to be with his family in a new place last weekend, though they pay $5,000 a month and had little moved in except a coffeemaker, television and two camp chairs.
When he learned Tuesday morning that he'd lost the Ventura house, he had to find a replacement and leave surgery midway through, too shaken to focus on the patient, Wong said.
He took Wednesday off as well, thankful, he said, for supportive partners, waiting for a furniture delivery.
They've had a lot of help, but it's hard to know what to ask for sometimes, he said.
"Losing that place that was your sanctuary and place to go and feel safe and recharge, that is hard," Wong said. "Hopefully, we can find that again."