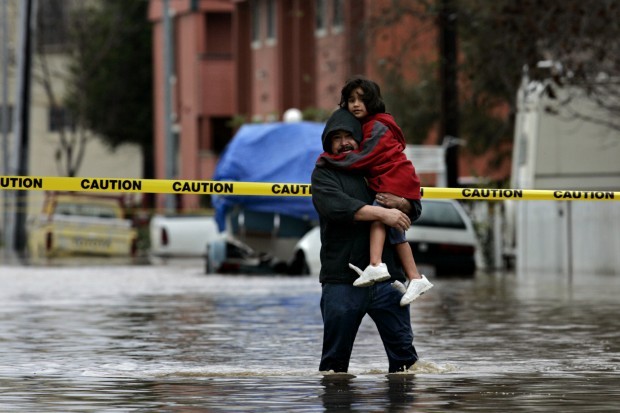 The Napa Valley was walloped by a major storm on New Year's Eve, causing the Napa River and creeks to overflow their banks from Calistoga to American Canyon.
Intense Friday night rain spurred middle-of-the-night evacuations along Napa Creek, which poured through downtown Napa. During the day, flooding blocked most east-west and north-south roads, isolating communities and neighborhoods up and down the valley.
This was a worse flood than the one in 1997, but not as bad at the devastating 1986 storm that caused $100 million in damage and took three lives, county officials said.
"I expect we'll have significant property damage in St. Helena and in the city of Napa," said Neil O'Hare, the county's emergency services director.
Disaster officials had no estimate on how many homes and businesses were damaged, but credited the half-finished Napa River flood control project with reducing losses in Yountville and downtown Napa.
Yountville's new flood wall kept water out of that town's mobile home parks, said Neil O'Hare, the county's emergency services director. Downtown Napa escaped with far less damage than in '86 due to new wider bridges and an expanded flood channel, he said.
Napa officials estimated that 1,000 residences were in harm's way Saturday. Many houses were surrounded by water, while others suffered wet basements, garages and first-floor carpeting. Scores of vehicles were caught in water two- and three-feet deep.
Evacuations were ordered for Lake Park, Riverside Drive, Behrens Street and Lincoln/Soscol neighborhoods in Napa, Edgerly Island and Vineyard Valley mobile home park in St. Helena.
The river left its banks in St. Helena shortly after midnight, with water cresting in Napa early Saturday afternoon, some 12 hours later, at five feet above flood stage. A lighter storm was predicted for today, but no new flooding was expected, John Tuteur, a county spokesman, said.
A powerful tropical storm dumped more than nine inches of rain on Mount Veeder between 1 p.m. Friday and 1 p.m. Saturday, while 7.8 inches fell in Yountville and 5.2 inches in Napa.
The deluge was worse than predicted by the National Weather Service, which had issued flood warnings going into the New Year's weekend.
Residents near Napa Creek in downtown Napa were urged to evacuate shortly before midnight Friday as water levels rose quickly in a pounding rain.
"If we'd known this was an annual thing, we'd never have moved here," said Al Luz, a Clinton Street resident whose '87 Corvette was inundated. His family and his 86-year-old father were surrounded by water all night, he said.
Flor Segura and Jamie Hernandez evacuated their Clinton Street home at midnight. Returning at daybreak, their yard was trashed with mud and debris, but no water had entered their raised house.
Traumatized by having to leave his house, Segura's son said, "I want to go back to Mexico until it stops raining."
Water flooded businesses on Pearl Street and nipped at the doors of stores on Napa's Main Street. Despite losing power, Downtown Joe's opened midmorning, offering beer and sandwiches. The beer will flow without power, said Bobby Cabrera, the brew pub's general manager.
A St. Helena river gauge registered the highest level in history on Saturday morning, exceeding the previous high in 1986, according to the National Weather Service.
The river crested at 30.2 feet at Oak Knoll, which was slightly above '86 levels, yet the damage further south in the city of Napa was substantially less, officials said.
Flooding closed all the major highways in and out of Napa County at various times Saturday. "We were almost an island there for a while," O'Hare said.
With Highway 29 and Silverado Trail closed, Upvalley towns were essentially isolated Saturday morning. Shelters were opened at the Calistoga fairgrounds, St. Helena High School and Napa High School.
Only a few people went to the Calistoga shelter, but 230 showed up at the St. Helena gym, said Jim Featherstone, a county spokesman. More than a dozen went to Napa High at midday Saturday, but more were expected, he said.
There were numerous power outages, including one in central Napa affecting 1,900 customers. Because high water was delaying repairs, these customers may be without power until Sunday, a PG&E spokesman said.
Another 1,100 customers east of Rutherford were without power most of the day, while 411 homes and businesses in northeast Napa were expected to have electricity back by Saturday night.
Several areas of St. Helena were evacuated, some due to flooding others just as a precaution.
About 300 residents were evacuated from the Vineyard Valley Mobile Home Park even though no flooding occurred there, according to assistant manager Emory Kendall.
"We're in good shape," Kendall said during a sunny break in the stormy weather around noon Saturday. "But we still have tomorrow to look at."
At least six fire engine companies from St. Helena and the Napa County Fire Department assisted in what became the first of many evacuations after the Napa River spilled over its banks.
Tish Hively, the park's office manager, said '86 and '97 flooding was probably avoided because the nearby creek and river had been cleaned of debris by the city and county.
"It came within four inches (of flooding)," Hively said of a nearby creek. "And we have a flood-wall on the south side and it held."
In Calistoga, the closest thing to flooding was some shallow standing water in a few low-lying streets, according to Calistoga police officer Kristie Romo.
Though some people were put on notice to be ready to evacuate, it never came to that, Romo said. The Red Cross had erected an emergency shelter at the Calistoga County Fairgrounds just in case.
For Calistoga the main concern following Friday night's storm was a possible scarcity of water because the St. Helena pump feeding Calistoga had flooded, Romo said.
"We're kind of our own little island up here. Our main thing is the water and telling people to conserve their water," said Romo. As of Saturday afternoon, the city was relying on a back-up tank that holds approximately a million gallons of water.
In Napa, sightseers flocked to Third Street near the Napa Valley Expo, an area that had turned into a waist-deep puddle overnight. As fire trucks pushed through the water to evacuate stranded residents, several people stood by taking pictures and video footage of one of Napa's newest ponds.
Alicia DeCarli, 25, said she came out to see whether the most recent flood would surpass the overflows of 1986 and 1997.
DeCarli said she had been unable to get to her job at the William Hill Winery because parts of Silverado Trail were washed out. So instead, DeCarli and her boyfriend Jason Johansson, 29, decided to spend their Saturday afternoon checking out the storm's aftermath under a sparkling blue sky.
In American Canyon, only two residences and one business, Parry's Deli, reported flood damage, according to the fire department's assistant chief Glen Weeks.
There were several temporary road closures during the height of flooding early Saturday morning, the most major being the shutdown of northbound Highway 29 near Flosden Road around 7 a.m.
The American Canyon Fire Department sent two rescue boats and nine firefighters to Napa to help with water rescues.
With a second storm approaching, Weeks said the city planned to reopen the emergency operations center Sunday morning just in case.
"Right now we're doing what everybody else is doing, watching the tides and weather reports," Weeks said.
There were several road closures in St. Helena, mostly at crossroads with Highway 29 and Silverado Trail. "There's so many (road closures) we haven't been able to keep track," said St. Helena Fire Captain Jeff Gahagan. "We're just inundated (with calls)."
One of the roads leading to St. Helena Hospital, Deer Park Road, was washed out, McDonough said. All hospital traffic was being redirected to Crystal Springs Road.
Because of road closures and power problems, many restaurant will not open New Year's Eve, traditionally the busiest night of the year.
In Napa, the flood effectively split the city in two, stranding thousands of residents on the east side of the river for hours.
For many of its rescue calls, the fire department responded in dump trucks, which were high above most flood waters and could be used to transport people.
River Pointe Resort on Lincoln Avenue moved all of its guest cottages out by truck before flood water hit. By midmorning, people at the Wal-Mart on Lincoln Avenue found themselves surrounded by water. Boats were dispatched to take them to safety. The Napa fairgrounds parking lot off Silverado Trail was under several feet of water, which spilled over the river banks just north of Third Street bridge.
An American Red Cross shelter was set up at the First Baptist Church on First Street. The shelter was moved late Saturday morning to the Napa High School gymnasium.
Evacuations were reported at a motel on South Coombs Street and on the west side of the river south of Third Street. At midafternoon Saturday, several guests at the River Terrace Inn requested evacuation by boat.
County health officials urged people to avoid contact with flood waters which may contain a high level of contamination. In some areas, sewer manholes were overflowing, said Jill Pahl, the county's acting environmental management director.
Municipal water supplies are considered safe, but flooded wells could be at risk for contamination, Pahl said.
County officials issued a disaster proclamation earlier in the day. An Emergency Operation Center was opened Friday afternoon in anticipation of the flood.
With more rain forecasted, officials announced sandbags would be available 24 hours a day at Memorial Stadium in Napa; Gordon Valley Volunteer Fire Department, 1345 Wooden Valley Crossroad; California Department of Forestry Fire Station, 3535 North St. Helena ; Edgerly Island Fire Department, 1501 Milton Road; Angwin Fire Station, 275 College Avenue and in American Canyon at 205 Wetland Edge Road.
Emergency coordinators urged people to bring their own shovels.
Staff writers Cristina De Leon-Menjivar, Julissa McKinnon, and Pat Stanley contributed to this report.