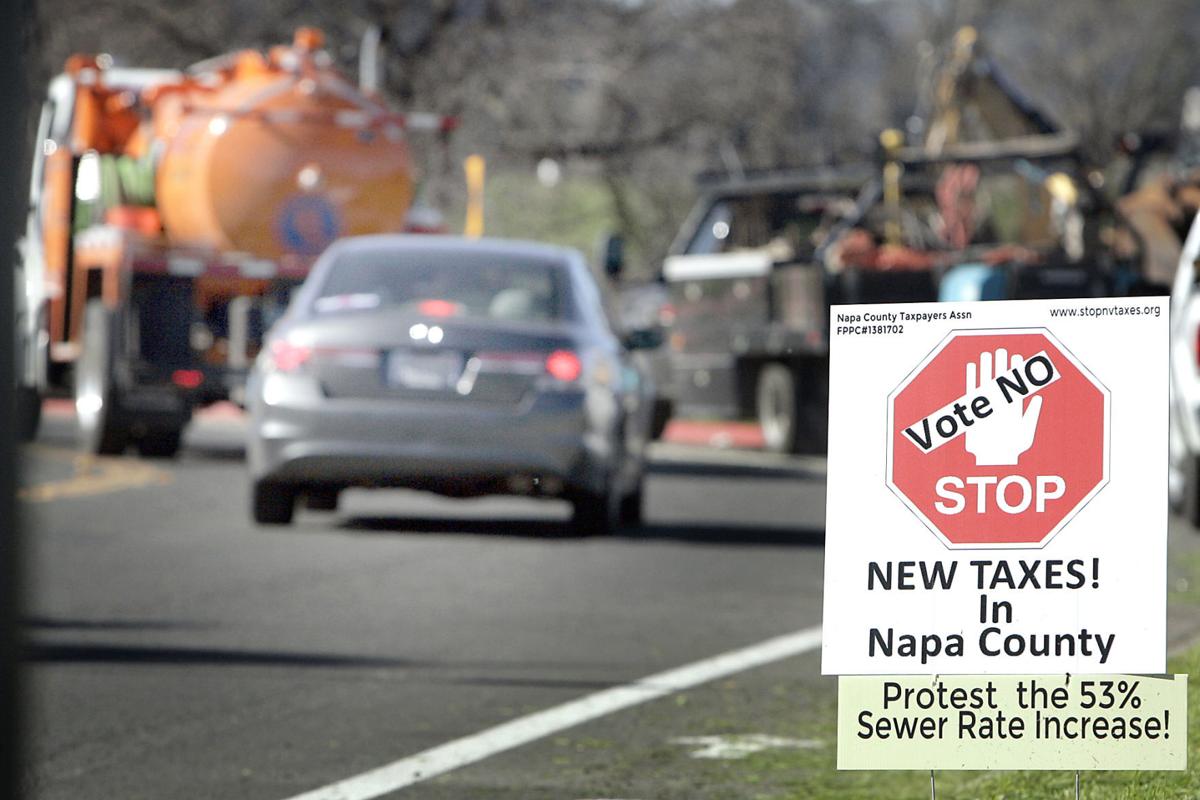 Napa Sanitation District officials held an open house about proposed sewer district rate increases totaling 53 percent over five years and stood ready to answer the skeptics.
About 10 people showed up Monday for the first event at the Boys and Girls Club of Napa Valley on Pueblo Avenue in Napa. A second open house was to follow Tuesday at 6:30 p.m. at Napa Valley College.
Sewer rates for a single-family home in the city of Napa and Silverado area could rise from $482.50 annually to $554.88 in 2016-17, $638.11 in 2017-18, $676.39 in 2018-19, $710.21 in 2019-20 and $738.62 in 2020-21.
Resident Joseph Vitelli showed up at the open house and talked with district General Manager Tim Healy and others. He's concerned enough about the proposed increases that he studied the district's budget beforehand.
"I believe that some type of increase is probably necessary," he said as he prepared to leave. "But I believe the way it's structured right now, it seems to be a little excessive. I think there could be a Plan B that's a little more moderate."
Jack Gray of the Napa County Taxpayers Association showed up. The group's signs opposing the rate increases have been posted at various locations in Napa.
Did Gray change his mind about the proposed increases after hearing district officials explain the need to replace aging sewer pipes before they fail?
"Not yet," he said with a laugh.
Gray noted that in 2006, the district approved three years of increases totaling more than 50 percent in part to replace and strengthen aging pipes. To him, history seems to be repeating itself.
"I understand they've got a problem," he said. "There's still room to question what's been done, where's the money gone and how we'll know it will be better the next time around."
Prior to that 2006 series of increases, then-General Manager Michael Abramson said the district needed more money in part because having a program to rehabilitate 287 miles of pipes was "the single biggest challenge we face."
District Chief Financial Officer Jeff Tucker said Monday the sewer rehabilitation program passed a decade ago was appropriate for the time. Since then, more lines have entered the period where they are between 50 years and 60 years old and older.
Spending more on sewer line rehabilitation now is a natural progression, Tucker said.
The district spends about $1.2 million annually on sewer rehabilitation projects, a district report said. With the proposed increases, the district in four years would boost spending to about $3.1 million annually, enough to rehabilitate 2.7 miles to three miles of line.
Amy Martenson, a Napa Valley College trustee, showed up at the open house. She expressed disappointment the session didn't include a presentation and group question-and-answer session.
"I want to ask questions, but I also want to hear other people's questions and concerns," she said.
Among other things, she wanted to know that proposed increases would go toward projects that directly benefit ratepayers, who she said are already feeling financially squeezed.
Proposition 218 passed by voters in 1996 states that assessments such as sewer charges must be linked to benefits received by the affected properties. Napa Sanitation District had NBS consultants do a study that concluded the proposed rate increases meet this standard.
Healy said the reason for improving the aging sewer system isn't to free up capacity to serve the Archer hotel and other developments, as some have speculated. Rather, leaks in the pipes that let groundwater in—not sewage out—leads to 10 times the usual amount of water going through the system during the height of the rainy season.
District officials said the extra water could overwhelm the sewer system, raising the possibility of sewage getting into the Napa River and creeks and backing up into homes and businesses. Also, they've said, all of this extra water in the system is treated at the sewage plant at additional cost.
If Napa had no more developments, the district would still have to fix the sewer lines, Healy said. He added that Archer hotel paid the district a capacity charge of about $1.9 million.
People can mail rate increase protests to the sewer district. Protest forms were mailed to property owners several weeks ago. If the district receives protests from a majority of parcel owners by March 16, it cannot go forward with the proposed hikes.
The district would have to receive more than 12,000 protests to stop the rate increases.
Derek Anderson came to the open house. The 2nd District county supervisor candidate said enough people oppose the proposed increases to have a successful protest – if each opponent sends in a protest form.
Anderson agreed this is a big "if." The fact that more people didn't attend the Monday open house is a shame, he said. The district should have held the open houses at an earlier date.
Anderson and others have expressed concern that some residents will think the Proposition 218 notice mailers are junk mail and throw them out. He said the district should have written on the notices in big, red letters, "We are raising rates."
The Napa Sanitation District will announce the results of the protest votes at the March 16 public meeting. If fewer than 50 percent of parcel owners file protests, the district Board of Directors can raise the rates.
The Napa County Taxpayers Association is concerned about other possible assessments and tax increases. Gray said possible water and garbage rate increases and a ballot measure for wetland restoration are a sampling of what could be on the horizon.
Those signs around town that read "Protest the 53-percent sewer rate increase" are only attachments to bigger "Stop taxes in Napa County" signs. The attachments can be removed and the signs reused for future anti-tax campaigns, if the association opposes other proposed increases.
Get local news delivered to your inbox!
Subscribe to our Daily Headlines newsletter.