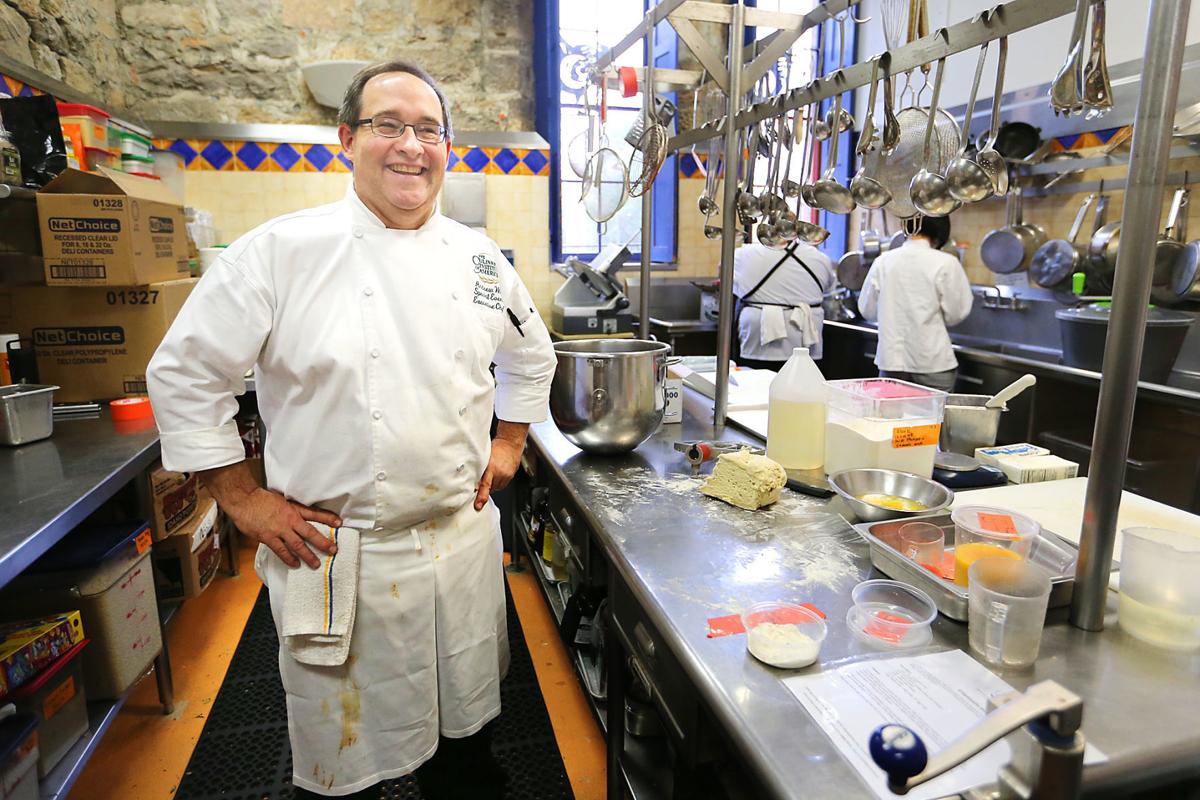 People on the street have been thanking Andy Wild for his service since he left the Navy after eight years back in his mid-20s.
Three decades later, they're still thanking him — this time for his generosity in times of natural disasters when he steps up to feed evacuees and first responders.
Wild, 53, has been the Executive Chef for Special Events at the Culinary Institute of America, Greystone in St. Helena for a year and a half now, but has worked for the CIA off and on for 20 years.
In September 2015, he had his own catering business when the Valley Fire broke out in Lake County. The Napa County Fairgrounds in his hometown of Calistoga was used as an evacuation center.
When he walked over to check it out, he found Mayor Chris Canning.
"He said 'What are you doing here?'" Wild recalled, "and I said 'Well, I want to help.' He goes 'I deputize you.' I go, 'Great, where's my gun and my badge?' He says 'No, you're in charge of the kitchen.'"
Wild had helped fill sandbags during floods while growing up in his native Syracuse, New York. But making food for disaster victims gave him a chance to really have an impact.
"I ended up just laying out the groundwork, getting the contacts together and finding people so that we could cook food for all the people who were evacuated there, and there were 1,000 people," he recalled. "We cooked three meals a day for 14 days. You can do the math on that; it's huge."
After a less eventful 2016 Northern California wildfire season, Wild was again helping feed first responders and evacuees when the Tubbs Fire forced his own town to be evacuated.
"It's fantastic," he said, "because what typically happens in evacuation centers is they get a sandwich for lunch and potato chips and, you know, a box of cereal in the morning for breakfast. They might get something warm at night, but the chances are slim."
"Someone showed up with a case of MRE's (meals ready to eat), military rations, and I hung one of them on the wall and wrote 'We will not be serving this kind of food.'
"We made fresh food – great, fresh food. I called all the friends that I knew, all the chefs that I knew, and they brought us things like steak and pasta. I wanted to make sure they had three hot meals a day, because that's what they need. These people are under stress, they're out of their house. They have nothing. Most people didn't have a toothbrush. We had people sleeping in their cars so we gave them tents. Whatever we could."
Evacuees were in such good spirits, they were joking about their dire situation.
"People would say things like 'Whenever there's a disaster, we're going to come to Calistoga,'" Wild recalled. "But we're the Napa Valley; we should have good food and take care of people. Even the Red Cross came to us at one point and said 'You can't feed people like this because they're not going to leave.' I was like 'That's OK, as long as they've got a place to stay.'"
For an executive chef who regularly makes hundreds of items for wedding receptions and corporate parties, not knowing how many he would need to feed was stressful itself at times.
"When we did the Tubbs Fire, we were told we would be feeding about 60. After the second day, word got out that we were actually putting together nice food. We did a prime rib dinner one day and we had over 200 people. All the police and firefighters called the other cops and told them 'Hey, we're having a really nice dinner tonight; why don't you guys come up here and eat?'"
This fall, when the worst wildfire in state history wiped out Paradise, Wild again joined other valley chefs to help feed evacuees in nearby Chico. This fire affected him directly: his mother-in-law and his brother-in-law, who is blind, lost their homes in Paradise.
"We've already been up there once, for two days, to find them and get them and bring them back here," he said last month. "It's hard for me to not be up in Chico right now. There's so much to do up there."
Wild worked in the Navy as an operations specialist and did amphibious warfare, but never wanted to work in the kitchen.
"Why do you want to cook 5,000 hamburgers?" he asked rhetorically.
But after leaving the service, he immediately went to school and got an associate of arts degree in hotel restaurant management in Syracuse.
"I like doing things for people. I like cooking for people. I love entertaining and making food and things like that, so it's just natural for me to take care of people who have been evacuated. Food gives people a sense of comfort. I usually cook food for the wealthy, but I get a lot of self-worth helping people, giving back to the community.
"Evacuations are stressful and when you're stressed, you want comfort – things that make you relax and enjoy yourself, as much as you can. Having fresh apple crisp and ice cream, or a good, hot meal when you don't expect it, that's great. It's one less thing to worry about."
While volunteering during the Tubbs Fire, he even got feedback from one of the most famous chefs in the world.
"When Thomas Keller found out I was working on my son's eighth birthday, he said 'What kind of cake does your son like?' and he made Porter a cake for his birthday. How often does a kid get a cake made by Thomas Keller? (Keller's restaurant) French Laundry gave us all the pastries and bread we could handle for 14 days."
Not just a chef, Wild isn't waiting for the next disaster to help. He's already begin a year of training to be part of the Napa County Sheriff's Search and Rescue team.
"There's constant training," he said. "We have two meetings a month and two weekend things – fake search and rescues, learning how to do rope work, learning how to repel, all types of things. We'll be on call. There's about 50 people on the team so I won't have go every time, but I'll try to do as much as I can."
Wild said he's also working on getting certified by the federal Department of Homeland Security to join a CERT – Community, Emergency Response Team – as well as Team Rubicon, military veterans who do search and recovery after disasters.
Most chefs work so much they barely have time to sleep. But Wild isn't one to sit around and watch TV during his off time. Besides, he said, he wants to be an inspiration for Porter.
"It's teaching my son, who is 9, how to be part of his community, how to help out friends and neighbors, people that live with you. This is teaching him responsibility for when he grows up," he said. "Hopefully he'll take this on and become an active member of the community as well.
"We live in a state that shakes, floods, burns and slides, so you need to be prepared. The better I'm educated at that, the better my family is, and my community will know how to take care of these things."