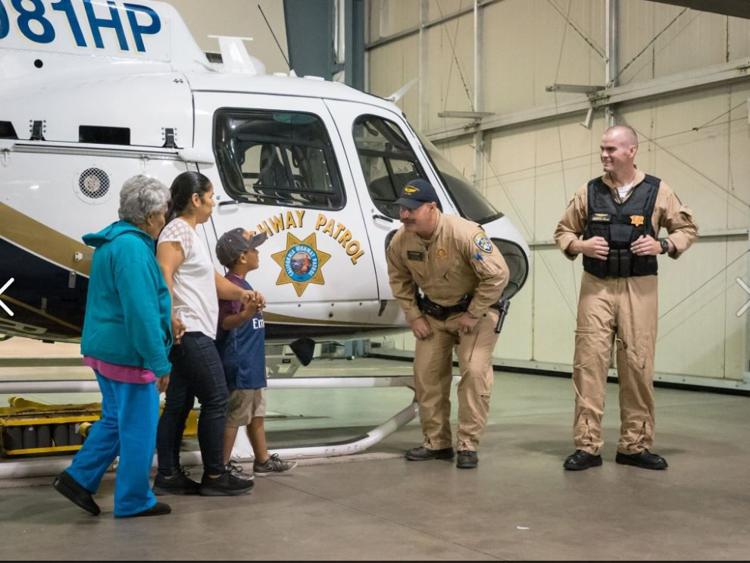 California Highway Patrol Officer Peter Gavitte compared the bumpy, jarring experience to Mr. Toad's Wild Ride at Disneyland, especially the end, where riders careen into a heated scene of hell.
But this wasn't kid's stuff. This was life and death.
Gavitte piloted a CHP helicopter amid strong winds into the Atlas Fire scene the night the blaze broke out. He and Flight Officer/Paramedic Whitney Lowe evacuated 26 residents trapped amid dead-end mountain roads illuminated by flames.
He later heard winds reached 80 mph. A wild ride, indeed.
"It's just that jerky motion all the time," Gavitte said. "I hit my helmet on the ceiling because of the turbulence, the down drafts were hitting us so hard, tightening down our belts and everything. You could feel the heat of the fire."
The helicopter based at Napa County Airport and another CHP helicopter that responded from Oroville kept flying all night. Gavitte estimated the night crews and crews the next morning rescued about 50 people.
Among them was Soda Canyon resident Glenn Schreuder.
Schreuder and his wife weren't in immediate danger, but their six-mile, narrow, winding exit route down Soda Canyon Road was blocked by the fire. They left the area in Gavitte's helicopter.
"These guys were heroes," Schreuder said.
Schreuder took a wind-blown flight along Atlas Peak, watching glowing orange spots below that probably signified a house or barn burning.
"It was pretty scary," Schreuder said. "It was not a smooth ride by any stretch. But the pilot is a complete professional."
Gavitte received a pilot's license when he was 18 and has flown for the CHP for 13 years. The night of Oct. 8, he arrived at the CHP helicopter patrol office at Napa County Airport to work the night shift. He and Lowe flew off to look for a lost person at Lake Chabot in the south Berkeley hills.
Then they heard about a fire on Atlas Peak back in Napa. As they reached Richmond, Gavitte said he had a sense of dread because it looked like a bomb had gone off ahead.
They reached Atlas Peak. Gavitte knew that only one paved road served the mountain and that residents needed to evacuate. He flew low over homes with a siren on to get people's attention.
"It already looked kind of apocalyptic, really," Gavitte said, showing a video on his phone that, indeed, looked mostly apocalyptic, with orange flames dominating the screen.
Amid the apocalypse were people who wanted to escape. Gavitte and Lowe could see eight or 10 vehicles stopped on the downslope of Atlas Peak Road, unable to go any farther because of downed trees and wires.
The two landed near the parked cars, and Lowe ran down to get people's attention, even as embers flew around the helicopter. A man ran up with his son in his arms.
The boy and the man's family loaded into the helicopter, with Gavitte throwing out possessions that one passenger tried to take along. The helicopter left with what Gavitte remembers as being four people.
"Normally, we only take one extra passenger," Gavitte said. "This was kind of a dire situation."
The man who had brought his son wasn't one of them. He stayed behind for a return evacuation trip he thought would never come. But the helicopter did, indeed, return to save him, Gavitte said.
A typical patrol flight is an hour and half. That night, Gavitte and Lowe flew for about 8 1/2 hours, with five refuelings back at the airport.
While Gavitte and Lowe rescued people from the Atlas Fire, the Partrick Fire had broken out in the mountains west of city of Napa. Gavitte lives in that area. He could see the glow and called his wife and told her to be ready to leave quickly.
An hour later, police pounded on the door of the family home and gave word to evacuate. His wife drove to Queen of the Valley Medical Center, where she works. Gavitte's home survived.
"That was in the back of my mind, but she's real savvy and capable, so I wasn't too worried," Gavitte said.
Gavitte from his aerial perch could also see the glow from the Tubbs Fire near Calistoga and a Lake County fire.
"We would stay close to the fire line just to be able to see," Gavitte said. "We couldn't get a lot of altitude because we'd get into the smoke and lose all the ground reference and we're only flying by visual reference. It made for kind of hairy conditions."
But he, Lowe and the other CHP helicopter team kept at it during the initial hours of what might have been the worst disaster in Napa County history.
"It just keep coming back to you, those people are stranded," Gavitte said. "There's no option there."