ST. HELENA — Even as St. Helena service clubs struggle to attract young members, one fraternal organization has seen its membership surge with 20- and 30-somethings eager to serve the community while having fun – odd indeed.
Since 2007, Odd Fellow membership has jumped from 6 to 100. Some of the new members are from families that have lived in the valley for a long time, and others have recently moved here to start a family, said Jason Kelperis.
"A lot of these guys are at a point where their wives need them to get out of the house," he said with a laugh. "And they want to get out of a house with a purpose."
The increase in membership, especially in the last five years, has allowed the club to split into committees and organize public events like a pancake breakfast earlier in December raising money for Robert Louis Stevenson Middle School students to visit Washington, D.C., an inaugural OddToberfest, and its biggest moneymaker, a booth at the Harvest Festival.
The goal is to get out in the community and raise money for scholarships or for nonprofits like Rianda House, the Boys & Girls Clubs of St. Helena and Calistoga, school parent-teacher groups, or Scouts.
"This is a place to enjoy yourself, but also do good at the same time," said Tony Albright, Noble Grand of the Odd Fellows Lodge #167. "To give back and have fun, not necessarily in that order."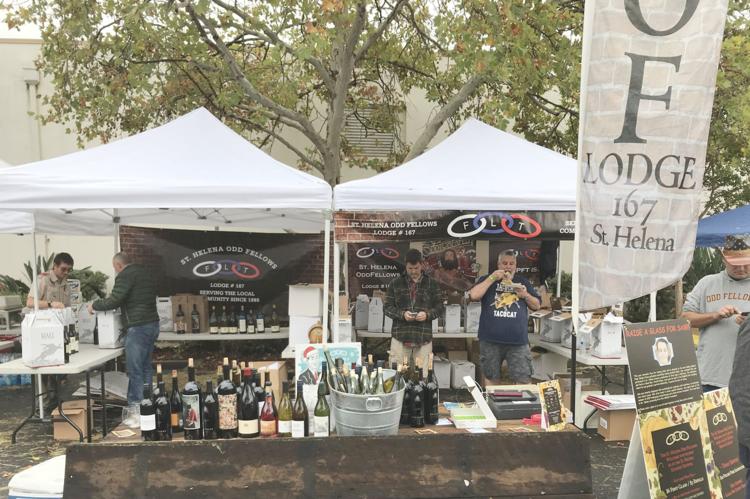 The Odd Fellows booth at the Harvest Festival offered what Albright called an "inclusive street fair wine auction" featuring a large number of affordable wines. "We wanted everyone to win something," he said.
This year the event raised $10,000, which is big money by Harvest Festival standards and double what it raised five years ago. The club matches the amount raised and donates it to charity. This year, $3,000 of it is going to the family of Sam Smiley, a St. Helena teen who's recovering from degenerative bone cancer.
Other events are less about fundraising and more about community. OddToberfest was a community party in the parking lot behind the hall, with food and live music.
"We probably broke a little bit better than even, but we don't necessarily do everything to raise money," Kelperis said.
The pancake breakfast (with special guest Santa Claus) wasn't a big money-maker either, but the lodge donated to the Robert Louis Stevenson trip anyway.
Calistoga no longer has an Odd Fellows lodge, so some of Lodge #167's members, including Albright, live in Calistoga. They try to give back to the Calistoga community as well, offering scholarships to graduating seniors in both cities and donating toward both Boys & Girls Club facilities.
The lodge has also emphasized Upvalley community service, teaming up with the Boy Scouts to "adopt" Bothe-Napa Valley State Park, and specifically the Bale Grist Mill, where Odd Fellows and Scouts work together on improvements and celebrate with a year-end barbecue.
Meanwhile, a softball team sponsored by the Odd Fellows turned out to be the worst in their league, but still had enough spirit to help contribute to improvements at Carpy Field, which had problems with its playing field.
The club's biggest project over the last two decades has been the renovation of the Odd Fellows Hall. There have been a few stages of repairs: an earthquake retrofit to reinforce the stone building, the construction of a new roof, and this year's repairs to the front of the building.
The brick facade had been so leaky that rainwater was penetrating the wall and being released into the building. The 2014 Napa earthquake had also taken its toll, jostling loose bricks that were on the verge of falling onto the sidewalk. Kelperis said Bruce Tucker Construction was an "invaluable asset" throughout the process.
To Albright and Kelperis, preserving the lodge is another way of serving the community. And, as with the pancake breakfast and OddToberfest, money is beside the point.
"If we've done something good for the community and the budget is a total loss, we're actually OK with that," Kelperis said. "Financial gain isn't the only way of measuring profit."