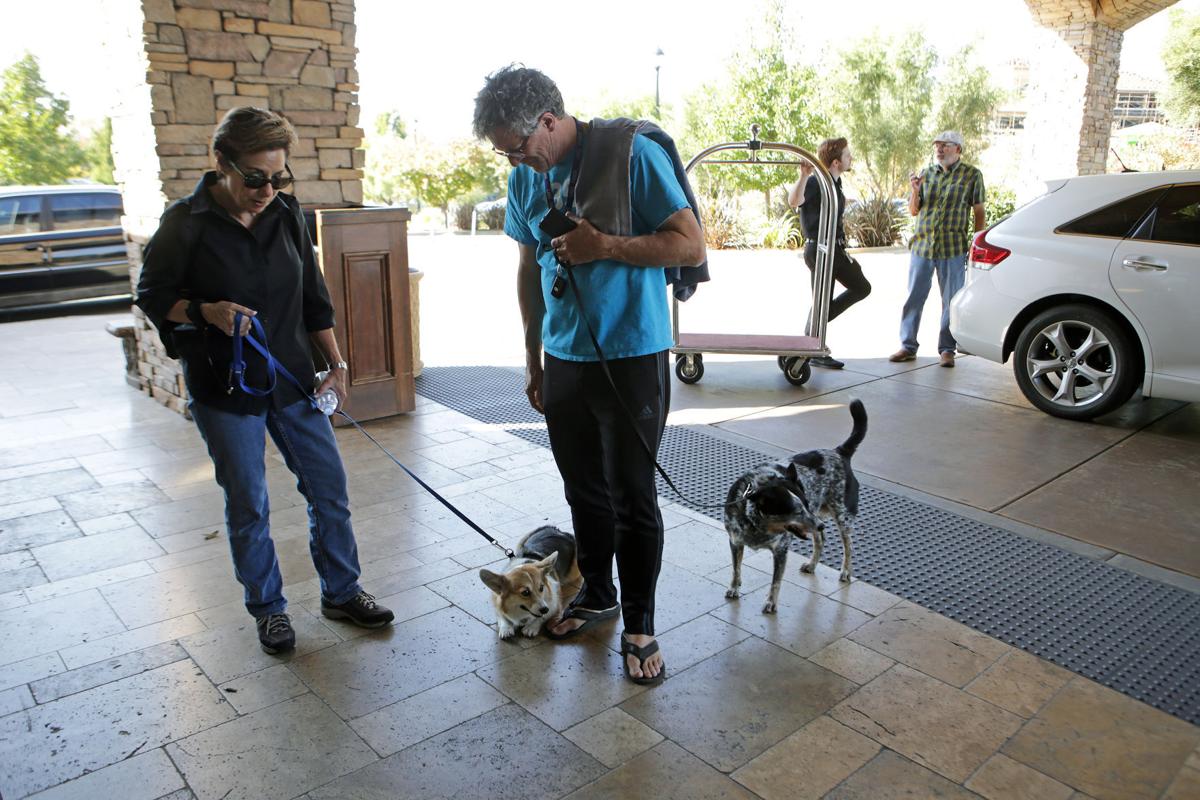 At a south Napa hotel that has become a refuge for people escaping wildfires across the county, Sunday was a long-awaited getaway day for some, even as others awaited word on when they too could safely return home.
A trickle of vehicles passed through the loop driveway outside the Meritage Resort and Spa lobby, under afternoon skies clearer than they had been since the blazes had broken out a week earlier. Steps from a SUV outside the front door, Sue Paterson held her corgi Violet on a leash, preparing to set out with her husband Jon Diederich for Calistoga – the hometown that had ended its four-day evacuation just 40 minutes earlier.
"We come down here at 6 in the morning Wednesday – and these were the most wonderful people here," she said of the staff at the Meritage, one of several local hotels to take in evacuees from the fires at reduced rates or even free.
She and Diederich were among several guests booked into the hotel-resort at $99 a night, rather than the usual rate of about $370. "The people here gave us a great rate, three meals a day, and everybody has been so nice," she said.
Even before authorities ordered Calistogans to leave town on Wednesday with the approach of the Tubbs Fire, "we hadn't had power all week and we were very weary," said Paterson, who added the couple may return to the hotel if smoky air Upvalley aggravates her husband's asthma.
Those waiting out the fire at the Meritage were among hundreds of Napa County residents who found refuge at area hotels and inns after being evacuated ahead of the Atlas, Tubbs and Nuns fires, which have killed at least 40 people and scorched tens of thousands of acres in the North Bay.
As of Tuesday, about 125 local families had checked into the hotel in the Napa Valley Commons, the Meritage reported earlier. Some out-of-town groups also canceled reservations to free up space for local evacuees, according to general manager Michael Palmer.
Waiting outside the Meritage lobby with Paterson was Jim Wilson, a guest since Thursday who was still exiled from a ranch on Monticello Road that remained in an evacuation zone.
Having a Napa hotel available for shelter allowed him to stay close to his mother-in-law, who also decamped to the Meritage.
"We're very grateful for having had a chance to stay so close to home" during the crisis, said Wilson. "As soon as it's open (on Monticello Road), we'll return – with or without the power. I'm looking forward to going home; it's been a week now."
Another local couple at the Meritage was joined by their daughter, who had flown from her Seattle home to the Bay Area to help her parents in person when her phone calls and texts failed to get through.
"When I realized what was going on, I flew down," said Angie Apperson, who eventually found her mother Lois and father Ruffin in their RV, parked outside the South Napa Marketplace – a first stop for other RV-owning evacuees.
The couple, who had spent three days in their RV, checked into the Meritage on Friday with their daughter using the evacuees' discount. Having learned Saturday that their Mount Veeder home was intact, Angie was preparing for her trip home, while her parents awaited the all-clear to return to the house.
"I flew down to get them someplace with showers, electricity, a place to charge their phones, and clean air," she said. "When we got in here I felt so much better."
For Angie's parents, their week away from home was a turnabout from their former career as firefighters in the Dry Creek-Lokoya district, for which they helped combat the Atlas Peak fire of 1981.
"We've never been on this end of it," Lois Apperson said wryly. "And here we are."
Elsewhere around the city, the Napa River Inn filled three-quarters of its 66 rooms with fire evacuees – with many of them staying free and some families sleeping on roll-away couches and air beds, officials there said.
"We've had some people that were really lucky to get out with their lives," Napa River Inn's general manager Sara Brooks said last week. "Losing their house is devastating but it puts things in perspective. There's not a single person here who hasn't been affected or know people who have lost their homes."
The Andaz hotel on First Street downtown filled about half its 140 rooms with people evacuated from fire zones, and also took in employees from PG&E and other agencies. Room for those guests opened up after guests vacated about 60 rooms in the hours after the fires broke out Oct. 8, according to General Manager Jeffrey Miller.