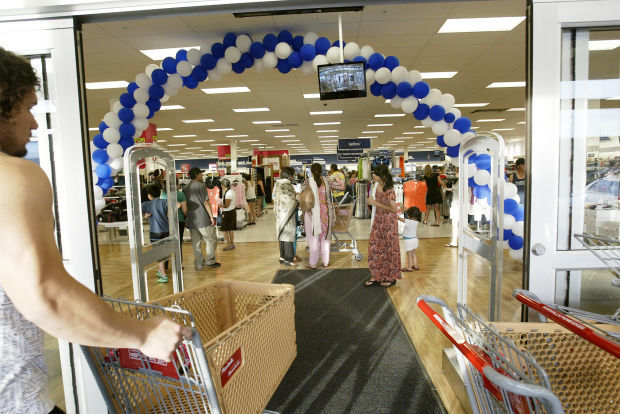 Napa Crossing South, home to anchor tenants Marshalls, HomeGoods and Michaels on Soscol Avenue, is in financial trouble. A lender has filed foreclosure proceedings against the owner, Napa Crossing South II, citing $37.3 million in unpaid debt.
At the same time, one loan for a sister property — Napa Crossing North on Trancas Street, owned by Trancas Pacific LLC – had recently been in default for $2.01 million. This issue has since been resolved, Kelsie Bosman, project coordinator at Pacific Properties which developed both centers, said Monday.
Loancore Capital Credit REIT is the lender for the south Napa property, located at 300 to 312 Soscol Ave. As of Monday, the south Napa shopping center was scheduled to be auctioned off outside the Napa County Courthouse, 1111 Third St., this Friday at 1:30 p.m.
However, "We're negotiating," with the bank "and we anticipate an extension of the auction date," said Bosman.
"That's a big number," said Chris Neeb, senior vice president with JLL real estate services, said about the $37 million default. Neeb is not affiliated with either project.
"That's definitely telling me these guys are struggling financially" and they probably are over-leveraged on the project, Neeb said of the property owners.
It's "unfortunate to hear that a developer that worked hard to bring so many new tenants to Napa is having difficulty," Joe Fischer with Strong & Hayden commercial real estate, wrote in an email. Fischer, who is based in Napa, is not involved in the Napa Crossing projects.
Napa Crossing North and South were both developed by Pacific Properties of Chico.
Kent Hallen, the CEO of Napa Crossing South II, a principal of Trancas Pacific LLC and president at Pacific Properties Group, could not be reached for a comment.
Napa Crossing North, located on Trancas Street at California Boulevard, opened in 2012. Napa Crossing South opened in 2014.
The Napa Crossing North project had been in an earlier stage of foreclosure. On Sept. 6, a notice of default was filed by lenders Sangeeth and Sidhu Peru against the center's owner Trancas Pacific LLC.
Regardless of the financial distress, both Fischer and Neeb said the stores and shoppers shouldn't be impacted by the foreclosures.
"The tenants will remain, business will go on as usual" and new tenants will eventually occupy the remaining vacant spaces, Fischer wrote in an email.
The foreclosures have "nothing to do with Michaels or the other tenants," said Neeb. "It's more to do with the financial standing of the ownership."
Fischer's guess is that "the slow lease-up for the last of (Hallen's) tenants in Napa Crossing South just took too long." Napa Crossing South was completed about five years ago but as of just months ago, several vacant spaces remained available.
It's likely that the income the center was generating while waiting for all the spaces to be leased was not enough to make the required debt payments, "and the lender lost its patience," said Fischer.
"I am hopeful that Kent and the lender are negotiating new terms and the trustee sale will be postponed or abandoned," Fischer said of Napa Crossing South.
If not, the likely outcome is that the lender takes possession of the property in exchange for the $37.4 million owed to it and the lender then ultimately will sell the property to a new owner, explained Fischer.
He's doubtful that a buyer will "magically appear" with a $37 million bid on Friday at the courthouse steps.
"Last-minute buyers normally look for deep discounts and I doubt the lender would allow a 'bottom feeder' bid," said Fischer.
Neeb thinks that if the Napa Crossing South auction proceeds, "there's going to be lot of interest in that project."
Regardless of what happens with the foreclosure, Napa remains a desirable area for both commercial and housing projects, Neeb said. "There's a lot of money out there" that people want to invest.
This not a harbinger of economic doom, added Fischer.
"There remains a universe of tenants that continue to be interested in being in the Napa market," he wrote. "There are plenty looking for local serving sites especially with drive through possibilities. Other tenants are looking at locations — primarily downtown — where they are able to benefit from both local buyer and visitor traffic in a district with a different vibe."
Get local news delivered to your inbox!
Subscribe to our Daily Headlines newsletter.