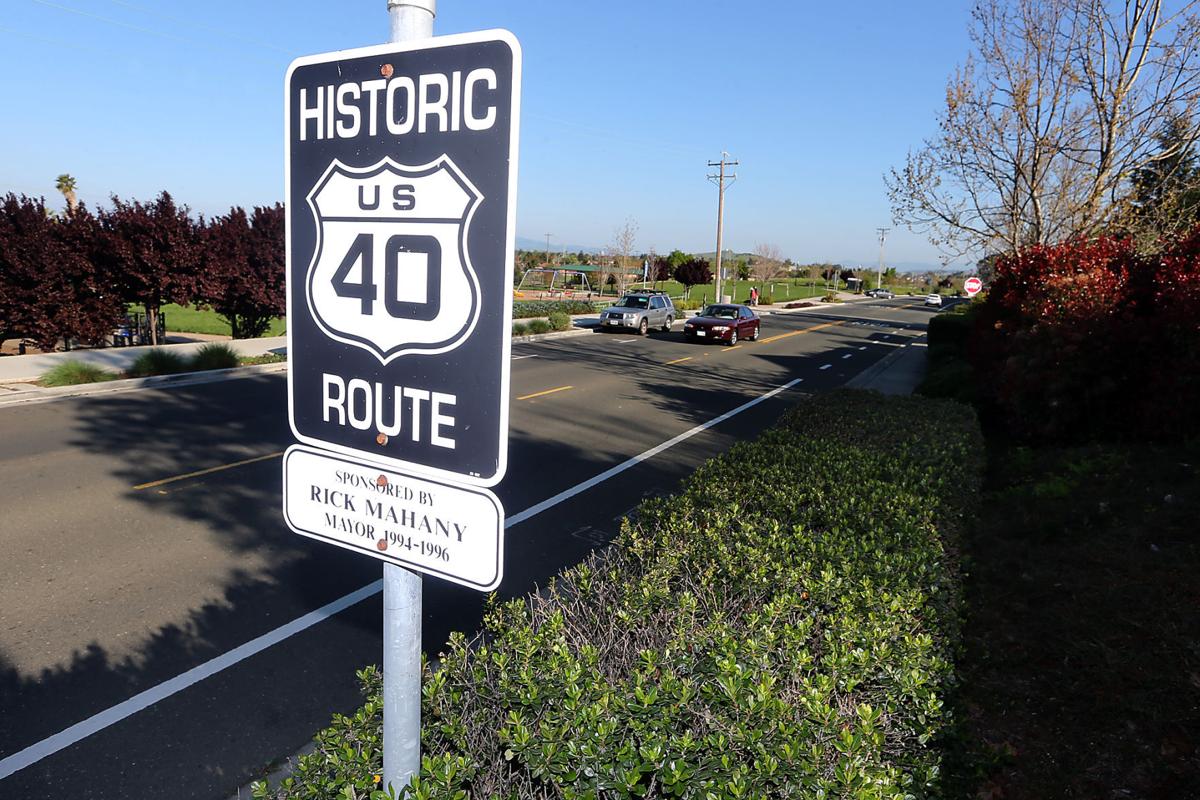 American Canyon's main drag is known by many names – most prominently Highway 29, but also Napa-Vallejo Highway, Broadway Street, old Highway 40 and, all-but-forgotten, the Lincoln Highway.
The Lincoln Highway was a transcontinental route at the dawn of the Automobile Age. It was established by car enthusiasts and industry officials in 1913 and south Napa County became part of an alternate route in the late 1920s.
Today's Highway 29 in the south county is lined with homes, megastores and shopping centers. Rush hour congestion is so bad some people yearn for more lanes. Transportation officials hope that driverless cars will someday help smooth out traffic flow.
The days when people drove brand-new Ford Model As along the Lincoln Highway from New York City to San Francisco and meandered through a then-rural stretch of Napa County seem far away indeed. The Lincoln Highway isn't a household name in American Canyon.
"I've never heard it used here," said Audrey "Bonnie" Waxman, who moved to the area in 1953 and helped write a 2010 history of American Canyon. "I've heard it in Vallejo."
But the Lincoln Highway is still a big name for some fans who study it and seek out chances to drive its now-roundabout path. Gary Kinst of Rio Vista is a member of the Lincoln Highway Association California Chapter.
"You've got to be someone who loves the highway, the outdoors, the history of it all," he said.
Perhaps knowledge of the local Lincoln Highway will make a comeback. The Lincoln Highway Association California Chapter is trying to get cities along the various old routes to post red-white-and-blue Lincoln Highway signs, with Galt and other cities already agreeing.
Kinst said the association could ask American Canyon for permission to mark the route.
"We're on a signing campaign," he said.
The somewhat tangled tale of how Napa County belatedly secured a section of the Lincoln Highway has its roots a century ago with a bespectacled man in Indiana named Carl Fisher.
Fisher owned the Prest-O-Lite headlight company and helped establish the Indianapolis Motor Speedway. In 1912, he and other auto enthusiasts plotted a transcontinental route from New York's Times Square to San Francisco's Lincoln Park.
"The automobile won't get anywhere until it has good roads to run on," Fisher said.
He proposed to name the highway after one of his heroes, Abraham Lincoln.
This original, Napa-less coast-to-coast route for the most part stitched together existing roads. A 1916 Lincoln Highway guidebook said motorists should be able to make an enjoyable cross-country trip in 20 to 30 days, as long as rain didn't bog them down on the unpaved sections.
"A journey from the Atlantic to the Pacific by motor car is still somewhat of a sporting proposition," the guidebook said.
Don't forget to wear yellow goggles for sun protection in the western deserts and to put out camp fires, it recommended. And don't ford water with a car without first wading through it.
The westernmost section of the original Lincoln Highway went from Sacramento to San Francisco by way of Stockton and the Altamont Pass to avoid water barriers. But in 1916, the completion of the Yolo Causeway west of Sacramento removed one of those barriers.
Napans began hoping a more direct route might pass through the city of Napa, where tourists would stop and spend money.
"It needs no extended argument to show what an incalculable benefit in every way a direct linking up with the Lincoln Highway, a great transcontinental road, would be for Napa County!" the April 14, 1916 The Weekly Calistogan said.
By 1923, efforts to create an alternate Lincoln Highway route focused on Vallejo, taking the city of Napa out of the picture. That alternative route became a reality after the Carquinez Bridge was completed in 1927 to take motorists over the Carquinez Strait.
This alternative Lincoln Highway segment extends west from Sacramento using the same route as long-gone Highway 40. It goes through Davis, Vacaville and Fairfield, and then through Jameson Canyon on today's Highway 12, where it enters south Napa County.
Until a few years ago, most of this Jameson Canyon section was two lanes and narrow and still had the ambiance of the old Lincoln Highway. Safety and traffic congestion concerns led to the road being widened to a four lanes in 2014.
From Jameson Canyon, the Lincoln Highway heads south along what is now Highway 29 past the county industrial center and city of American Canyon. Then, at American Canyon Road, it swings up to Broadway Street and heads past today's Veterans Memorial Park to enter Vallejo and Solano County.
But securing a Lincoln Highway route that missed downtown Napa didn't make local newspaper headlines in the late 1920s. The city of American Canyon didn't exist back then. Most of the Napa section was in rural areas, such as Jameson Canyon.
"It was just orchards and farmland, basically, not a lot going on," Kinst said.
Some in the Lincoln Highway Associate dispute that the alternate Lincoln Highway route through Yolo, Solano and Napa counties is legitimate. But Kinst said Gail Hoag, an official with the Lincoln Highway Association, in 1928 authorized Boy Scouts to erect markers along it.
"My feeling is it's the Lincoln Highway," Kinst said. "If it wasn't, he wouldn't have put up the markers on it."
Those markers can still be seen in other counties, such as in front of the historic Solano County courthouse in downtown Fairfield. Some are concrete pillars a few feet high with a blue "L" inside a red-white-and-blue rectangle topped by what looks like an over-sized Lincoln penny.
Kinst pointed out a copy of Hoag's list of where Lincoln Highway markers and signs should be placed. It includes two sites near the intersection of Highway 29 and Highway 12 in Napa County, though anyone looking for markers there today will be disappointed.
Napa County's moment of Lincoln Highway sun soon faded, for all practical purposes. The state in 1933 began building a new Highway 40 route that went through the hills between Fairfield and Vallejo, creating a much more direct route than the local Lincoln Highway. That route became today's Interstate 80.
Still, the local section of the Lincoln Highway receives some prominent high-tech notice in the 21st century. It shows up on Google map close-ups as one of the names for Highway 12 and Highway 29 in south Napa County.