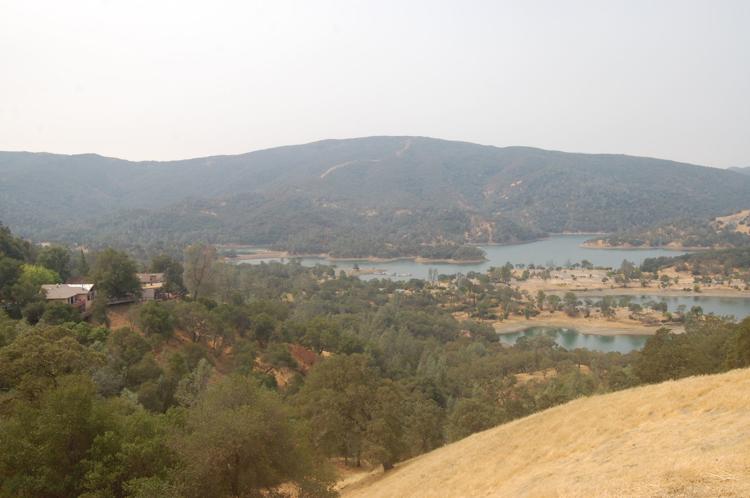 LAKE BERRYESSA — People move to the rural outpost community of Berryessa Highlands to be near peaceful Lake Berryessa waters, not hillsides engulfed in threatening wildfires.
Lately, wildfires have been at the forefront. The Atlas Fire in October and the County fire in July threatened the Highlands and its 350 homes. Then the fast-moving Steele fire in late July burned eight homes there.
"We're sitting on a disaster waiting to happen, that's all there is," Debra Hesse said on a recent morning in her house on a steep Highlands hill.
Such jitters — common in a county, region and state wracked by wildfires —are magnified in rural communities sitting amid brushy landscapes. A group of Highlands residents sees steps government can take to give them more peace of mind.
Enforce the code violation of refusing to clear brush near homes. Ban campfires during fire season at lakeside resorts. Make certain the community's fire hydrants provide water – those are the items on the Highlands wish list.
The message has been delivered. A recent meeting with Napa County officials at the small Highlands volunteer fire station drew a few dozen residents.
Hesse moved to the Highlands six years ago in part because of memories of summers spent at the now-closed Rancho Monticello resort along the lake. She views the fire situation today as being scarier than in years past.
"The climate's changed," Hesse said. "It's much hotter than it's ever been."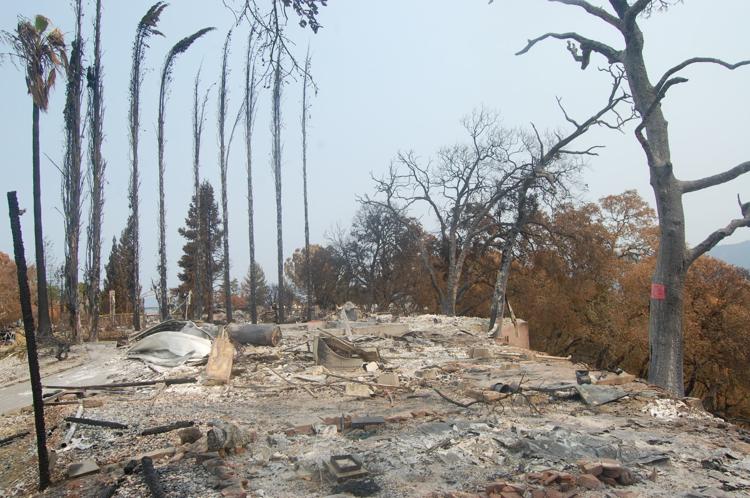 Stu Williams has lived in the Highlands for 14 years. He too thinks the fire danger has increased in recent years.
"The new normal is different than what normal used to be," he said.
Pamela Daniel has lived in the Highlands for nine years, moving there after visiting Steele Park resort for 18 years to go boating. The recent spate of wildfires has changed her perspective on wildfire danger.
"People are so scared right now, I've got to tell you," Daniel said. "I was out yesterday on the lake. Every time I saw a little puff of something, I've got to go see if there's a fire."
That's why a group of residents came up with that action plan.
Some Highlands properties, some of them vacant, have brush. Hesse, Daniel, Williams and others want the county to enforce laws requiring a defensible space of 100 feet around homes, even if that means doing the fuel removal itself and charging recalcitrant property owners.
Supervisor Alfredo Pedroza said officials recently visited more than 90 Highlands parcels with problems and issued notices to property owners to clear brush.
"If that is not fruitful, we have to take action to make sure we are protecting the neighborhood and keeping the neighborhood safe," he said.
But Hesse is fearful of what might happen during fire season 2018 while waiting for the noticing process to play out.
Some fires can be seen from the Highlands on a regular basis – the campfires at Steele Canyon Recreation Area down below. Daniel, Hesse and Williams fear a campfire could become a wildfire.
"We have one way in and one way out – Steele Canyon Road," Williams said. "If it starts at the Steele Canyon resort down there, we're in trouble."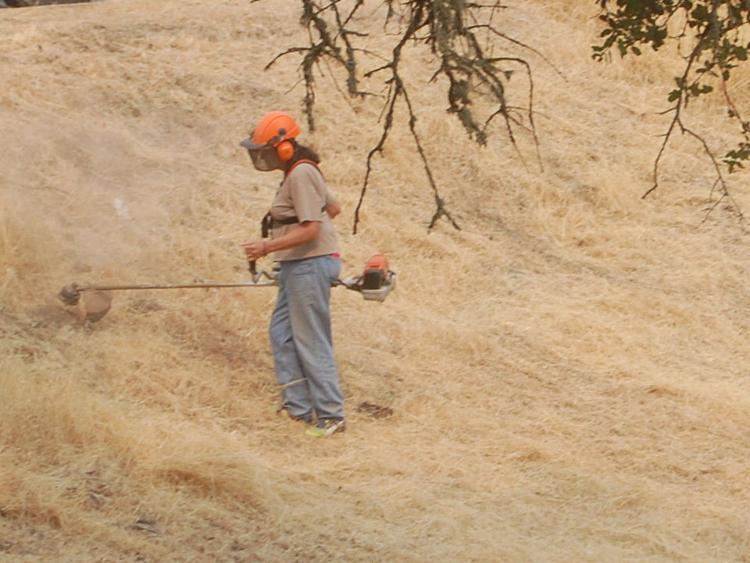 The resort is on federal land and run by a U.S. Bureau of Reclamation-chosen concessionaire. The Highlands group wants the Bureau to ban campfires or have beefed-up fire-fighting capabilities at the resort, as was the case before a failed redevelopment effort launched a decade ago.
"If a fire starts up here, they're going to leave their campsites and go home to their homes," Daniel said. "We're not."
When Hesse looks at the resort, she sees weeds that could provide fuel to fire.
Pedroza said the county fire chief will do a risk assessment at Steele Canyon Recreation Area next week.
An email to the Napa Valley Register from the Bureau said it requested concessionaires three years ago to voluntarily ban fires on red-flag warning days and they have consistently enforced this rule. It requested resorts in 2018 to ban charcoal barbecues on red-flag days.
Also, every year prior to Memorial Day weekend, the Bureau inspects resorts to make certain they comply with defensible space laws. That includes clearing grass to soil in a 10-foot circle around fire rings and pedestal barbecues, the email said.
Concessionaires have vehicles with enough water to fight small fires, such as an overly large campfires, the Bureau said. Pleasure Cove resort has hydrants. The agency didn't say whether it will consider a fire-season campfire ban.
Berryessa Highlands has fire hydrants along its streets. Hesse said she's heard from neighbors that firefighters during the Steele Fire had trouble getting water out of some of them.
"There were firemen asking, 'Do you know which ones work?'" Hesse said.
All the hydrants involved in the Steele fire were working, county Deputy Public Works Director Phillip Miller said. The county subsequently found a hydrant at another location that needed repair and fixed it.
Problems during the Steele fire stemmed from an overwhelmed water-and-hydrant system, not defects at individual hydrants, he said.
"It's intended to fight a single-family home fire, maybe one house or two," Miller said. "It's not intended to fight a fire with eight homes engulfed and you have wildland fires surrounding property."
Installing a more robust system would be expensive, Miller said. He noted Highlands residents already pay steep water bills.
Hesse, Williams and Daniel want the hydrants tested regularly to make certain they work and are not blocked from view by brush. They want all hydrants to have hose boxes and all residents to receive instructions on how to use the hydrants.
The threat of wildfires poses another type of challenge to Highlands residents — finding affordable fire insurance. Williams said insurance costs him about $3,500 annually.
Napa County last year opened a fire station in the community with the hope of securing a better Insurance Services Office rating and lowering insurance rates. The metal building with one fire truck is used by Capell Valley volunteer firefighters.
Fire Chief Barry Biermann on Aug. 14 announced that the Insurance Services Office no longer considers Berryessa Highlands as being "unprotected." It gave the community a rating of four, comparable to other county rural areas.
"We are very, very pleased to see those ratings improve," he said to applause from the Napa County Board of Supervisors.
Still, Hesse, Williams and Daniel said they remain worried about the fire insurance situation.
"We have people getting canceled up here," Hesse said.
Berryessa Highlands has its roots in 1964, when developers announced plans for a lakeside resort community with 1,300 homes, which is comparable to the number in today's Yountville. Later newspaper reports mention plans for as many as 2,100 homes.
Lake Berryessa was a relatively new feature on the county's landscape at the time, having formed after the 1957 completion of Monticello Dam. The creation of a huge lake spurred the resort community development dream that resulted in the Highlands, Circle Oaks and Berryessa Estates.
But none of these communities turned out to be as grand as originally envisioned. The Berryessa Highlands Development Co went bankrupt in the early 1970s.
Development of the Highlands moved slowly, with 71 lots built on by 1980. An improving economy led to 170 lots built on by 1990 and 300 by 2000, according to a report by the Napa County Local Agency Formation Commission.
Napa County's agriculturally focused growth plans today don't allow for any new rural communities on this scale. The Highlands, Circle Oaks and Estates are legacy developments that won't be replicated any time soon.
Williams called the Highlands "a front porch community" where people know each other. Hesse and Daniel agreed.
"It's peaceful and it's quiet," Daniel said.
Now she, Hesse and Williams are among the Highlands residents fighting to keep wildfires from shattering that tranquility.
Get local news delivered to your inbox!
Subscribe to our Daily Headlines newsletter.