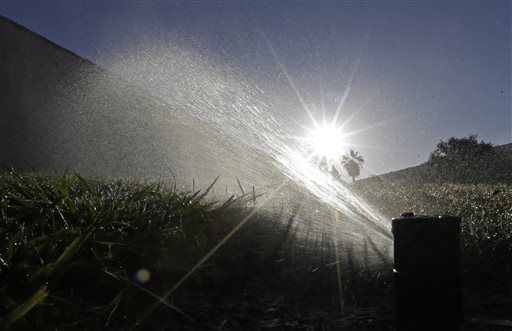 The St. Helena City Council declared a Phase I water emergency on Tuesday after a critically dry rainfall season.
Phase I prohibits customers from adding landscaping and appliances that will increase water use, limits the watering of ornamental landscapes or turf to two days a week, prohibits the use of potable water to irrigate landscaping between 8 a.m. and 8 p.m., and imposes other conservation measures. (A full list is below.)
If conditions don't improve, the council could declare a Phase II emergency, which would impose water rationing.
The city's official rain gauge registered only 20 inches of rain since last July. Bell Canyon Reservoir, one of the city's three water sources, is at 60% of capacity and is projected to drop into the 33%-40% range in November.
Public Works Director Erica Ahmann Smithies didn't recommend declaring an emergency because the conditions didn't quite meet the city's triggers for entering Phase I, but councilmembers wanted to be cautious.
Alan Galbraith, John Sales and Tim Nieman, who served on the Safe Yield Committee that developed the city's water emergency triggers, also recommended that the city go into Phase I immediately.
The Phase I restrictions are "common-sense" measures that many people are probably following anyway, said Councilmember Mary Koberstein.
"The regulations are not that restrictive," she said. "It's just a good reminder to people to be extra-careful."
According to a city press release, the following mandatory conservation measures must be followed during a Phase I water emergency:
1. All customers must be in compliance with all water conservation requirements of Section 13.04.221(B) (Water Conservation). If a customer is found to be out of compliance with any part of Section 13.04.221 or provisions of these water shortage emergency requirements, the customer must immediately stop the water waste by installing the appropriate water-saving devices in their plumbing, appliances, or improvements, or take other such actions to bring about full compliance.
2. All customers are prohibited from expanding or installing landscaping or appliances that will increase the overall water use of the property. Replacement of existing appliances, landscaping, plumbing, or improvements shall be allowed only if the change can be documented to the satisfaction of the director of Public Works to result in more efficient water-using fixtures or systems.
3. Customers shall cease the operation of air-cooling outdoor misting systems using treated water supplied by the City, unless on a timer.
4. Outdoor irrigation of ornamental landscapes or turf with potable water is limited to no more than two days a week. Outdoor irrigation is allowed on Sunday and Thursday.
5. No person shall use potable water to irrigate landscaping between the hours of 8 a.m. and 8 p.m.
6. Irrigation with potable water of landscapes outside of newly constructed homes and buildings shall be in a manner consistent with regulations or other requirements established by the California Building Standards Commission and the Department of Housing and Community Development. If irrigation systems are installed as a part of new development, they shall be drip or microspray irrigation systems or a system determined by the director of Public Works or designee to be more efficient.
7. Draining and refilling of swimming pools shall be permitted only as needed for the purpose of pool repair or to correct a severe chemical imbalance. Draining and refilling of decorative ponds and lakes shall be permitted only as needed for the purpose of lining the bottom to prevent absorption.
8. All new or replacement industrial and commercial clothes washers shall be high efficiency as defined by the U.S. Environmental Protection Agency. All new or expanded car washing facilities shall include water-saving methods.
9. In accordance with Section 864 of Title 23 of the California Code of Regulations or any successor regulation, the taking of any action prohibited in this subsection B, in addition to any other applicable civil or criminal penalties (including the penalties set forth in Sections 13.04.230 and 13.04.310), is an infraction, punishable by a fine of up to $500 for each day in which the violation occurs.
With Phase I Water Regulations there will be changes to utility billing. The 2017 adopted water rate structure includes a drought period surcharge that begins once the city implements Phase I Water Regulations. Drought rates are only applied to use charges and does not affect service (or base) charges. Drought rates are 6% higher than non‐drought rates, because during drought years the cost of water per 1,000 gallons is 6% higher than during non‐drought years.
In addition, leak adjustments will not be granted when the city is in a Phase I or higher water emergency or subject to water use limitations by the State of California. The city will be presenting up to date water data and forecasts on a monthly basis to the City Council.