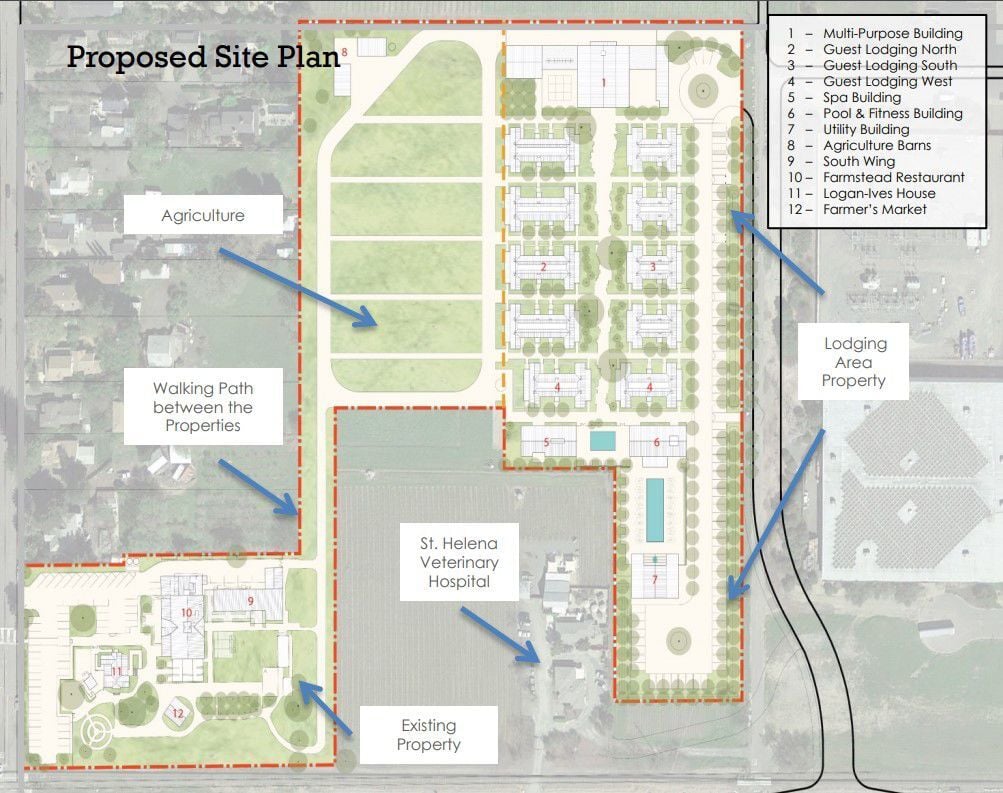 ST. HELENA — A 65-room hotel proposal next to Farmstead at Long Meadow Ranch got its first public hearing this week.
The Planning Commission heard presentations from city staff and applicant Ted Hall of Long Meadow Ranch, asked questions about the project, and heard five public comments. After three and a half hours, the commission adjourned and were scheduled its next meeting Sept. 17.
In a presentation to the commission, applicant Ted Hall of Long Meadow Ranch said the project would generate $2.6 million in tax revenue for the city – increasing the General Fund by 17% — and bring more foot traffic to downtown businesses located a short walk or bike ride north of the hotel.
Hall made the case that adding lodging to the existing restaurant would have less impact than building a new hotel from the ground up.
"We're not a new hotel," he said. "We're part of an existing food and beverage business."
He said the lodging would reinforce Long Meadow Ranch's values of agriculture, sustainability and farm-to-table dining.
"The whole premise is to expand the campus in a way that will deepen our guests' understanding of how food is grown for the table," he said.
Hall also touted "innovative" solutions to impacts like water and housing.
He said a new stretch of "purple pipe" along Mills Lane would more than offset the hotel's use of city water by creating the first link in a network that will deliver recycled water from the city's soon-to-be-upgraded wastewater treatment plant to the schools, parks and vineyards along Grayson and Crane, which would no longer have to rely on potable water for irrigation.
"We're going to create a net water-generating project," Hall said.
To offset the project's 51 new jobs, the developers would pay $3.2 million to the city affordable housing trust fund, with $1 million earmarked for the nonprofit Our Town St. Helena to buy the Phelps property south of the hotel site. The so-called Phelps Village project could include at least 30 workforce housing units.
Mary Stephenson of Our Town praised the applicants, city staff and Councilmembers David Knudsen and Mary Koberstein for negotiating an "unprecedented" development agreement that requires a hotel developer "to actually make a genuine contribution to housing."
"This sets a historical precedent for housing impact fees for the county," Stephenson said.
The developers will be required to build new storm drains and sidewalks, upgrade the crosswalk at Highway 29 and Charter Oak Avenue, and realign Mills Lane with Grayson Avenue, forming a four-way intersection with Highway 29. Fees and capital expenditures by the developers would total $9.7 million.
Environmental impact
Some opponents, including environmental groups, say the project needs a full environmental impact report and question the methodology of the less extensive mitigated negative declaration (MND) prepared by consultants.
Water Audit, which has sued St. Helena and other Napa County jurisdictions over water management, questioned whether the MND underestimates the project's water needs, and also questioned whether the city water system would be able to deliver the necessary water. Grant Reynolds, a director of Water Audit, called for the city to defer a decision on the hotel until it investigates whether the use of the Stonebridge wells is reducing flows in the nearby Napa River.
Mike Hackett of Angwin raised the same concern.
"You're on the cusp of a very dangerous situation in St. Helena water-wise," Hackett said. "Thinking about any hotel projects or any development at this point in time is foolhardy and leaves you open for litigation," he added.
In an Aug. 17 letter, an attorney for the Bell Canyon Watershed Alliance said the project would transform the property into an "event center," and argued that the MND doesn't properly analyze the effects on water, groundwater, traffic, greenhouse gas emissions, air quality and historic resources.
Establishing a baseline
Attorney Michelle Black of the law firm Chatten-Brown, Carstens & Minteer said Farmstead engages in activities that weren't allowed by its 2009 permit, such as retail sales at the Logan-Ives House, an outdoor café, and various events. She said the new impacts should be compared with what was originally allowed, not what's currently happening.
"The preparation of an MND for a 53,200-square-foot addition to enable operation of a year-round events center is laughable," Black wrote.
Commissioner Bobbi Monnette raised similar questions about using existing conditions – rather than those that were permitted in 2009 – as a baseline for the project's impact.
"How can I look at that data and feel that it is accurate?" said Monnette, adding that she's complained in the past about loud concerts at Farmstead. "It is not factoring in all the changes to the environment that have happened with the current use that went beyond the use permit."
Assistant City Attorney Ethan Walsh defended the use of existing conditions as a benchmark. He said it would be difficult to use the old information from 2009 "and do the environmental analysis for changes that have already occurred and been on that site for several years now."
Hall said the applicants "are not requesting any expansion of use beyond our current activities." He said Farmstead obtained building permits to convert the former Whiting Nursery into an auxiliary kitchen and meeting space in 2012.
"These changes that we made were done with overt city approval," Hall said.
He said Farmstead holds "ancillary" events that are "completely consistent with what any typical restaurant would undertake."
'Checks all the boxes'
St. Helena resident Steve Goldfarb, a board member of Our Town St. Helena, said the project "checks all the boxes in terms of what kind of development we want in this community."
"This is an opportunity for us to get back on track so that this city can do the things that this city said it was going to do for the community for as long as I have been here," he said. "We can't do that now because we don't have any money in this town."
Jim Sweeney of St. Helena praised the Halls and said approving the hotel is "critical to the community."
Former Mayor Alan Galbraith also offered his support, citing St. Helena's declining sales taxes from downtown retail.
"The Farmstead project is a vital … shot in the arm for downtown retail," he said.
If approved by the commission, the hotel will go before the City Council, which will have to approve the development agreement and various entitlements.
Watch Now: Hotel Do's & Don'ts! Here Are a Few Ways You Can Make Your Hotel Stay Better!