The owners of Charter Oak Winery, a small boutique winery and art studio in St. Helena, are suing Google for allegedly refusing to remove bad reviews from a "troll" targeting the winery.
"A troll keeps leaving untruthful reviews on our page," Layla Fanucci wrote in her small claims suit filed against Google, Inc. in Napa County Superior Court on May 14. Fanucci said she contacted Google about getting the reviews taken down for their "inappropriate" nature, but the company refused.
The person leaving the reviews, she said, hasn't even been to the winery.
Contributions to Google Maps, including reviews of businesses, "should accurately represent the location in question," policy says. If a review distorts the truth, the content will be removed.
"Your content should reflect your genuine experience at the location and should not be posted just to manipulate a place's ratings," reads the policy. The policy also states that Google will not allow Google Maps to bully or harass anyone.
Fanucci, whose husband, Robert, is listed as the winery's proprietor, says the review is violating these policies.
One example, she says, is a review by "James K" that calls the winery "a toilet."
It reads: "Oh. This place is a toilet. We met a bombastic selfrighteous person who thinks they are entitled to the world. We went here one day and from the moment we walked in, we wanted to leave. There's nothing historic here as far as we could see. Just a bunch of former yuppies that use the place as a tax write off."
"We keep records of who comes in – he's never been in," Fanucci said.
Although the reviews are being left by different usernames, Fanucci said she thinks it is just one person who is out to get them. She said that she has tried to figure out who the person writing the bad reviews is, but there's no way to do so.


"Somebody's trolling us … and Google won't even acknowledge it or do anything about it," Fanucci said Wednesday. The reviews are similar in language, she said.
"It's definitely somebody out to get us," she said.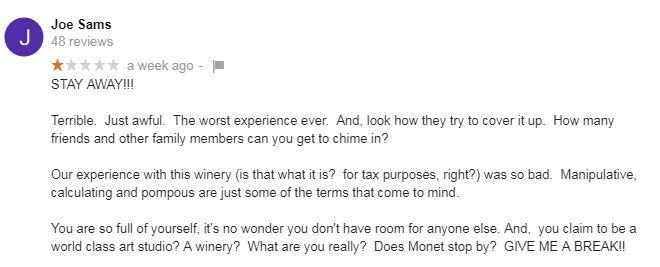 "We have a lot of great people that review, but I don't like to ask people," she said. After receiving the negative reviews, though, Fanucci said she asked Charter Oak's wine club members and others to post positive reviews to counteract the bad ones.


Each of the three reviewers who left negative reviews do have other reviews – some positive – associated with their profiles. The Register's attempts to contact the reviewers were unsuccessful.
"I have spend [sic] hours wasting my time on the phone, email, letters with no response from Google," Fanucci wrote in her claim. She is seeking $5,000 from Google, Inc.
A trial date has been set for July 12.
Get local news delivered to your inbox!
Subscribe to our Daily Headlines newsletter.