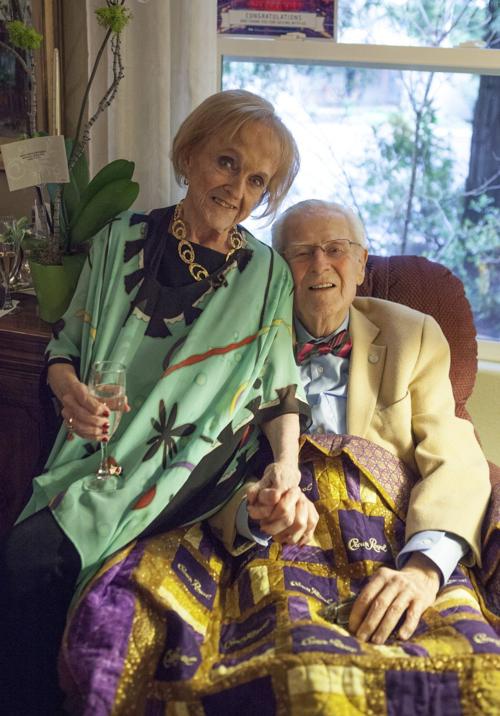 A celebration of life for St. Helena's Janice Kindler Barden McKinnon, known professionally as Janice K. Barden, will be held in October in Napa for family, friends and her Vineyard Valley neighbors. Barden died Sunday, July 31.
Barden was a pioneer in business aviation and the chairman and founder of Aviation Personnel International (API), a business aviation recruiting firm, in 1971, in New Orleans.
She contributed to the aviation community for more than 60 years.
"Janice enjoyed two wonderful husbands, an awesome grandson, a loving family and a never-ending cadre of friends," said daughter Sheryl Barden, CEO and president of API.
"She had an amazing career that helped so many people progress in their chosen careers, a beautiful 10 years of life with Chuck McKinnon in St. Helena, and a full life in New Orleans, New Jersey and Ohio. She also had countless recognitions for her work in business aviation and she never stopped talking about this wonderful industry, and the pride she had in it, literally, until the day she died."
Barden was born in Cleveland, Ohio and grew up in Cuyahoga Falls, a suburb of Akron. She left home at age 17 to pursue her undergraduate studies at Miami University in business administration and later earned her degree in Industrial Psychology from Kent State University.
After graduation, Barden worked for company that was an employment agency for pilots based in Newark, New Jersey. She first met Chuck McKinnon in 1954, when he was with IBM and seeking pilots. In her years with that company, Barden developed contacts all over, McKinnon said.
In 1971, Barden founded her own recruitment firm, API. Using her skills in psychological testing, Barden developed API's proprietary candidate testing program. Under her leadership, API's professional and technical standards helped to raise the bar for quality and performance in aviation, placing thousands of high-achieving professionals throughout the industry.
McKinnon said his wife was successful because she was good with people and she would rather work than not work. "She worked 18 hours a day. She never quit, she just kept going," McKinnon said.
She was also effective in the building up of the National Business Aviation Association (NBAA).
McKinnon said Barden ran seven NBAA conventions – all held in New Orleans where she lived and was chairman of the eighth, which was canceled after the terrorist attacks on Sept. 11, 2001. The NBAA conventions were the second largest in the United States and drew an estimated 33,000 people.
McKinnon said he called Barden up after his first wife died in 2002. "This is not a proposal," he said to the woman he had known since 1954. "I am much too old for you to even think about marrying me. I'll be in a nursing home and you'll have to come see me all the time and take care of me and I'm not asking you to do that. But, we're both going to France to a wedding (of a mutual friend) and I'm inviting you to go with me."
McKinnon, who celebrated his 100th birthday on March 9, said they took the trip together and he courted her in New Orleans from his home in Alabama. Hurricane Katrina hit New Orleans on Aug. 29, 2005 and Barden found she couldn't operate her business based in New Orleans.
McKinnon said the two made the decision to base the business in San Francisco and move to the St. Helena area. The two were married for 10 years and McKinnon said, "It was wonderful. I had enough money to be comfortable, she had enough money to be comfortable, we just traveled all over the world. It was wonderful and wonderful to be together."
Barden loved to entertain, was a gourmet cook and she set a table beautifully, according to her husband.
Sheryl Barden joined API in 2001 as vice president of Business Development and was named president and CEO in 2003.
Get local news delivered to your inbox!
Subscribe to our Daily Headlines newsletter.