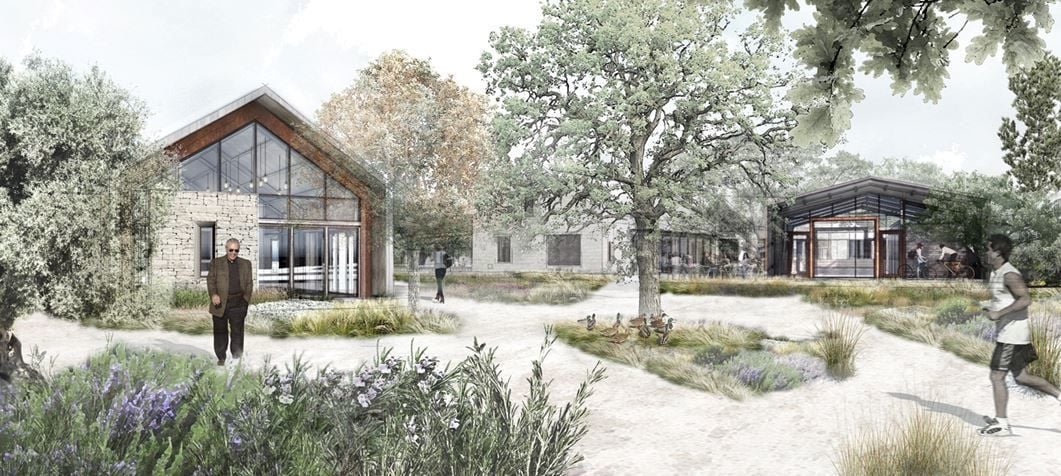 The developer of a hotel and resort at Stanly Ranch near Carneros is promising Napa planners a marriage of leisure, vineyards and farmland – all in full view of guests.
Members of Stanly Ranch Resort Napa LLC previewed their site design for the 95-acre resort, residential and winery development before the city Planning Commission last week.
What emerged from their drawings and blueprints was a resort dominated by clean-lined, cottage-style lodgings in stone, wood and metal, amid a landscape its creators said would pay tribute to Napa Valley agricultural roots.
"Our feeling is that this property should reflect the authenticity, the experience, of being in the vineyards of the Napa Valley," said Mark Harmon, founder of Auberge Resorts, which will operate the Stanly Ranch center under the VieVage brand.
"… The grapes and the produce and the cooking are elements of what today's guests are really seeking," he said. "That's an experience that relates to the land, that draws them into the production of food and wine. Quite simply, it's the good life." 
Developers plan to build out the project, located off Stanly Lane east of Highway 12/121 (Carneros Highway), in three phases. The 150-unit VieVage resort would open in 2017, followed later by 25 fractionally owned and 70 fully owned homes, and finally a 40,000-square-foot winery. Parking areas would be grouped on the site's south side, and a new bicycle and walking trail would line the north and west perimeter.
The resort, homes and winery still require city approval of a final site development plan before construction can begin. Still, the plan won the favor of planning commissioners, even in outline.
"I have to commend you for placing this on a human scale, for placing it in an agricultural setting," Commissioner Paul Kelley said Thursday.
"I've spent 10, 15 years beating up on developers, beating up on architects, trying to raise the bar," Commissioner Gordon Huether added. "And this is one of the few times where I don't have much to say."
The Stanly Ranch resort's master plan won City Council approval in May 2010. Proponents initially sought to develop the site with the St. Regis hotel chain, a high-end branch of Starwood Hotels & Resorts Worldwide, but in June 2014 switched to Auberge Resorts, the company behind Auberge du Soleil and Calistoga Ranch elsewhere in the county.
The core of the VieVage resort would include six buildings for a restaurant, café, banquet hall, bicycle shop and other amenities. Guest cottages would be clustered into six "neighborhoods" defined by different types of plantings. The resort property also would include a spa, pool and fitness building.
Total square footage for the resort, part of the much larger 712-acre Stanly Ranch neighborhood, will be 195,000 square feet, with residences bringing that area to 500,000 square feet.
Much of the site is to be planted in grapes for the winery or produce for the resort restaurant, and abundant open space and a one-story limit on buildings are meant to strengthen the resort's rural feel, according to Eliot Hoyt, the project's site planner and landscape architect. Building orientation and strategic tree planting are intended to maximize natural, passive heating, cooling and shade, he said.
Whatever the Stanly Ranch resort's final shape, Hoyt hoped to help create as distinctive a tourist hideaway as possible.
"There are fundamental aspects of the luxury resort environment, but there's an opportunity here to deliver it in a new way," he said.