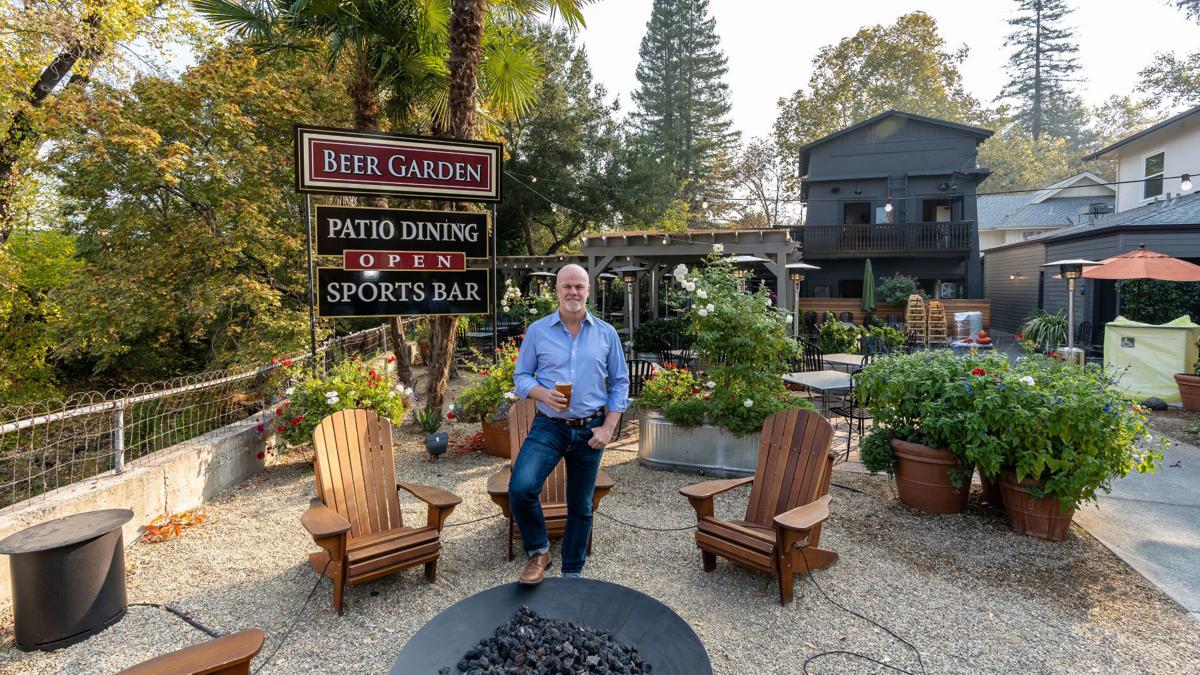 A recent crackdown on California's Type 75 brewpub-restaurant licenses by the Department of Alcoholic Beverage Control (ABC) resulted in seven Napa Valley restaurants temporarily losing their right to sell spirits, limiting their liquor menu options to beer and wine.
ABC wanted to be sure that the restaurants were living up to the requirements of their special license that allowed them to sell spirits if they brewed a minimum amount of beer.
The ABC put five local restaurants on probation for three years with the continued right to sell spirits: Morimoto Napa, Acacia House, Forge Pizza, Blue Note Napa and The Runway by Patrick. ABC said investigations were pending against Golden Harvest and Goose and Gander in St. Helena.
On Nov. 15, an employee at Golden Harvest in St. Helena who asked not to be named said the restaurant had opted to forfeit its Type 75 license and sell only beer and wine in the future. "It was just too much of a pain in the ass and we didn't make any money off of it anyways. So we're just getting rid of it," the employee said.
Allen Mochwart, manager of Forge Pizza, said Thursday that his restaurant brews and sells 10 barrels a month at its south Napa location. The restaurant was put on probation for want of documentation of its beer production and sales, he said.
Forge took a financial hit during the week that ABC suspended spirit sales, but this ability has been restored, Mochwart said.
"I think we just got kind of caught in the whole thing," Mochwart said. "Some of these other restaurants apparently are not making beer or not making an effort to make beer. However, that was not the case with us."
For some, the crackdown has prompted a deeper embrace of their brewing identity. An ABC inspection of The Runway by Patrick at the Napa County Airport brought a suspension for the restaurant's license during the early weeks of October. Before the suspension, the restaurant brewed only the "Runway pale ale," said manager Kim Wilkinson, and not enough to satisfy their license.
"After working with them, we quickly became compliant," Wilkinson said. "And we will remain compliant from here on out."
More than that, the restaurant is doubling down on its brews, adding to the pale ale a blonde, a stout and a pending fourth beer. "The suspension has made me realize that we need to really start producing the house brews," Wilkinson said.
Calls seeking comment from the other four restaurants investigated by the ABC were not returned Thursday afternoon.
Why restaurants sell alcohol
According to restaurant statistics, the average full-service restaurant serving alcohol makes about a 6 percent profit margin. As much as 50 percent (or more) of the profit can come from alcohol sales.
For a restaurant to sell alcohol it must first obtain a special license to do so. The most comprehensive license (Type 47) allows a food-service operation to sell wine and spirits.
"We're in the business to service our customers and offer them what they want, and many like to enjoy a cocktail at some point during their dining experience," said Michael Dunsford, co-owner of Calistoga Inn Restaurant and Brewery.
"A Type 75 liquor license allowed restaurants who brewed their own beer to also sell spirits," he said. "But what has happened over the years was that some restaurants saw it as a way to get around getting what is often a much more expensive and limited permit (a Type 47) to sell all types of liquor — beer, wine and spirits."
Another reason to include spirits is because alcohols such as gin, whiskey and vodka can often provide higher profit margins when compared to wine and beer. The challenge is that there are only a limited number of Type 47 licenses available through the state each year and the ones that sell on the open market often go for $400,000 or more within the Napa Valley.
The Type 75 loophole that just closed
Restaurants not able to obtain a Type 47 have had another option. A Type 75 license allowed the sale of distilled spirits so long as they brewed at least 100 barrels of beer onsite. The license was created more than 20 years ago to help encourage and support what, at the time, was a nascent craft-beer-brewing industry.
The license was intended for legitimate small brewers, but it quickly became a way for fledgling restaurants to gain the ability to pay roughly $14,000 for the license, brew a little beer on the side (some of which could be donated to charity or theoretically just poured down the drain) and meet the letter of the law although perhaps not its intent.
The loophole was closed in September when new language was added to the law. The major changes include an increase from 100 barrels to 200 barrels of beer made onsite each year, a requirement to sell said beer on the premises and keep accurate records of production and sales, and the stipulation that any of the beer donated to charity does not count toward the yearly volume calculation.
"Increasing the minimum annual production requirement from 100 to 200 barrels will help to ensure that those who have a Type 75 license are indeed committed to producing a quality beer product — the 100 barrel threshold was too low to achieve this," said Tom McCormick, executive director of California Craft Brewers Association.
"Some Type 75 licenses were making beer as easily, cheaply and quickly as possible just to meet the minimum production requirement, knowing that they could sell 100 barrels of even a poor-quality beer. This led to license abuse, where the Type 75 was often being used as an inexpensive alternative to a Type 47 license."
The impact
According to the ABC's website, within the Napa Valley there are 29 restaurants that have Type 75 licenses, with only a few having the word "brewpub" or brewery on their street signs. Some of these dining establishments are making and selling beer onsite, and although they will need to increase production, that should not represent an insurmountable challenge.
However, those restaurants that have not been following the intent of the law will find it costly, time-intensive and a possible blow to their short-term bottom line as well as their brand image.
"California's craft-beer industry is a national leader, and brewpubs are an important part of that," said ABC Director Jacob Appelsmith. "This statewide investigation makes it clear that the ABC is committed to protecting the integrity of the craft-beer industry and expects licensees to be compliant with the law in order to sustain a fair and healthy marketplace. The department prefers increased compliance through education but will use enforcement tools to ensure compliance."
According to the ABC, there are approximately 150 Type 75 brewpub-licensed premises in California, and a recent investigation found that nearly a third of those locations were not operating legitimately.
Some math
One barrel of beer fills 248 pint glasses. If the 29 restaurants that currently hold a Type 75 license in the Napa Valley each make 200 barrels of beer a year, that would total 1,438,400 pints of beer they will need to sell.
The Napa Valley had about 3.5 million visitors in 2016, and one-third of those stayed overnight, according to Visit Napa Valley data. According to a Gallup poll, 63 percent of the U.S. population drinks alcohol. Of those, roughly 40 percent say they prefer beer. Sixty-three percent of 3.5 million equals 2,205,000 who drink, with 882,000 saying they prefer beer. Thus, every single one of these beer-liking visitors would need to drink nearly two pints from one of these 29 restaurants to deplete their inventory.
Of course, there are plenty of locals who enjoy beer, too. The population of the valley's city and towns is at just over 140,000. Using similar math as above, and making the assumption that residents go out to eat and drink once a week, we come up with 1,834,560 potential pints consumed per year by locals. But these 29 restaurants are only a fraction of the total outlets/restaurants/wineries that serve beer.
Add that to the beer that is already hitting the streets with an influx of new breweries in the valley (Stone Brewing, St. Clair Brown, Mad Fritz, Lincoln Street Brewers, for example) and that makes for a lot of beer and might spell trouble for some of these restaurants that find inventories hard to push through at a fast enough rate to maintain quality. Unlike wine, most beers do not improve with time.
A frothy future
The authors of these changes to the law intended to close a widely abused loophole. For consumers who enjoy beer this, along with a recent increase of local-craft breweries will lead to increased choices, improved quality and lower prices. For example, The Acacia House, which has a Type 75 license, had its license suspended for nearly two weeks until the case was adjudicated. For now, customers there can now enjoy $3 pints of beer and $9 burgers during happy hour, apparently in an effort to both move inventory and showcase their brews.
These changes might cause restaurants that never intended to become beer producers and used Type 75 as a means to sell spirits to fold up shop.
"It will cost me $60,000 a year to make that much beer, and I'd never be able to sell it," said one such restaurant owner, who asked that his name not be used.
And, yet, without the ability to sell distilled alcohol this same person tells me that they'd be unable to stay afloat.
"We may see a few places go under, but I hope not," Dunsford said. "My hope is that this change to the law results in both more compliance and better-quality beer."
Register reporter Henry Lutz contributed to this story.