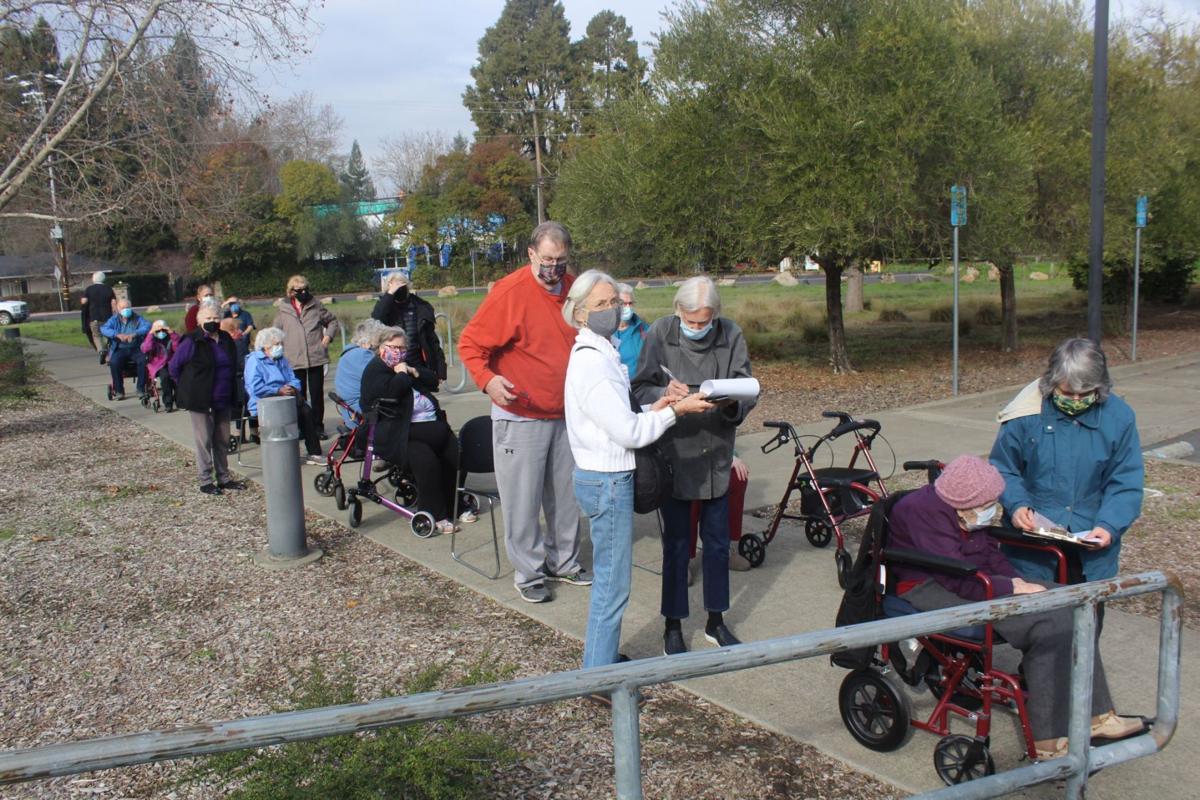 Slightly more than half of Napa County residents who have received at least one dose of the coronavirus vaccine are 65 years of age or older, demographic data made available by the state of California for the first time shows.
California released the long-awaited county-by-county data set Friday. State reporting, which on Monday showed Napa County as having vaccinated 32,700 persons, is lagging slightly behind county reporting; Napa County's own tracker on Monday showed more than 36,000 residents as having received at least one dose of the vaccine.
The county's population is estimated to be just under 140,000.
The state's dataset breaks down the county's vaccinated population by race and ethnicity, age and gender — details not made previously available by Napa County, which is still working to clean up the demographic data it has so far collected, spokesperson Janet Upton said in an email Friday.
We're offering our best deal ever with this Editor's Special. Support local news coverage by subscribing to the Napa Valley Register.
On Monday, state data showed 50.9% of Napa County's vaccine recipients were 65 years of age or older; 20.4% were between the ages of 50 and 64; 28.6% between the ages of 18-49; and 0% 17 years of age or younger.
Those numbers reflect the change in California's vaccination strategy, the website says, which first categorized and prioritized essential healthcare workers and staff at long-term care facilities before pivoting into an age-based tier system.
"Initially, vaccination was limited to healthcare workers and long-term care residents," a description of the data on the state's website reads. "… The data reflects those populations more than other California residents."
Statewide, 54.7% of the population that has received at least one dose is 65 years of age or older; 16.6% are between the ages of 50 and 64, 28.7% between the ages of 18 and 49 and 0% are 17 years of age and younger.
Forty-nine percent of vaccine recipients in Napa County are white, data shows, while just 12.1% of the vaccinated population in Napa County is Latino. Eight percent of the vaccinated population identified as multi-race, 5.1% as Asian American, and 1% as Black. Nearly 16% of respondents listed their race and ethnicity as "unknown," a category that the state described as including "those who declined to state or whose … information is missing." County officials have previously said the information gap could be in part due to language barriers.
Slightly more than half of Napa County's total population is white, according to census data from 2019, while more than a third — about 35% — is made up of Hispanic/Latino residents. Nearly 9% of Napa County residents are Asian American, the data shows; just 2.5% are Black or African American.
Supply constraints in recent weeks have derailed mass vaccination efforts in Napa County, forcing officials to temporarily pause administering new first doses to residents and concentrating on supply second doses in a timely manner.
The county is currently working its way principally through the tiers of Phase 1A, including health care workers and residents 75 years and older, officials have said, and making forays into vaccinating those made eligible by the first tier of Phase 1B, including farmworkers and educators, when supply allows.
Editor's note: Because of the health implications of the COVID-19 virus, this article is being made available free to subscribers and non-subscribers alike. If you'd like to join us in supporting the mission of local journalism, please visit napavalleyregister.com/members/join.
WATCH NOW: Napa County breaks down demographics of COVID-19 related deaths
Catch up on Napa County's top news stories
Catch up on Napa County's top news stories