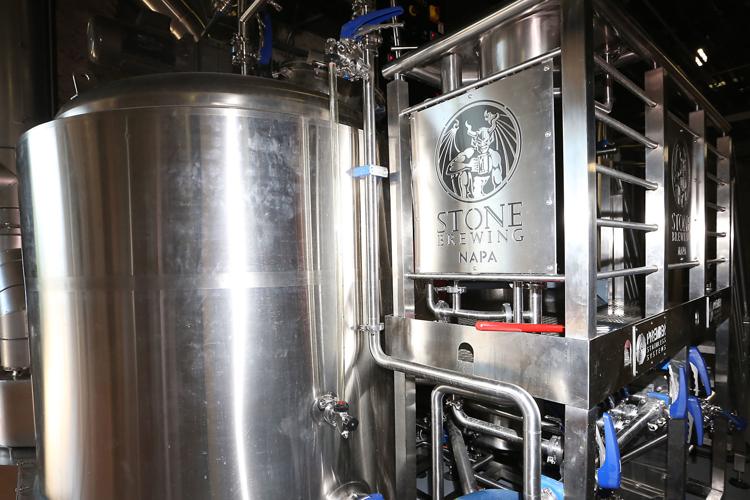 Following almost two years of renovations, the doors and taps will finally open Sunday at the historic Borreo building on Third Street, as Stone Brewing – Napa opens for business.
Stepping in at the 2 p.m. opening on Sunday, visitors will be met with a broad reimagining of the 1887 building, from the newly cut windows in the west wall, to the brewing equipment at work behind glass panels, to a wide patio with views of downtown across the Napa River.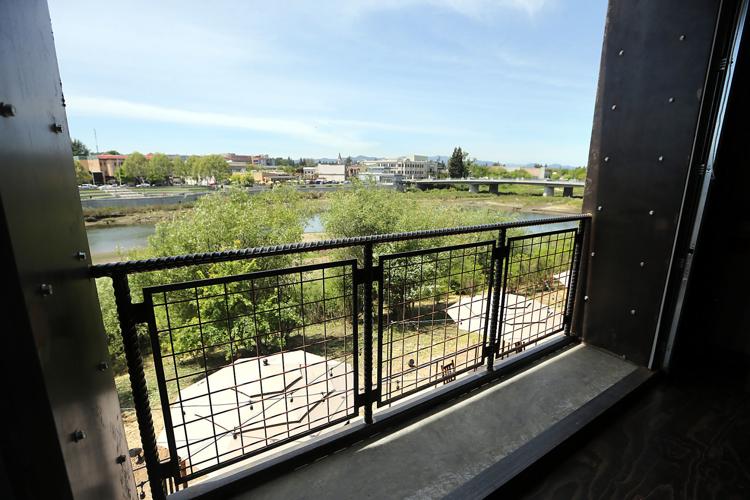 The site marks one of the latest expansions from Stone, which has grown its reach in recent years beyond its Southern California base to include locations in Richmond, Virginia and Berlin. The brewery also plans to open a new taproom in Shanghai this July.
The choice of downtown Napa's Borreo building and its reimagining was driven in large part by the interest of Stone Brewing co-founder Greg Koch, a self-described "historical building nut." The site adds to the roster of Stone locations in San Diego, Richmond and Berlin that are each housed in renovated historic buildings.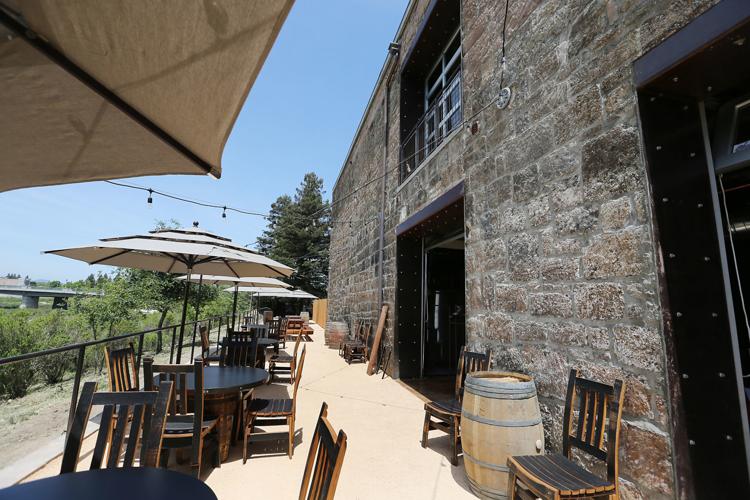 Musing on that pattern, Koch told the Register last October as renovations at the Borreo building were well underway, "It's the overlay of the DNA of the property itself, meshed with the DNA of the city and the region, meshed with the DNA of Stone."
As a brewery-restaurant, the site will offer a food menu built on ingredients from local purveyors and, of course, the characteristically powerful beers that have been Stone Brewing's calling card since its 1996 founding. Though the Stone staples on its Napa menu will be brewed and shipped in from its Escondido headquarters, the site's 10-barrel system will also regularly yield a range of beers exclusive to Napa.
With opening day drawing near and final inspections of the space having wrapped up around noon on Thursday, Steve Gonzalez had just begun the first steps of brewing at the new location.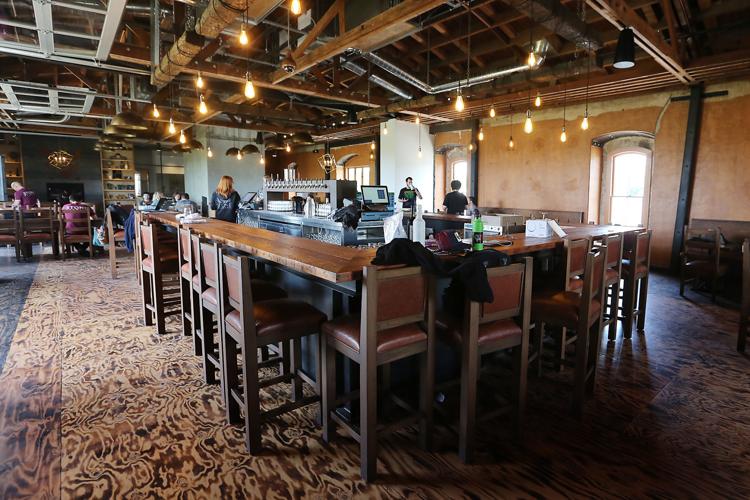 As head brewer at the Napa site, Gonzalez, who has been senior manager of brewing and innovation for Stone since 2012, is the man now charged with crafting the beers that will be made just for drinkers in downtown Napa.
For Gonzalez, "The fact that we're coming to Napa at this time when there's just so much more going on in downtown Napa, in an old building with heart and soul in it, it's huge for me."
Speaking at Palisades Saloon on Main Street during a brief break in the brewing process Thursday afternoon, Gonzalez offered a glimpse of the beers awaiting Stone's Napa visitors and sipped on one of his own creations from the Palisades menu, Stone's Scorpion Bowl.
Due to the inspections this week, Gonzalez said, brewing at the Borreo building was slated to begin later than Thursday. But the team conferred Wednesday night and decided that if the site gained the inspectors' signoff by noon the next day, the brewing could begin ahead of schedule.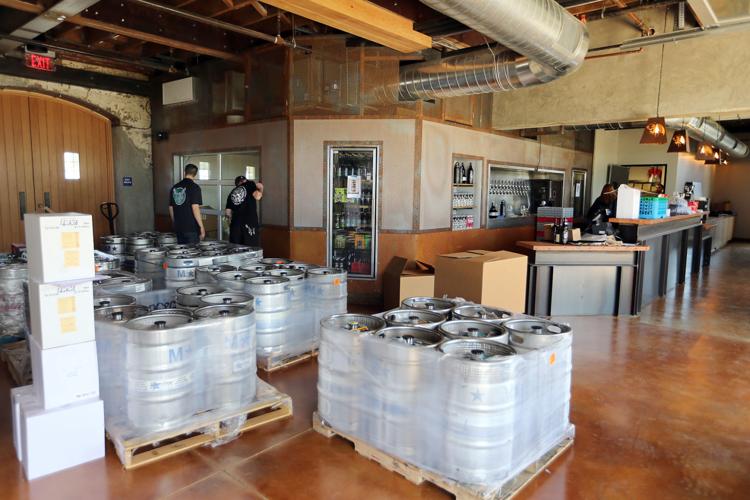 Even so, he pointed out, none of the beer being made that day would be ready for the site's opening on Sunday.
"The ideal would have been having beer brewed on site ready for the opening," he said. "But that usually doesn't happen."
You have free articles remaining.
Gonzalez instead brewed roughly eight kegs each of what are effectively "mock-ups" of the beers that will eventually grace the Napa taps, preparing them on Stone's pilot system in Southern California.
For its inaugural round of brewing, the Napa site will yield seven beers from its 10-barrel system, the smallest setup of any of Stone's brew houses. Among the forthcoming beers is a "spiritual successor" to Stone's 21st Anniversary Hail to the Hop Thief. The new beer will be lower on alcohol, with three of the Hop Thief's four hop varieties, plus a new variety of hops and minus the former beer's malted wheat, likening a cherry candy and orange flavor.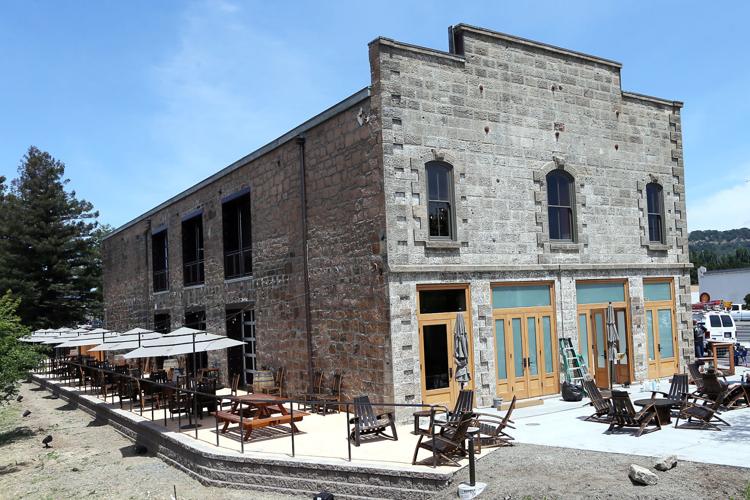 The first brewing will also yield The Cardinal and the Wolf, a combination of the beer's two namesake hops, as well as two fruit beers, the yuzu-incorporating Professor Monster, and a cherry blonde using Michigan sour cherries. Fruit IPAs like Professor Monster are a specialty for Gonzalez, whose brewing credits include Stone's best-selling Tangerine Express IPA.
A Riverside, California native, Gonzalez's new post in Napa is a return of sorts to the Northern California roots of his brewing career. Beginning with a position at Sierra Nevada Brewing Company, Gonzalez's path to Stone even brought him for a time into the Napa wine industry, working for E & J Gallo at Louis Martini and William Hill Estate.
"I think it was my time in the wine industry really that taught me to always ask, 'Is our portfolio differentiated enough?'" he said. Today, that take-away is apparent in his plans to brew beyond Stone's renowned IPA style. Several lagers will also make their way to the Napa taps, as will darker beers like the Doom Metal stout made with malted rye and English malts. The stout's rye will lend a taste of spice and "kind of a menthol, almost, component," Gonzalez said. "But in a good way, I promise."
According to Gonzalez, Napa harbors its own secret ingredient for brewing here. "The water. I like the water quality," he said. Napa provided Stone Brewing's water quality department with a water profile gleaned from monthly analyses of the city's water.
Using Napa water, the brewery will apply only carbon filtration, Gonzalez said, removing the chlorine but otherwise using it to brew as is.
"The real terroir of brewing is the water," he said. "It's kind of an undiscovered gem, in my opinion."
Though in Southern California the brewery legally discharges small amounts of brine into the Pacific Ocean, the site here will be zero discharge, he added.
In brewing, he'll employ brewing salts and opt for using calcium chloride, which imparts a softer palate than the calcium sulfate used in the beers brewed at Stone's Escondido headquarters.
Gonzalez will also forgo using Stone's house yeast in any of the Napa-brewed beers. "I know that yeast very, very well," he said. "I just want to do something different."
"Even though I pilot-brewed a lot of these, even though some of them are homages to other things I've done, expect a very different palate."
Ultimately though, he said, "I just want people to be able to drink my beer."
Indeed, after Gonzalez left to continue brewing, two Palisades patrons were overheard ordering Scorpion Bowls.
Stone Brewing – Napa will be open seven days a week. Following the opening at 2 p.m. on Sunday, Gonzalez will take part in a "meet the brewer" event from 4 – 5 p.m., with the site's first round of brewing well underway.